Alamonte Springs, FL – Oliver – White Cat /w Tabby Markings For Adoption – Adopt Oliver Today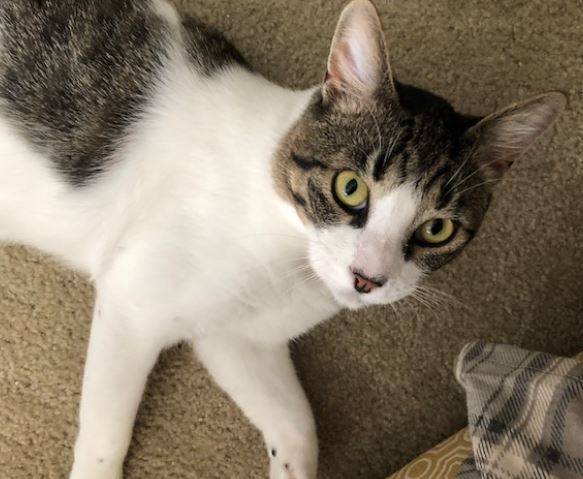 Meet Oliver, Adorable White Tabby Tuxedo Cat For Adoption in Altamonte Springs FL, Near Orlando
Looking for a ready-to-love cat to add affection, joy and companionship to your home? Oliver is a delightful little male cat. He is just 1 year old and very healthy. He loves people and is very well behaved. Oliver has been neutered, and is up to date on his shots. He is litter trained and will come with any supplies his family has on hand for him.
Oliver is very much loved by his family, but they are having to rehome him because their little boy has been diagnosed with a severe allergy to cats, complicated by Asthma. They are URGENTLY looking for a loving home for Oliver.
There is a $25 adoption/rehoming fee. Supplies and veterinary records will be included.
Questions about Oliver?? Text "Oliver" to (888) 833-2128 or email AdoptOliver@cat-lover.us
All About Oliver Tuxedo Tabby Cat For Adoption in Alamonte Springs, Florida
♥
Name of Pet:
 Oliver
♥
Location:
Altamonte Springs, FL, 85249
♥
Type of Pet:
 Cat
♥
Breed of Pet:
 Tabby and White Tuxedo Cat
♥
Sex of Pet:
 Male
♥
Age of Pet:
1 year old
♥
Spayed/Neutered?:
 Yes
♥
Health Problems:
No
♥
Behavior Issues
: No
♥
Up To Date on Vaccinations:
Yes
♥
Gets along with cats:
Yes
♥
Gets along with dogs:
Yes
♥
Good with Small Children?:
Yes
♥
Litter Trained?:
Yes
♥
Accessories Included:
 Oliver will come with any supplies the owner has on hand for him, and veterinary records.
---
All About Oliver – 1 Year Old Tabby Tuxedo Cat For Adoption in Altamonte Springs FL