Black Ragdoll Cat and Tuxedo Cat For Adoption Together in Seattle WA Washington – Adopt Nacho and Uni Today
Meet Nacho and Uni – Black Ragdoll Cat and Tuxedo Cat For Adoption in Seattle WA Washington
Request to Meet Nacho and Uni Here!
There is a $75 adoption/rehoming fee to adopt both cats together. All supplies will be included.
Nacho and Uni are a stunning pair of male cats looking for a loving new home in Seattle WA and area. Nacho is a gorgeous long haired black Ragdoll cat for adoption, while Uni is a sweet black and white Tuxedo cat for adoption. The cats are young (2 and 3), very healthy, fixed and up to date on vaccinations. They are litter trained and will be rehomed with supplies and vet records. Please adopt Nacho and Uni together today. They are very special cats that will ad immeasurable love, joy, laughter and mischeif to your home.
---
All About Nacho and Uno – Black Ragdoll Cat and Tuxedo Cat For Adoption Together in Seattle WA
Location: Seattle, WA, 98117
Type of Pet: Cat
Breed: Nacho is a Tuxedo Cat, Uni is a Black Ragdoll Cat
Age: Nacho is 2 years old, Uni is 3 years old
Color/Coat Type: Short haired, black coat, white paws, white chest; Uni is long haired, black with chocolate undertones
Size: 10 lbs, 15 lbs
Health Issues: No
Behavior Issues: No
Nacho and Uni is:
Neutered, Fully vaccinated, Litter Trained
Nacho and Uni gets along with:
Adults, older children
Personality
Nacho – a Stunning Black and White Tuxedo Cat For Adoption in Seattle WA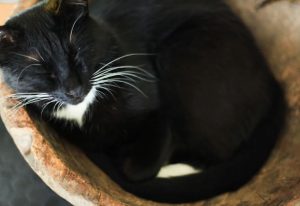 Nacho is a very chipper, spry cat who loves to be around people. He has a playful, social disposition and after spending enough time with someone, can be very affectionate. At times, Nacho can be a bit skittish, especially when confronted with someone/thing outside of his environment or routine.
He does not particularly like to be held for long periods of time, but will curl upon at your feet given his own time. Nacho is a very curious cat: if there is something that intrigues him, be it a smell or object, he will do pretty much anything within his power to reach it.
Unfortunately, this means that if there are crackers in a cabinet (he is a bread fiend!) he will open the cabinet with his dextrous paws and drag the crackers out. He will open up cabinets to get to recycling if he smells the cat food can. He will even nudge open a window if he sees another kitty in the yard. This can obviously cause some stress, but ultimately we found that if Nacho gets enough playtime with humans and enough attention, he is less interested in digging around.
Both of our cats, Nacho and Uni, are fairly talkative. Nacho has a very distinctive high-pitched meow that always sounds like he's calling "Mom!" to us. It's very sweet. Uni howls at night if he is not allowed to sleep with you, we found this out the hard way though my partner is allergic so we hadn't much choice! Both Uni and Nacho dislike it when doors are closed, particular if we are on the other side of closed doors. They much prefer is rooms are kept open for them to wander in and out of.
Uni – A Gorgeous and Very Cuddly Black Ragdoll Mix Cat For Adoption in Seattle Wa
Uni is a true Ragdoll cat. He is incredibly relaxed in manner and slinks about, following you wherever you are in the house. He loves being around people, strangers and loved ones. He loves your attention and will always crawl up into your lap or on your chest for head bumps, pets and nuzzles.
He loves being carried or pick up. At times he can be a bit of an attention hog; if you plan on getting some work done at your desk, expect Uni to climb up on the desk for nuzzles, or meow to be allowed into your lap.
Uni, though a bit older than Nacho, loves to play as well. He especially loves a laser toy and will leap high to "catch" it. He is a big chewer, so keeping something for him to gnaw on will prevent the inevitable–chewed up electronics cords, shoe laces, etc. He responds well to the dangling toys that are attached to sticks–he will chew on one end while Nacho is amused by the toy dangling from the other. It's a win-win.
Both boys are good eaters but need to be schedule-fed because they are food-oriented and will eat too much if allowed. Nacho tends to get hungry more frequently throughout the day so we have found giving him snacks before bed and after dinner or a snack in the late morning help with the aforementioned trash digging.
Nacho is also fixated on water–he will splash around the water in his water bowl before taking a drink. We're not sure what this behavior is about but we simply have a silicone mat underneath.
The boys love each other and play constantly; when they are finished playing, you will often find them asleep together or Uni grooming Nacho before bed. They are brothers at heart, which is why we'd love to rehome them together.
We have never introduced them to dogs, so we cannot attest to how they would react. Nacho and Uni are very protective and territorial and we have seen them meow and express a lot of interest in neighborhood cats that roam around our home.
Uni has been an indoor cat for his entire life, while Nacho was adopted so though he has been indoor since we've had him, he was probably stray for a few months before that point. That being said, Uni is very comfortable being outside–he will wander off but always comes back home and can be easily be lured in with treats or the prospect of food.
Nacho is quite opposite–though he wants to be outside badly–he has escaped a couple of times–he immediately becomes frightened and runs away from our calls. He is fast and skittish so very hard to catch. When he is scared, he cries loudly and incessantly so will know where he is but luring him home takes patience. When escaped, he has never come home on his own accord. Just as a side note, Nacho gets very scared when put in the car, while Uni doesn't seem to mind at all.
These boys are terrific house cats. They are playful, human-oriented, friendly and incredibly affectionate.
Food and Diet
Nacho and Uni is currently on Other
We have been feeding them Nature's Instinct Chicken Formula Wet Food (paté style) for the past year. They both love it and it offers them the extra hydration that cats tend to need. We feed them twice daily, once in the morning, once at night. At night, due to mid-night hunger cries, our vet recommended feeding them a larger meal in the evenings to keep them full throughout the evening.
We also have a CBD oil that we put a few drops of in their food at night to help them relax and sleep better. Living in the city, they were prone to waking due to loud noises and chatter on the street all night long. We have avoided feeding them foods that are rich and non poultry–like lamb, venison based meals because it tends to upset their tummies.
Reason For Rehoming
I have had Nacho since he was a kitten, though he is adopted from a shelter. My partner and I both work full time along with owning our own business and our schedules don't allow us to spend much time at home. The growth of our business and fluctuating schedules doesn't offer our cats the regularity and routine that they need to feel comfortable, stimulated and surrounded with love.
We would love to find them a home with a family, maybe even with children, where there is perhaps someone is home for most of the day as they are very human-oriented and love attention. Nacho is still a kitten at heart, and needs quite a bit of play and attention–we notice when he receives these things, he is less prone to his bad habits.
How to Adopt Nacho and Uni – Black Ragdoll Cat and Tuxedo Cat For Adoption Together in Seattle WA
If you would like to consider offering Nacho and Uni a loving, forever home, please fill out our Request To Meet A Pet form here:
https://pet-net.net/adopt-a-pet/
Once received, we will contact you to discuss your request and set up a mutually convenient time to meet Nacho and Uni and their owner in their home.
Nacho is a Black Ragdoll cat for adoption in Seattle WA.
Uni is a Tuxedo cat for adoption in Seattle WA. Ragdoll and Tuxedo cats for adoption together in Seattle WA, near Mercer Island Mercer Island Bellevue White Center Kirkland Burien Newcastle Tukwila Renton Shoreline SeaTac Lake Forest Park Redmond Kingsgate Kenmore Sammamish Yesler Terrace Belltown Capitol Hill Madrona Broadway Queen Anne Broadmoor Mount Baker North Broadway Madison Park South Seattle Ross Youngstown Wallingford Edgewater Park West Seattle and Georgetown WA . Adopt Nacho and Uni – Ragdoll and Tuxedo cats – today.