Lab Heeler Shepherd Mix Dog For Adoption Paris Arkansas – Bo – Healthy 8 YO Male – Supplies Included
Looking for a handsome and healthy mixed breed dog for adoption in Arkansas? Bo is a very sweet, loyal and devoted dog. He appears to be a mix of German Shepherd, Labrador Retriever and Australian Cattle Dog (Heeler). He is healthy and weighs 60 pounds, Bo has a gorgeous thick white coat with tan markings. He is well behaved and loves children.
Bo has not been around other dogs or cats, but would probably be fine with them. Bo's owners are a young family who simply don't have enough space for Bo. He needs a home with a large, securely fenced yard, and people who have lots of time to spend with him. He is used to being an outdoor dog. All supplies and vet records will be included. Please offer Bo the loving home he needs and deserves today.
Hi, My name is Bo!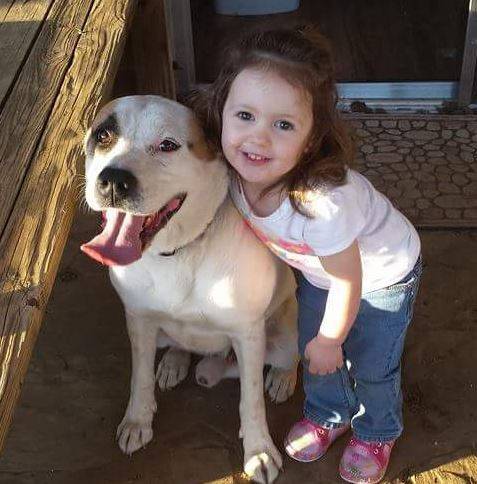 There is a $40 adoption/rehoming fee. All supplies will be included.
---
All About Bo
Name of Pet: Bo
Location: PARIS, Ar, 72855
Type of Pet: Dog
Breed of Pet: Unknown
Sex of Pet: Male
Age of Pet: 8
Spayed/Neutered?: No
Health Problems: No
Up To Date on Vaccinations: No
Gets along with cats: Unknown
Gets along with dogs: Unknown
Good with Children?: Yes
House Broken or Litter Trained?: Yes
Crate Trained?: Unknown
Accessories Included: Dog house, leashes
Bo's Personality
1) Great with kids
2) Very loving
3) Very smart
4) Minds well
5) Beautiful dog
Bo's Current Home Environment
Bo currently resides in our backyard in city limits, which is too small. It is a fenced in backyard with plenty of shade. He stays outside during the day and comes inside Into our garage at night. We have 2 children that play outside with Bo.
Bo's Current Family:
My husband and I have been married for 3 years. We have 2 children, ages 5 and 1. We live in Paris, Arkansas. My husband works for The Bank Of The Ozarks and I am a kindergarten teacher.
Bo's Favorite Toys, Foods, Activities?
He loves all toys, but his favorites are sticks! He will eat anything. He loves to run.
Cute Bo Story:
Bo is an easy going dog. He has been with us through the birth of both of our children and 4 moves. He remains his happy go lucky self and never causes any trouble.
Why is Bo Being Rehomed?
With 2 children and moving to a new home, we simply do not give Bo the attention that he needs or deserves. He also needs a bigger space to run and exercise. We do not have the space and Paris does not have the facilities to accommodate this.
Bo's Perfect Adoptive Home Will Be:
Someone who can make Bo a part of their daily lives with time to devote to him. He also needs space to run, or a town with a dog padm or facilities to accommodate this.