Adorable Leash Trained 3 YO Ragdoll Mix Cat For Adoption in Calgary, AB – Adopt Chiba Today!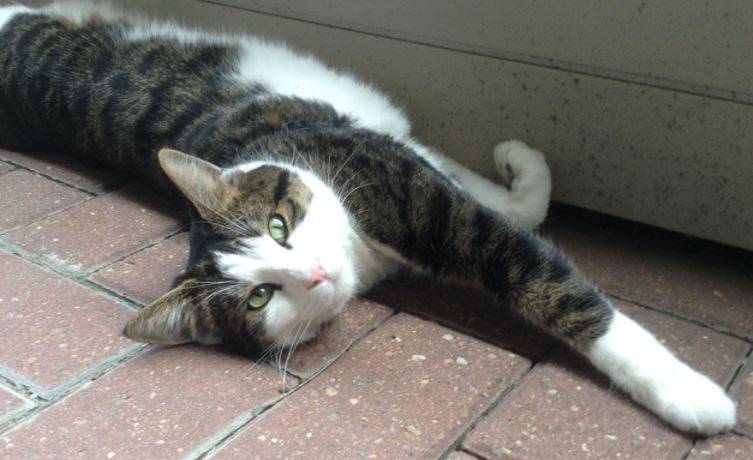 Meet Chiba "Chee-Ba" –  Ragdoll – Tabby Mix Cat For Adoption in Calgary AB
Request to Meet Chiba "Chee-Ba" Here!
There is a $100 adoption/rehoming fee. Supplies and vet records will be included.
Questions About Chiba?? Text "Interested In Chiba" to (403) 589-6618 or email AdoptChiba@pet-lover.us
Chiba is a very special cat. This handsome and very healthy 3 year old male is a Ragdoll mix – his father was a pedigreed purebred Ragdoll. Chiba has all the characteristics that make the Ragdoll so popular; he is very social, very cuddly, super smart and really outgoing. He loves dogs and other cats, and is super affectionate with people. He is great with little kids, too – a rare trait to find in a cat.
Chiba is fixed, up to date on shots and litter trained (with impeccable litter box habits). Chiba is also leash trained. He loves to go outdoors on his leash and harness, and hang out being adored by all his owners' neighbors. He is so calm and friendly – the ultimate therapy cat.
Tragically, Chibi's owner, Andrea, is facing a second fight against Cancer. She battled this terrible disease once already, and recently found out that it has come back. She is going to be having chemotherapy, and will be feeling very sick. She is also having to move in with a friend who will be caring for her through her treatments, and cats are not allowed in her friends's residence.
Andrea loves Chiba more than anything. He is her baby. She is facing uncertainty about the future, and wants to make very sure that Chiba is in a wonderful home where he will be cherished always, and kept safe, happy and healthy. She is dearly hoping to find a new home with owners who would be willing to keep her updated on how Chiba is doing – an occasional visit would be so wonderful, but only if the new owners are comfortable with it.
If you have room in your heart and home for the sweetest little cat on earth, please offer Chiba his forever home today. All vet records and supplies will be included, along with Andrea's sincere gratitude and friendship.
All About Chibi – Ragdoll Mix Cat For Adoption in Calgary AB
Type of Pet: Cat
Breed: Ragdoll Tabby Mix (Father was a TICA registered Ragdoll cat)


Age: 3
Color/Coat Type: Tabby Tuxedo – Tabby on back, white paws, chest and facial markings.
Size: 5.34 Kg
Health Issues: No
Behavior Issues: No
Chiba is:
Neutered, Microchipped, Fully vaccinated, Crate Trained, Litter Trained, House Broken, Leash Trained
Chiba gets along with:
Small Children, Older Children, Dogs, Cats, Strangers
Personality
Chiba loves people and dogs and cats. Particularly, Chiba loves to play tag with people and dogs. Chiba loves to snuggle too. Chiba uses his body to talk as well as meowing out loud. Chiba goes outside on a leash where he walks right up to neighbours, dogs, and cats and say "Hello" without any fear. Oh yes, Chiba loves his treats "Feline Greenies!"
Chiba is a very smart cat, he learns to open Ikea's closet sliding doors. He has learned to turned the door knobs but fortunately he has no grip; but he certain observed and understand how to do it! So Chiba is very smart as he is very social and loving.
Food and Diet
Chiba is currently fed Orijen
Chiba's food bowl is always filled and left out to the open for him to eat whenever he wants. Chiba regulates the amount he eats himself and eats only a few kibbles at a time. Chiba eats Orijen. He does not like Acana.
For treats, Chiba gets a few kibbles of "Feline Greenies" at 7AM (before I go to work), at 4PM (when I come home) and at 10PM (when I go to bed). Of course, Chiba will asks for treats any time you are in the kitchen too, but don't need to give it to him always every time he asks or else he might be too spoiled 🙂
Reason For Rehoming
I have cancer. I would like to find a wonderful home for my kitty.
How to Adopt Chiba
If you would like to consider offering Chiba a loving, forever home, please fill out our Request To Meet A Pet form here:
https://pet-net.net/adopt-a-pet/
Once received, we will contact you to discuss your request and set up a mutually convenient time to meet Chiba and his owner in their home.
Questions About Chiba?? Text "Interested In Chiba" to (403) 589-6618 or email AdoptChiba@pet-lover.us
Chiba "Chee-Ba" is a Ragdoll mix Cat For Adoption in Calgary AB  Adopt Chiba today.