Columbia, SC – Africanis Dog For Adoption – Healthy 4 YO Neutered Male – Supplies Included
Meet Toubab, Canis Africanis Dog For Adoption in Columbia SC
Toubab is a White / Blonde, short hair Male Canis Africanis Dog for adoption to a very loving home in or near Columbia SC. This very special Dog is 4 and weighs 51 lbs.
Watch this engaging video to learn all about the Africanis dog!
If you are lookiing for the World's most devoted dog, Toubab the Africanis dog is waiting to meet you. This very sweet white dog hails all the way from Senegal, where he was adopted by his owners when they were in Africa working. Toubab's is a rags-to-riches story; he was a stray puppy in desperate need of love and attention when they found him, and he is now a healthy, happy and very devoted family companion.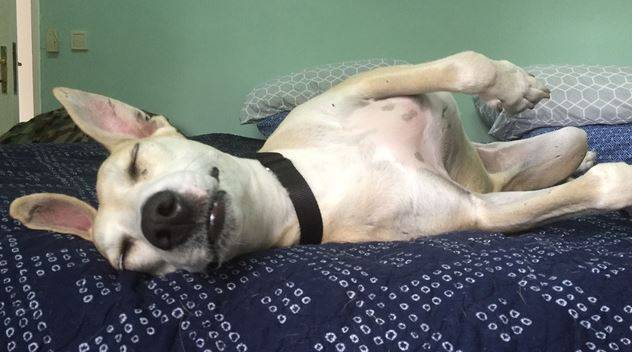 Toubab basically means "white guy" in the native language of Toubab's home country. Toubab is such an intelligent, attentive dog – he connects very deeply and profoundly with his humans. It is a very special bond, and one that makes the need to find Toubab a new home so devastating for his owners.
Toubab was adopted along with another puppy, and the two were great freinds and housemates throughout their time in Africa, and up until recently in South Carolina. Unfortunately, as the dogs have matured, Toubab's larger buddy has developed a penchant for picking on him. A recent scuffle resulted in Toubab being injured, and a trip to the veterinarian for stitches. Sadly, the dogs will need to be separated, and the owners feel that Toubab's chances of finding a new home are best.
Toubab's ideal placement will be with dog lovers who can give him a very loving home. He needs to bond closely with his owners, and enjoys their time and attention. He is happiest in a home with a large, securely fenced yard. He has not been around small children, and the owners feel that he would be best suited to an adults-only home, or a home with children older than 12 who are very respectful of dogs.
Toubab is very healthy. He has been fixed and is up to date on his vaccinations. Toubab is house broken and well behaved. He is naturally suspicious of strangers and protective of hearth and home. His owners will need to be aware of this natural trait, and ensure that Toubab is carefully introduced to new people and visitors to the home.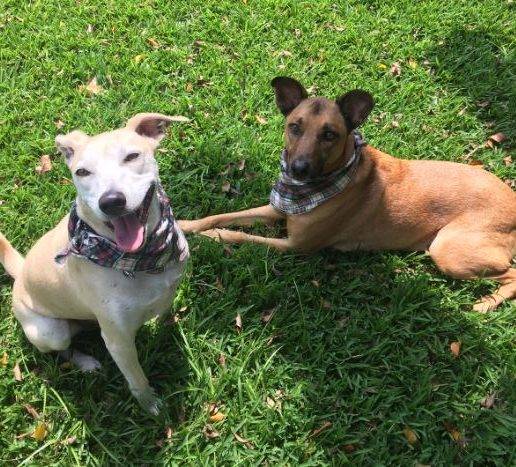 Toubab and his brother in happier times…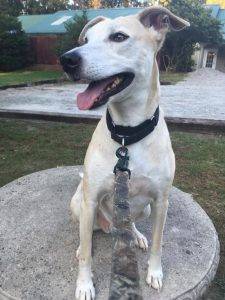 If you are looking for a truly amazing little dog that is the essence of unconditional love, joy and devotion, Toubab is your perfect match. While he is currently located in South Carolina, his devoted owner will deliver him to the right home anywhere within a reasonable distance – and very likely further. Please feel free to contact us if you are interested in Toubab, even if you are hundreds of miles away.
Thanks for your interest in adopting Toubab the Africanis dog from Senegal. We look forward to hearing from you.
For more information, please feel free to call Debbie Moore toll free at (888) 720-3322 or visit https://pet-net.net/adopt-a-pet to fill out our online meeting request form.
There is a $75 adoption/rehoming fee. Supplies and veterinary records will be included.
---
All About Toubab – Canis Africanis Dog For Adoption in Columbia SC
Name of Pet: Toubab
Location: Columbia, SC, 29206
Type of Pet: Dog
Breed of Pet: Canis Africanis (Africanis Dog)
Sex of Pet: Male
Age of Pet: 4
Spayed/Neutered?: Yes
Health Problems: No
Behavior Issues: No. Toubab is a typical Africanis dog. They are best suited to homes without other dogs as they have strong instinctive behavior and pack mentality. They are naturally protective of their people and their home, so need to be carefully introduced to strangers.
They are also deeply devoted to their human family members. They would literally die for their owners. They are a very special breed – not for everyone – but for the right owners, an Africanis dog is the ultimate companion.
Up To Date on Vaccinations: Yes
Gets along with cats: No
Gets along with dogs: No
Good with Children?: No, Unknown
House Broken or Litter Trained?: Yes
Crate Trained?: No
Accessories Included: We will send along his big, new dog bed with washable covers. A few blankets that he likes to lay on outside or around the house. Frisbees and other misc toys. Antlers. Leash. Collars. Initial bag of dog food (Fresh Pet). All vet records and immunization records. Supply of prozac, heartworm and flea and tick medication.
Toubab's Personality
1. Once he loves you, he loves you really hard.
2. He can read other's emotions, moods, feelings. If I am sick or upset about something, Toubab is right there and will not leave my side.
3. He is a happy dog, and it brings me joy to watch his huge smile when he is outside taking in the world
4. He is a protector dog, and I have always felt incredible safe with Toubab around despite living in places that experienced severe unrest
5. In the mornings when he wakes up, he comes snuggling up to you as close as he can get, flips over on his back, begs for belly rubs, and turns into a little puppy for a few minutes.
Toubab's Current Home Environment
My husband and I have moved around between the US and Africa every two years for work. We have another Senegalese dog that was rescued 8 months before Toubab, and the two have grown up together. We have always had a very large yard for the dogs to run and play and chase whatever small wildlife lives there (although they can only catch the occasional lizard or mouse).
The dogs spend the night indoors, in our bedroom, and as much time as we can allow them outside. Toubab loves the sun and the hot humid weather of South Carolina, however he thought snow was pretty cool too when we lived in Virginia. A funny quirk is that Toubab hates water. It is hard pressed to get him to go outside in the rain, or even if the ground is very wet. Forget about swimming, he will not go in a pool, lake, pond, ocean. We tried the pool once and I am pretty sure it was one of the worst days of his life.
Toubab's Current Family:
My husband and I love Toubab like we love a child. We are heartbroken to have to make this choice to re-home him, but ultimately understand that keeping both dogs in the same home has now become selfish and is not in the best interest of the dogs. We are huge dog lovers and treat our boys like family.
They have had excellent care with us, regular vet visits (even in Africa), up to date on all immunizations and medications, and so much love. As we are a State Department family, life requires us to move every few years. I think Toubab would benefit from some stability in one place and not have to take those horrible international flights anymore.
Toubab's Favorite Toys, Foods, Activities?
Toubab loves chew on antlers (we will send some along), and try to catch frisbees. To tire him out, my husband and I will go outside with a few frisbees and throw them back and forth and Toubs will just run between us until his is so tired. When he catches one in his mouth he is very proud of himself, and has to come up for some butt rubs.
Cute Toubab Story:
Toubab was rescued as a puppy of about 6 weeks old of the streets of Dakar, Senegal. He was malnourished, hiding behind the wheel of a truck, covered in mango worms, and kids were throwing rocks at him. My husband picked him up and took him to the vet, and was told that Toubs wouldn't make it through the night.
Toubab was so sick that he could not regulate his body temperature, so he slept inside of a sleeping bag on my husband's chest for three months. As a result, we now have a four-year old dog that loves to snuggle up against human skin and fall asleep completely buried underneath the covers.
Toubab was beaten with a nightstick by one of our guards in Congo right in front of me. It was completely unprovoked, the guard was just scared of dogs in general, and so he beat both of my dogs while I tried my hardest to stop him, screaming and crying, and finally got the pups inside away from him.
Toubs has had some rough patches, yet he remains such a happy dog. Sometimes he has little nightmares, and you can hear him wimpering and shaking. When this happens we just pet him and he stops. He is such a sweet and loving dog despite having so many terrible experiences, and I am so thankful that this little sweet pup has lived on this Earth to share his love.
Why is Toubab Being Rehomed?
Sadly over the last two years, our two dogs have started to get into fights with each other on occasion. It usually begins because Toubab does something to challenge the rank as our other dog is the alpha male, however our other dog is bigger and stronger and poor Toubs has been getting beat up. He recovers so quickly, but our hearts cannot take it anymore, and quite frankly, neither can Toubab.
We thought if we could just get back to the US, move away from the constant chaos of Congo, have a big yard to play in without people coming in and out constantly, and find a good trainer, then things would be ok. We did all of those things, but the issue between the two pups continued and we had to take a hard look at the situation and realize we are doing a disservice to everyone, especially Toubab. We are rehoming Toubab and not our other dog because Toubs is younger and forms attachments to new people more easily, and we believe that if we can find a good home for him, he will be happy right away.
Toubab's Perfect Adoptive Home Will Be:
Ideally we hope to find a person or a couple that had a large yard or piece of land for Toubab to run, play, and explore. Someone that works from home, is retired, or has a flexible schedule so Toubab is not left alone all day. This person should want to give love to Toubab, and want to be loved by him. Toubab will not do well with other animals in the house, and it is best if he is the only animal at the house.
The yard should be fenced and no other dogs should be visible through the fence (i.e it should not be a wire fence bordering another yard with dogs where the dogs can see each other and come nose to nose). I am sure everyone says this but it is so important that Toubab goes to a loving home with good people / person with pure intentions for him.
Additional Comments:
Toubab takes 30mg of prozac daily with dinner. This was initiated by an American vet in Congo after the pups started fighting, and we have noticed significant improvement with separation anxiety and decreased aggression. We will send the rest of our supply, the rest will need to be obtained from the vet).
How To Adopt Toubab
If you are interested in adopting this special Canis Africanis Dog For Adoption in Columbia SC, please fill out our online meeting request here. Once received and reviewed, our staff will ask the pets owner to reach out to you and arrange a meeting to determine for certain if b is a good fit for you – and you are a good fit for this pet.
If you have any questions about our careful pet rehoming process, feel free to get in touch.
Toubab – Canis Africanis Dog For Adoption in Columbia SC
Toubab is a White / Blonde, short hair Canis Africanis Dog for adoption in Columbia SC, near Charlotte, and close to the following South Carolina towns and cities:
West Columbia, SC
Forest Acres, SC
Cayce, SC
Dentsville, SC
Irmo, SC
Lexington, SC
Orangeburg, SC
Newberry, SC
Sumter, SC
Aiken, SC
Lancaster, SC
Clinton, SC
Union, SC
North Augusta, SC
Rock Hill, SC
New Dublin, SC
Waverly, SC
Belleview, SC
Elmwood, SC
Wales Garden, SC
Allen Benedict Court, SC
Butchertown, SC
Olympia, SC
Shandon, SC
Forest Hills, SC
Melrose Heights, SC
Saxton Homes, SC
Park Place West, SC
Booker Washington Heights, SC
Colonial Heights, SC
Riverbanks, SC
Saluda River Estates, SC
Adopt this sweet White / Blonde, short hair Canis Africanis Dog today.