Fabulous 1 YO Black F Kitten For Adoption to Loving Home in Brooklyn – Supplies Included – Adopt Fogel Today!
Hi, My name is Fogel!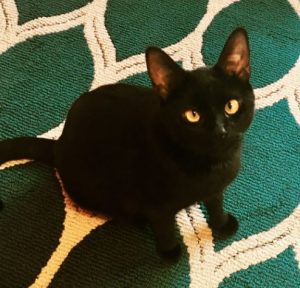 There is a $25 adoption/rehoming fee. All supplies will be included.
Have you ever seen a little cat more adorable than Fogel? At just 1 and a half, this cute little 11 pound bundle of purrs and pounces is spayed, up to date on shots and very healthy. Fogel is still a kitten at heart, and is soooooooo playful and fun. She has such an exquisitely kooky little face – cross eyed like a Siamese and such big eyes and ears!
Fogel lives with her owners in Brooklyn, NY. They love her so much, but have come to the realization that Fogel simply is not going to adjust to life with another cat and a dog.
Fogel needs to be an only pet – the center of her owner's world. She is more fun than a barrel full of monkeys, and such an entertaining little companion. She is not overly clingy like some cats, but loves to stay busy. She really needs to be in a home that can give her some space in which to play and enjoy adventures. Safe outdoor access would be the icing on the cake for this petite Panther. She would love to have a mini jungle all her own.
Fogel's owners want to find her a really good home and make sure that she has everything she needs to enjoy a happy life with owners who will cherish her. She will be rehomed with her veterinary records and any supplies they have on hand for her. They are also happy to supply anything she might need to help make the transition to her new home as un-stressful as possible for both Fogel and her new owners.
Fogel has not been around children, but would likely be fine in an active home with kids older than 10 who would like a lively playmate.
Please offer fabulous Fogel the loving home she needs and deserves today. This is one little kitty that is sure to leave tiny paw prints on your heart!
---
All About Fogel
Name of Pet: Fogel
Location: brooklyn, ny, 11214
Type of Pet: Cat
Breed of Pet: domestic short hair
Sex of Pet: Female
Age of Pet: 1.5 years old
Spayed/Neutered?: Yes
Health Problems: No
Up To Date on Vaccinations: Yes
Gets along with cats: Unknown
Gets along with dogs: No
Good with Children?: Unknown
House Broken or Litter Trained?: Yes
Crate Trained?:
Accessories Included: I can give whatever is needed to help Fogel resettle. that can include a cat carrier, food, treats, litter, toys, etc.
Fogel's Personality
she's crossed eyed!
Fogel's Current Home Environment
I live in a smaller apartment in Brooklyn with my significant other, our dog and my other cat. Fogel doesn't get along with the dog at all (she constantly tries to scratch him) but will tolerate my older cat. I don't know how she would do with other cats.
Fogel's Current Family:
we are a family of social workers, I work with people who are developmentally disabled and my signature other works as a drug and alcohol counselor.
Fogel's Favorite Toys, Foods, Activities?
Fogel likes chasing lazers and playing with cat toys. She currently eats purina indoor cat food. Her activities include sleeping, eating and doing her own thing.
Cute Fogel Story:
Fogel LOVES water. in my old apartment, the faucet would leak and fogel would play in it for hours. she always looked like she had the hair gelled back.
Why is Fogel Being Rehomed?
I feel that Fogel is extremely unhappy in her current environment. I think she needs a space that is much larger for her (our apartment is very cramped for her taste) and we can't afford a larger space at this time. My older apartment was much larger and I think she had more places to access/hide/etc. My new apartment is extremely limited in places for her to go to besides her cat tree and cat igloo.
I have tried since I adopted her over a year ago to get along with the other animals, my boyfriend and myself but she just hasn't taken a real liking to any of us. I bought her as a companion to my older cat, but Fogel doesn't want to make friends she just tolerates. I just want Fogel to be happy and be able to do her own thing but I can't provide her what she needs.
Fogel's Perfect Adoptive Home Will Be:
Just someone who has a large space for Fogel to roam, outside access I think would be a plus. Fogel doesn't crave much attention. Just needs to have her mind stimulated and activities to keep her busy. Definitely no dogs- but she might do well with other cats in time.
Request to Meet Fogel Here