Beautiful Purebred Boxer, 18 Months, For Adoption to Loving Home – Mobile AL – Adopt Jo'Z Today!
Hi, My name is Jo'Z!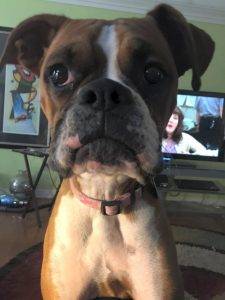 There is a $75 adoption/rehoming fee. All supplies will be included.
---
Location: Mobile, Alabama, 36693
Type of Pet: Dog
Breed: Boxer
Age: 1-1/2
Color/Coat Type: Tan and some white
Size: 50!bs
Health Issues: No
Behavior Issues: No (Still in puppy stage and has lots of energy. Wants to play and is full of licks and leaps! Tends to jump on people, so will need some training.)
Personality
She is full of energy, 24/7. Loves to play, she is very very lovable. She always wants to lay beside you! Doesn't mind going to the Vet or to be boarded she never meets a stranger! Loves toys, but chews them up! Loves the water hose!
Food and Diet
Jo'Z is currently on Other
Taste of the wildim
Reason For Rehoming
I have 2 other rescue dogs, Jo'Z was given to me from a friend. I had a stroke and has effected my left side. She once knocked me down. I know she didn't mean to. I can not walk her because she pulls so hard I can't hold her. I'm afraid she's gonna cause me to fall. I live alone and I'm 63 . I should not have taken her in but I love love love her and it's breaking my heart to find her another home.
How to Adopt Jo'Z
If you would like to consider offering Jo'Z a loving, forever home, please fill out our Request To Meet A Pet form below. Once received, we will contact you to discuss your request and set up a mutually convenient time to meet Jo'Z and their owner in their home.