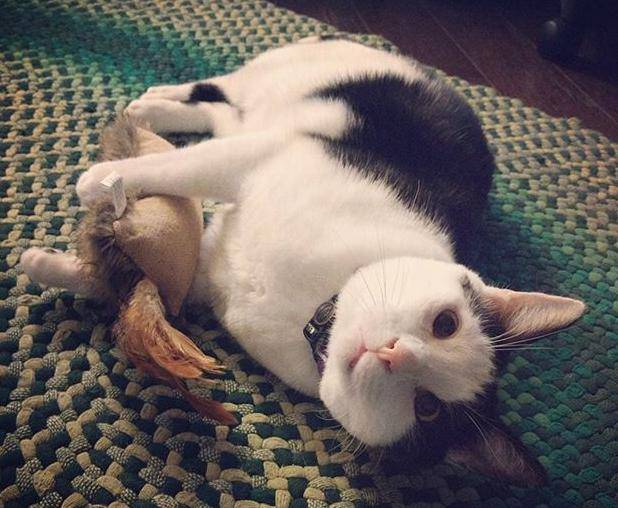 Meet Lovable Lemmy – Adorable Black and White Tuxedo Cat For Adoption in Houston TX
What a cute little cat. Lemmy is one of those cats that wraps his fluffy white paws around your heart the moment you meet him.
Lemmy is a black and white Tuxedo cat. He is very healthy, fixed, up to date on shots and has impeccable litter box habits.
He is playful and affectionate – a cute little black and white clown that works very hard to put a smile on your face every day.
Lemmy is deaf, but don't tell him! He doesn't let a little hearing impairment hold him back at all. He is a little bit clumsy and off balance at times, but that just adds to his charm. Oh, and he's a bit loud when he meows. And he does like to meow. His personality is very dog-like. Lemmy is good with children and cat-friendly dogs, and very welcoming of visitors.
Lemmy's owner loves him a lot, and wants the very best for Lemmy. Because of his very busy work schedule, he is not able to spend very much time at home with Lemmy. Having recently moved to a very small apartment from a spacious 2 bedroom, he is finding it difficult to sleep at night. He used to put Lemmy in his own room at night, but can no longer do that.
Lemmy's ideal home will be with someone who will love Lemmy unconditionally. It would be best that they have a larger apartment or a house to share with Lemmy. Lemmy must not be allowed outside due to his hearing impairment. He deserves a home with an owner who will cherish him and keep him safe, happy and healthy.
If you have room in your heart and home for this sweet little cat, please request to meet Lemmy today. He can't wait to purr and play his way into your heart.
There is a $25 adoption/rehoming fee. Supplies and veterinary records will be included.
---
All About Lemmy – Black and White Tuxedo Cat For Adoption in Houston Texas
Name of Pet: Lemmy
Location: Houston, Texas, 77027
Type of Pet: Cat
Breed of Pet: Domestic Short Hair Cat Tuxedo
Sex of Pet: Male
Age of Pet: Almost 3
Spayed/Neutered?: Yes
Health Problems: Yes 100% deaf, slight balance issues. Balance issues only evident when jumping up onto lap, etc. Otherwise very agile. Not sure if deafness and balance issues are related to head trauma at early age, or if he was born that way (Lemmy was this way when I adopted when he was 2 years old).
Behavior Issues: Yes Due to deafness, loud meowing all times of day/night. This may become a problem if there is no room to keep him in at night, unless owner is deaf/hard of hearing, a heavy sleeper, or has a secluded sleeping area. If loud meowing won't bother new owner then this shouldn't be an issue at all.
Up To Date on Vaccinations: Yes
Gets along with cats: Unknown
Gets along with dogs: Yes
Good with Children?: Yes
House Broken or Litter Trained?: Yes
Crate Trained?:
Accessories Included: All of his supplies that I have – two cat beds, cat carrier, cat crate, hooded cat box, litter genie, any remaining cat food (wet and dry) and unused cat litter, toys, cat scratching post and pads, food bowl, two water tower bowls, cat food spill trays, collar, and possibly other items I can't remember off of the top of my head.
Lemmy's Personality
Enjoys physical contact, is not shy
Playful- he can be quite entertaining
Companionship- loves to be with you when you are home
Easy to get along with – settles into new environments quickly (within a couple of days)
Will eat anything – he is not picky of his type of cat food. Also is well trained with the litter box.
Lemmy's Current Home Environment
1 bedroom apartment, approximately ~860 square feet. No other pets, all of Lemmy's human interaction is with me. Importantly – due to his deafness, Lemmy must be an indoor only cat.
Lemmy's Current Family:
Single, and live alone.
Lemmy's Favorite Toys, Foods, Activities?
Loves to sleep in his bed in a sunbeam, loves his horizontal cat scratching pad (uses it frequently). Likes to play with toy mice and small balls that he can flick around on the floor. Is fascinated by running water and strings. Loves to bird watch if there is a good view of birds from a window sill.
Cute Lemmy Story:
Lemmy likes to wait by the door for me to come home from work. He's usually asleep, and since he's deaf he doesn't know that I've come in the door until he feels the wind from the door opening hit his face, where he then wakes up with a loud "MEOW!" greeting.
Why is Lemmy Being Rehomed?
Loud meowing- this is the big reason. I used to live in a 2 bedroom apartment, where I could keep him in a second bedroom at night with everything he would need (catbox, food, water) so that his meowing wouldn't keep me up. Since moving to a 1 bedroom apartment, this is no longer possible and it's become very unusually that I get a good nights sleep (and it's starting to negatively impact work).
Not enough time and attention- I have also started a new job where I travel frequently. I don't give him the attention and play time that I used to because I'm too busy, and it's become expensive and cumbersome to hire a cat sitter so often to watch him while I'm traveling for work.
Lemmy's Perfect Adoptive Home Will Be:
An individual or family that is home often and has the time to spend with Lemmy. He will love his owner back unconditionally (almost like a dog). As such, it's important to him that you're there for him and give him attention. I can confirm that Lemmy gets along well with dogs, but I have had mixed experiences with other cats. When I adopted him he was in a room full of other cats and didn't seem to mind them. However, there was one time where I brought him to a friend's house and he really didn't like their cats, but I don't know if it would just take him time to like them or not.
Additional Comments:
It is OK with me if Lemmy finds a new owner and it is unrealistic for me to visit him. However, if he finds a new home close by and the owners are OK with me visiting then I would of course take advantage of the opportunity to go see him. What's important for me now is to find him some good, caring new owners who will appreciate him as a very unique cat.
How To Adopt Lemmy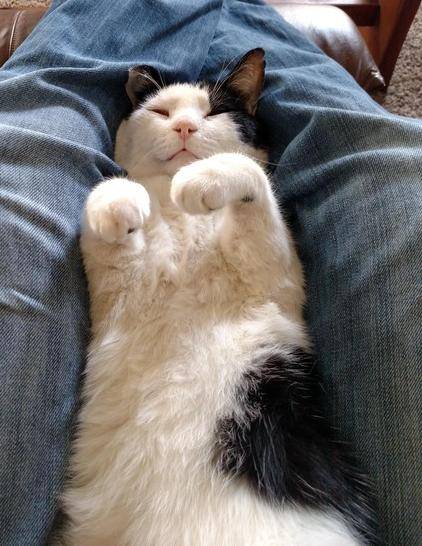 If you are interested in adopting this special Domestic Short Hair Cat For Adoption in Houston Texas, please fill out our online meeting request here. Once received and reviewed, our staff will ask the pets owner to reach out to you and arrange a meeting to determine for certain if b is a good fit for you – and you are a good fit for this pet.
If you have any questions about our careful pet rehoming process, feel free to get in touch.
Lemmy – Domestic Short Hair Cat For Adoption in Houston Texas
Lemmy is a Black & White/Tuxedo Domestic Short Hair Cat for adoption in Houston Texas, near West University Place, West University Place, Bellaire, Jacinto City, Galena Park, South Houston, Pasadena, Cloverleaf, Aldine, Missouri City, Pearland, Deer Park, Channelview, Stafford, Humble, Mission Bend, Houston Heights, Riverside Terrace, Magnolia Park, Foster Place, South Lawn, West University Place, Bellaire Junction, South Side Place, Pecan Park, Mayfair, Harrisburg, Southside Place, Brookhaven, Golfcrest, North Shadydale, Hawthorne Place and Clinton Park, TX.
Adopt this sweet Black & White/Tuxedo Cat today.