Lollah has found her forever human in the form of Becky, a senior dog lover with a big heart, who fell in love with Lollah.  Becky had lost her companion within the past year, and Lollah was perfect for her. She is home with Lollah most of the time, and the two are wonderful company for each other.
---
Here is how our Rehoming Team presented Lollah to attract her new owner:
Hi, My name is Lollah!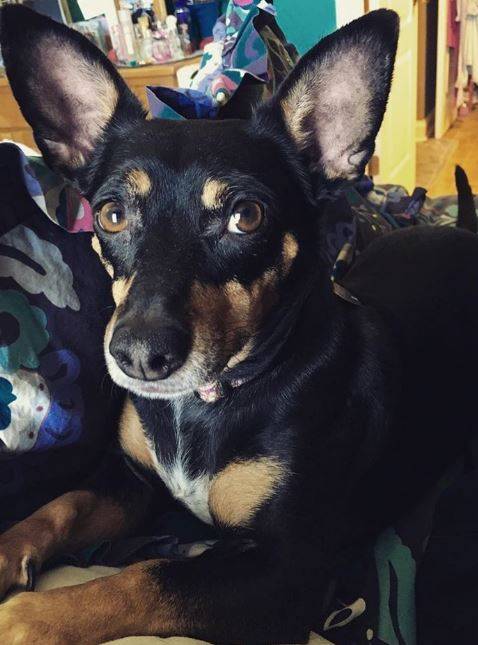 Hi, My name is Lollah!
If you are looking for a loyal, loving and very sweet companion, here I am! I am an adorable mix of Dachshund and Corgi, with cute short legs and great big ears! I weigh just 18 pounds and am 5 years old. I have been spayed, and am up to date on my vaccinations. I am very healthy, aside from some allergies, which have been successfully managed by diet. Like many dogs, I occasionally get ear infections.
I am such a loving little dog. I LOVE attention. Being with my humans is Heaven to me. I just can't get enough of it. I love to play and run around outdoors in the back yard, too.  I get along well with children, just so long as they are old enough to understand that we dogs don't like our eyes poked, tails pulled or hit with toys.
My owner loves me so much. She is very sad to have to make the difficult decision to find me a new home. With my need for companionship, and her very busy working schedule, she just isn't able to give me the time and attention I need and deserve each day. I have been spending so much time all alone, and that just isn't fair to me.
My owner and I are dearly hoping to find me a great new home with people who have tons of time to spend with me. I would love to be the cherished companion of people who stay home, so that I can be their constant little shadow. A stay at home mom with kids, a work-from home family, or a retired person or couple would be ideal for me. I would prefer owners who have a securely fenced back yard for me to explore.
Please offer me a loving, forever home today. I can't wait to wiggle my way into your heart.
Love and Licks,
Lollah
More About Lollah
Location: Hermitage, TN, 37076
Type of Pet: Dog
Breed: Dachshund, potentially corgi
Age: 5-6 years
Color/Coat Type: Black with brown and white
Size: She weighs 18 lbs
Health Issues: No
Behavior Issues: No
Lollah is
Spayed
Lollah gets along with:
Toddlers, Small Children, Older Children, Strangers
Personality
She is sweet but likes a lot of attention. She is pretty laid back and chill when we are just at home. She loves to ride in the car and run around outside. She has been to basic training and is a sweet dog.
Reason For Rehoming
I am getting married on October 1st and am going to be moving in with my fiancé due to his job and we are not able to have pets at the place where he lives. We also both work long hours and I think she would benefit from a family or house with land so she can roam.