REHOMED – Matrix and Marley – Purebred Maltese Brothers – Burke VA
Matrix and Marley have found their forever home with Shella and her husband in Virginia. We are so happy to have been able to find them a home where they will be staying together, and with a new owner who loves the Maltese breed and will have lots of time to give them the love and attention they deserve. Congratulations, Boys!
Meet Matrix and Marley!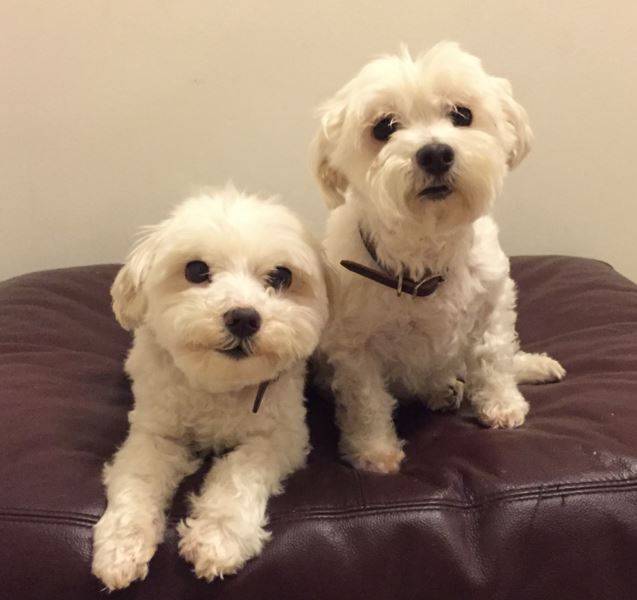 Dynamic due of cuteness in Burke, VA! Matrix and Marley are a bonded pair of purebred Maltese brothers looking for a loving home due to severe allergies. These brothers are just 7 years old and weigh 11 pounds each. They are very healthy, neutered and up to date on their shots. They are house broken and crate trained.
Marley and Matrix are affectionate, calm, cuddly and very adaptable to new situations and people. They are so cute when they get excited, and really "go to town" welcoming their owners home – even if they have only been away for a few minutes!
While these adorable dogs are good with children, they are best suited for families with children who are old enough to understand that dogs are living creatures, and not toys. Marly and Matrix would prefer not to have their eyes poked, tails pulled or the living daylights squeezed out of them by well-meaning toddlers.
They are used to their owners 4 month old baby, who has developed severe allergies to the dogs. The owners are heartbroken to have to make this very difficult decision to find them a good home. They are dearly hoping to find dog lovers who will spoil Marley and Matrix rotten! The boys love attention and being with their humans.
They are not a good choice for those who already have dogs in the home. They also do not get along with cats. Their ideal home will be with people who have lots of time to spend with the dogs, a securely fenced yard or other safe area for them to use as their bathroom, and the devotion needed to keep these precious dogs safe, happy and healthy.
If you would like to meet Matrix and Marley, please fill out our "request to meet a pet" form below. Once received, our pet rehoming specialist, Debbie Moore, will contact you to discuss your application, prior to arranging for you to meet the dogs in their home. Burke, VA is their location, very close to Washington, DC and not far from Baltimore, MD.
---
All About Matrix and Marley
Name of Pet: Matrix and Marley
Location: Burke, VA, 22015
Type of Pet: Dogs
Breed of Pet: Maltese
Sex of Pet: Males
Age of Pet: 7 years old
Spayed/Neutered?: Yes
Health Problems: No
Up To Date on Vaccinations: Yes
Gets along with cats: No
Gets along with dogs: No
Good with Children?: Yes
House Broken or Litter Trained?: Yes
Crate Trained?: Yes
Accessories Included: All their kennels, toys, treats, food, and preventative medicine (flea and heartguard)
Matrix and Marley's Personality
Sweet
Get excited to see us
Love to cuddle
Calm around chaos
Very adaptable (we've had a lot of military moves)
Matrix and Marley's Current Home Environment
We are very busy with an active toddler and new baby. The dogs are crate-trained and all the crying and screaming do not bother them.
Matrix and Marley's Current Family:
We are a military family and have had a lot of moves. The dogs have been with us for 7 years and have moved with us overseas and back. We have a 2.5 yr old active boy and a 4 month old girl.
Matrix and Marley's Favorite Toys, Foods, Activities?
They love walks outdoors, cuddling in our laps, pupperoni snacks and smart bones. They love stuffed animals with squeakers.
Cute Matrix and Marley Story:
Our dogs are very resilient. Our move to Japan was very difficult on them (they had to be quarantined for 6 weeks in a kennel) but they were very good and adapted very easily to all our new environments. (hotels, 3 apartments, kennels)
Why is Matrix and Marley Being Rehomed?
My 4 month old daughter is very allergic to the dogs.
Matrix and Marley's Perfect Adoptive Home Will Be:
Ideally, a family with older kids and no other dogs. It would be nice if someone was home with the dogs at all times but it is not necessary since they are crate-trained.
Additional Comments:
We would love to see how the dogs are doing but understand that the new family may want their privacy.