Meet Zooey – Female Tortoiseshell Cat For Adoption in San Francisco CA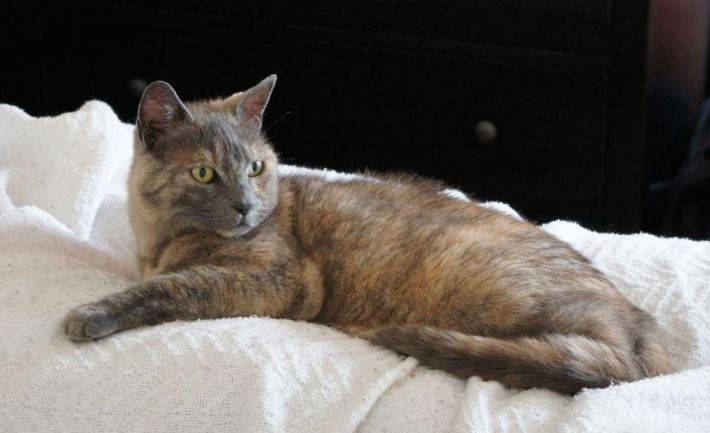 Zooey is a sweet senior Tortoiseshell cat for adoption in San Francisco, CA. Zooey is very healthy and has been spayed and is up to date on her vaccinations. Zooey is 13 years old and weighs about 9 pounds. She is very cuddly and sweet, but prefers to be the only pet in a quiet, adults-only home. Please adopt this precious senior Tortie cat in San Francisco today.
There is a $25 adoption/rehoming fee. Supplies and veterinary records will be included.
---
All About Zooey – Unsure Cat For Adoption in San Francisco CA
Name of Pet: Zooey
Location:  San Francisco, CA 94116
Type of Pet: Cat For Adoption
Breed of Pet: Domestic Shorthair
Sex of Pet: Female
Age of Pet: 13
Spayed/Neutered?: Yes
Health Problems: No
Behavior Issues: Yes Zooey and my 5yo daughter do not like each other. When my daughter is home for long stretches of time, Zooey will urinate outside of her box near my daughter's belongings.
Up To Date on Vaccinations: Yes
Gets along with cats: No
Gets along with dogs: No
Good with Children?: No
Litter Trained?: Yes
Accessories Included: Zooey is a very low maintenance cat as far as supplies go. We are happy to pass along her favorite toys and to purchase a fresh litter box, litter, and some cat food. As she is a senior cat and may require vet trips in the future if her health declines, we are also open to negotiating a vet allowance for the new owners.
Zooey's Personality
Gets along well with most people
Loves to snuggle and nap with her humans
When she's very content, she drools which I think is adorable.
Zooey is good at knowing when one of her humans is sick and will comfort them if she is able.
Zooey's Current Home Environment
My husband works from home and I am a stay-at-home parent. There is almost always someone home, which Zooey enjoys. We have only one child and don't have much company so she has a pretty quiet life most of the time. Our house is clean and comfortable with lots of private nooks for her to hide in when needed.
Zooey's Current Family:
We're a family of 3, though I have had Zooey since I was single and she was a kitten. My husband works from home as a writer. I am a stay-at-home parent with a small side business that I do from home. Our daughter is five years old and recently started kindergarten. We're quiet homebodies and spend a lot of time at home reading, playing card games, playing video games, etc.
Zooey's Favorite Toys, Foods, Activities?
Zooey likes string toys with bells, crumpled paper balls, pom-poms, and q-tips. She likes to bat at things, chase, and pounce. Her favorite thing to do is cuddle with me, her main human. She drapes herself across my shoulders when I am working at my desk and spends a lot of time on my lap when I am in bed or on the couch. As an occasional treat, Zooey likes a bit of plain Greek yogurt. Otherwise, she eats dry cat food.
Cute Zooey Story:
Zooey seems to always know that I'm sick and often will pinpoint the body part or area that is unwell. When I had pneumonia years ago, she spent the week purring on my chest. When my wrist hurts, she will sleep on my arm.
Why is Zooey Being Rehomed?
My daughter has developmental issues and for some reason, Zooey triggers some of those issues and causes her a lot of stress and anxiety to the point where she is having nightmares about our cat. Zooey picks up on the stress and is also anxious, spending the majority of the day hiding in my bedroom away from my daughter when they're both home. She only comes out after my daughter is in bed. She's normally a very cuddly and social cat and would much rather be out in the common areas sitting on my lap or riding around on my shoulders. Zooey has also been urinating on my daughter's things.
My daughter is very cautious and sweet with animals and has never treated Zooey inappropriately. In fact, she only visits with her in the morning when Zooey's at her calmest, and she does so with supervision from me. We have tried moving Zooey's food to quieter spots in the house but she still eats very quickly so she can hide again, which results in frequent vomiting. We keep her litter box clean and it is in a quiet and otherwise empty closet, away from my daughter's room and the common areas. We have taken her to the vet for an exam, urine culture, and blood work which all show she is healthy.
At this point, I think Zooey would be happier and healthier in a house without children or with older children where she can live out her remaining years in peace. Unfortunately we don't have any friends or acquaintances who are in a position to adopt her as they either have kids, are in rentals, or they have other animals.
Zooey's Perfect Adoptive Home Will Be:
Ideally, Zooey would be adopted into a quiet household with someone who works from home or with retirees so she can live out her final years in peace and quiet.
Additional Comments:
Zooey has been my baby and I have been her main human for 13 years. I adopted her as a 6 week old feral rescue. I hope that any prospective owners would be willing to spend a bit of time in my home getting to know Zooey and allowing me to teach them about her quirks, likes, and dislikes.
How To Adopt Zooey
If you are interested in adopting this special tortoiseshell cat For Adoption in San Francisco CA, please fill out our online meeting request here. Once received and reviewed, our staff will ask the pets owner to reach out to you and arrange a meeting to determine for certain if Zooey is a good fit for you – and you are a good fit for this sweet senior cat.
If you have any questions about our careful pet rehoming process, feel free to get in touch.
Zooey – Female Tortie Cat For Adoption in San Francisco CA
Zooey is a shorthair dilute tortie cat for adoption in San Francisco CA, near San Jose and Oakland, and close to the following California towns and cities:
Adopt this sweet shorthair dilute tortie Cat today.