Cane Corso Labrador Retriever Mix For Adoption Mississauga ON – Adopt Chloe Today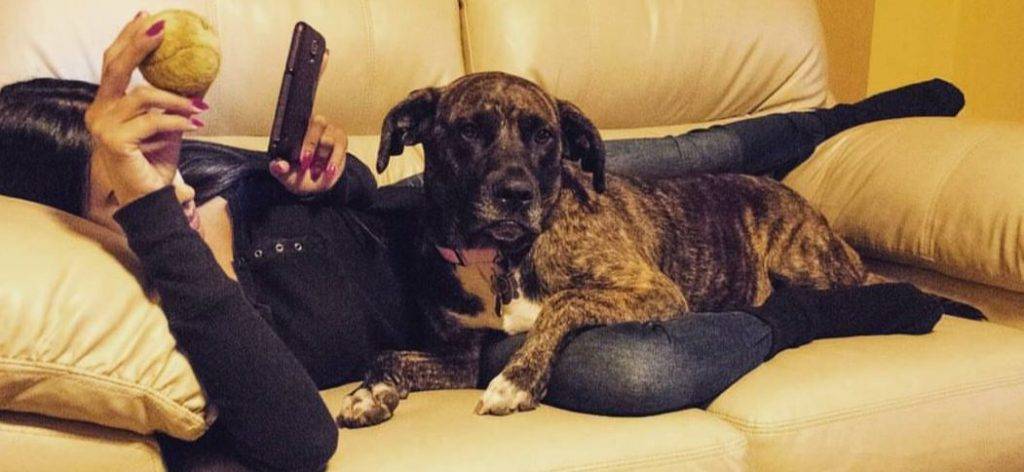 This charming brindle and white Cane Corso Labrador Retriever mix considers herself a lap dog!
Meet Chloe – Awesome Female Cane Corso Labrador Retriever Mix Dog For Adoption in Mississauga Ontario
There is a $100 adoption/rehoming fee. Supplies and vet records will be included.
Questions About Chloe?? Text "Interested In Chloe" to (888) 833-2128 or email adoptChloe@pet-lover.us
Great with children and awesome with cats, Chloe is a sweet 4 year old female brindle and white Labrador Retriever Cane Corso mix dog looking for a new home in Mississauga, Ontario and area.
This pretty and very devoted dog is 4 years old and weighs about 60 pounds. She is spayed, up to date on shots, micro-chipped and house broken. She walks well on a leash, and has also undergone obedience training. Chloe is an angel with paws!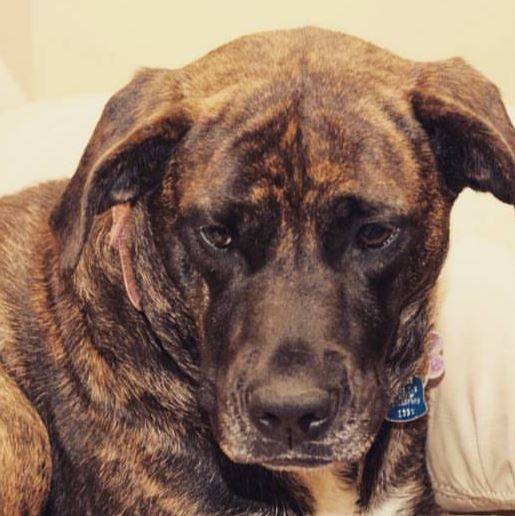 Chloe recently had a seizure out of the blue. Her veterinarian diagnosed her with Epilepsy, and has placed her on a once-a-day pill which should keep her happy and healthy throughout her life. The medication she is on is inexpensive and easy to give to her.
Chloe's owner is faced with the difficult choice of having to find Chloe a good home. She loves this beautiful dog very much, but increasing hours at work (and commuting to and from) make it difficult to provide Chloe with the companionship, exercise and playtime she needs and deserves. Complicating things, Chloe is starting to have separation anxiety. She really does not like spending her days alone.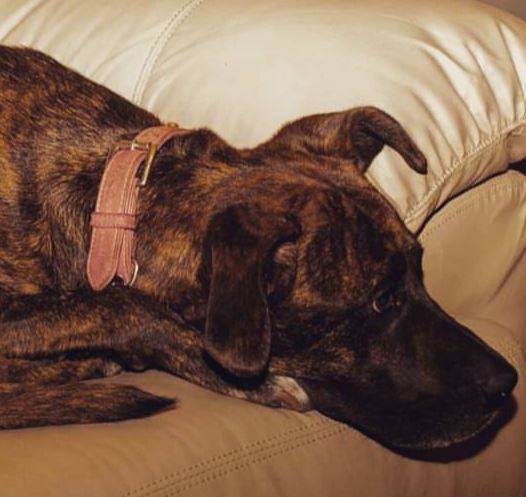 Chloe would do very will in a loving home with owners who can spend more time with her. She is a well mannered dog, and would be the ideal fit for retired dog lovers with a securely fenced yard. She enjoys taking a walk every day, but is also content chasing a ball in the back yard. Her true need is human companionship. This is a dog that gives back far more than she gets.
If you are interested in offering Chloe her forever home, please contact us. We will be happy to speak with you, and help you decide if Chloe is the right fit for you. We ask potential adopters to fill out our online meeting request form, and we will have the owner call you to arrange a mutually convenient time to meet.
Thanks for your interest in Chloe. We look forward to hearing from you.
Questions About Chloe?? Text "Interested In Chloe" to (888) 833-2128 or email adoptChloe@pet-lover.us
---
All About Chloe – Cane Corso Labrador Retriever Mix Dog For Adoption in Missisauga Ontario
Location: Mississauga, Ontario L5B3G8
Type of Pet: Dog
Breed: Cane Corso Labrador Retriever Mix
Age: 4 years old
Color/Coat Type: Brown brindle, long fine hair
Size: She weighs 58lbs. She is very fit
Health Issues: Idiopathic Epilepsy. Well controlled on a daily pill. Medication costs just $50 per month. Otherwise very fit and healthy
Behavior Issues: Some separation anxiety. Needs appropriate introduction to new dogs.
Chloe is:
Spayed, Fully vaccinated, House Broken, Leash Trained
Chloe gets along with:
Babies, Toddlers, Small Children, Older Children, Dogs, Cats
Personality
She is a loving and kind dog, very quiet buy playful and energetic when she wants to be or when you encourage her to be.
She is extremely healthy as she has been on a raw food diet her whole life. She is very spoiled with toys and treats!
She loves to be around people and kids and has a few other dogs who are her best friends. She likes cats. She can be good around new dogs if she is approached the right way and given time to "get to know them".
She does not do well being rushed by another dog, it scares her and causes her to hair up and growl. She has never bitten another animal or person.
She grew up around very young children including a new born, and was later introduced to my autistic brother whom she grew very fond of. She is protective of her home and owner/family.
She loves to play outside with her toys. She enjoys the snow (hopping around and throwing it everywhere). She cannot be walked in extremely cold temperatures or snow for a long period of time as her feet will get cold.
She is adjusted to a routine of having her food at a set time.
Overall she is an extremely affectionate dog and truly an amazing family pet.
Food and Diet
Chloe is currently on Other
She eats one pound of raw organic chicken every day in the morning (around 7am) and weekends around 9am.
She is not fed people food aside from some occasional fruits and vegetables.
The food is brought in from Montreal and sold to me through a distributor in Mississauga.
The food is to be kept frozen and thawed one pound at a time per day/feeding time.
Each pound is already cut into a brick size and packaged in packs of 6.
Food is purchased by the case, each case contains 46-48 bricks/pounds.
Pricing can vary but is usually around $80/case.
Reason For Rehoming
I love my dog more than anything but I have recently moved and she is not responding well. In my last home she had another dog to play with and a doggy door to enter and exit at her own free will.
Now she doesn't have another dog to play with and is alone at home from 7:30am – 6:00pm when I am at work.
She doesn't like being alone and has chewed up my door frames and walls during the time I'm gone.
She has a neighbour who comes to check on her regularly and let her out back to pee however she acts up before/after he comes.
I'm not in a position to quit my job. I tried leaving her in a large crate when I'm gone and she chewed through the metal base and hurt herself doing so.
How to Adopt Chloe
If you would like to consider offering Chloe a loving, forever home, please fill out our Request To Meet A Pet form here:
https://pet-net.net/adopt-a-pet/
Once received, we will contact you to discuss your request and set up a mutually convenient time to meet Chloe and her owner in their home.
Questions About Chloe?? Text "Interested In Chloe" to (888) 833-2128 or email adoptChloe@pet-lover.us
Chloe is a Cane Corso/ Lab Dog For Adoption in Mississauga Ontario and close to the following towns and cities in Ontario:
Etobicoke, ON
Brampton, ON
Oakville, ON
Milton, ON
Toronto, ON
Georgetown, ON
Vaughan, ON
Acton, ON
Burlington, ON
Bolton, ON
Caledon East, ON
Richmond Hill, ON
Erin, ON
Hamilton, ON
Scarborough, ON
Adopt this beautiful Cane Corso Labrador Retriever Mix dog today.