5 YO Male Doberman Pinscher Labrador Retriever Mix Dog For Adoption to Only Dog Household – San Antonio TX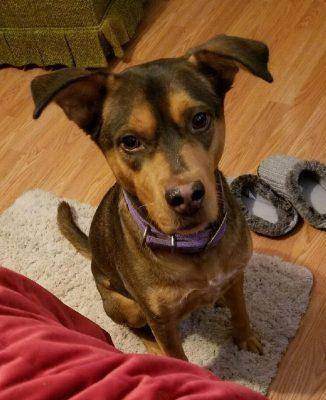 Meet Murphy – Doberman Pinscher Labrador Retriever mix (Doberdor) For Adoption in San Antonio Texas
There is a $75 adoption/rehoming fee. Supplies and vet records will be included.
Questions About Murphy?? Text "Murphy in San Antonio" to (888) 833-2132 or email AdoptMurphy@pet-lover.us. We look forward to hearing from you!
Murphy is one of those dogs that immediately catches your heart the moment you meet him. Not only is he as cute as a butterfly's elbow, Murphy has that certain something about him that you know is very special. Whether it is the pure devotion that is clearly evident in his deep brown eyes, or the unbridled joy he has for life, Murphy brings out the dog lover in everyone.
His owners love Murphy so much. They adopted him from a local shelter when he was a very young dog, and had hoped to be his forever family. Unfortunately, it has become apparent that he is not well suited to share his home with other dogs. There have been some displays of aggression between their other dogs and Murphy.
As much as it breaks their hearts to do so, Murphy's owners are hoping to find him a loving home where he is the only dog in the home. Murphy is best suited for kids 12 and up. He does need a home with people who have lots of time to spend cherishing him. He would be best suited for owners who own their home and have a large, very securely fenced yard for him to play in. He loves to play and run around in the yard. He would be a great match for an owner who loves to run, too.
If you have room in your heart and home for the ultimate canine cuddle bunny, Murphy would like to apply for the position of best friend and family companion. Please offer Murphy a loving home today.
Questions About Murphy?? Text "Murphy in San Antonio" to (888) 833-2132 or email AdoptMurphy@pet-lover.us. We look forward to hearing from you!
---
All About Murphy – Doberman Pinscher Lab Mix Dog For Adoption San Antonio
Location: San Antonio, TX, 78213
Type of Pet: Dog
Breed: Doberman Pinscher Labrador Retriever mix
Age: five years
Color/Coat Type: Chocolate and Dark Brown – Smooth coat
Size: 45 lbs
Health Issues: no
Behavior Issues: needs to be an only dog and best suited for kids older than 12. Must be kept in a very secure yard, and if out on a walk, securely leashed. He has a tendency to go after other dogs. He is very protective of his turf, home and family.
Murphy is:
House Broken, Neutered, fully vaccinated. He is house broken
Murphy gets along with:
Adults, children older than 12.
Personality
Murphy loves to be rubbed. He gets into our laps as often as possible, which isn't that much because he's really too big for that. He settles for lying next to us while we pet and love on him.
He's smart. I'd call it street smart. He's a rescue from the pound. we got him at a year old. He's very skidish when walking through doorways, as if he's afraid the door will hit him. I've never hit him with the door. It appears he may have been mistreated as a pup. He has only showed aggression to our older dog and dogs walking past our house. we had two foster dogs for about a month and he never showed aggression toward them. he loves to run and he's fast.
Food and Diet
Murphy is currently on Hills Science Diet
Reason For Rehoming
He's a very loving, smart dog, but his aggression toward other dogs is too much for me to handle. we love Murphy very much and want him to have a happy life but we don't believe we can provide that any longer. he's being kept separate from our other two dogs and he's sad.
How to Adopt Murphy the Doberman Pinscher Lab Mix Dog in San Antonio Texas
If you would like to consider offering Murphy a loving, forever home, please fill out our Request To Meet A Pet form here:
https://pet-net.net/adopt-a-pet/
Once received, we will contact you to discuss your request and set up a mutually convenient time to meet Murphy and their owner in their home.
Questions About Murphy?? Text "Murphy in San Antonio" to (888) 833-2132 or email AdoptMurphy@pet-lover.us. We look forward to hearing from you!
Murphy is a Doberman Pinscher Labrador Retriever mix Dog For Adoption in San Antonio Texas near Austin and very close to
Kirby,
Leon Valley,
Converse,
Live Oak,
Universal City,
Schertz,
New Braunfels,
Pleasanton,
Seguin,
Canyon Lake,
Hondo,
San Marcos,
Kyle,
Kerrville,
Lockhart,
Olmos Park,
Phoenix,
Columbia Heights,
Terrell Hills,
Alamo Heights,
Salado Junction,
Balcones Heights,
San Jose,
Terrell Wells,
Bergs Mill,
Castle Hills,
Palo Alto Park,
Kirby,
Withers,
North Loop,
Palo Alto Heights and
Heafer, Texas.
Adopt Murphy the Doberman Pincher Lab mix today.