Omaha NE – SIMBA – Snuggly Orange Tabby Cat For Adoption to Adults Only Home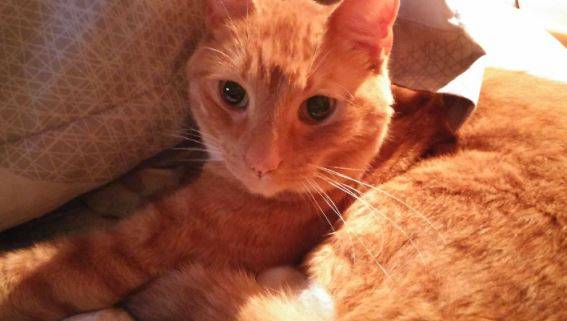 Meet Simba, Short-haired Tabby Cat For Adoption in Omaha NEBRASKA
Looking for a delightful Orange Tabby Cat for adoption in Omaha, Nebraska. Simba is a very cuddly neutered male cat looking for a very loving home. He is healthy, front declawed and 9 years young. Simba is looking for a quiet home where he can have his owner all to himself. He will be rehomed with supplies and vet records. Adopt Simba today.
There is a $25 adoption/rehoming fee. Supplies and veterinary records will be included.
Questions About Simba? Please contact our Omaha cat rehoming team. Text "Simba" to (888) 833-2128 or email AdoptSimba@cat-lover.us. We look forward to hearing from you!
♥
Name of Pet:
Simba
♥
Location:
Omaha
, NEBRASKA, 68154
♥
Type of Pet:
Cat
♥
Breed of Pet:
Orange Tabby Cat
♥
Color / Coat Type:
Orange Tabby
♥
Age of Pet:
9
♥
Size of Pet:
10 pounds
♥
Declawed:
Yes
♥
Health Problems:
No
♥
Behavior Issues
: No
The only issue right now is that he is very stressed out from our busy household with small children and other animals, so he is peeing right outside the litter box. Other that he is the perfect cat!
♥ Gets along with: Older Children, Adults
♥ Pet is:
Neutered, Microchipped, Fully vaccinated, Litter Trained
♥ Food: Other
We always buy Friskies Indoor Formula, but he doesn't seem too picky about his food. We've always bought an indoor formula food, though.
---
All About Simba – Short-haired Orange Tabby Cat For Adoption in Omaha NEBRASKA