Rehomed – Ryder – Amazing Australian Shepherd Mix Near Detroit MI
We are delighted to announce that Ryder has found a wonderful new home with Gayle. We are so happy to have been able to help bring about a happy ending in this very difficult situation. We're looking forward to receiving some photos of Ryder in his new home from Gayle soon!
---
Breed: Australian Shepherd Mix
Age: 1 year
Neutered: Yes
Vaccinated: Yes
Housebroken: Yes
Obedience Trained: Yes
Health Problems: NO
Good With Dogs: Yes
Good With Cats: Unknown
Good With Children: Yes, when supervised.
Energy Level: Moderate
Size: Medium (35 pounds)
Grooming Needs: Minimal
Location: Birmingham, MI 48009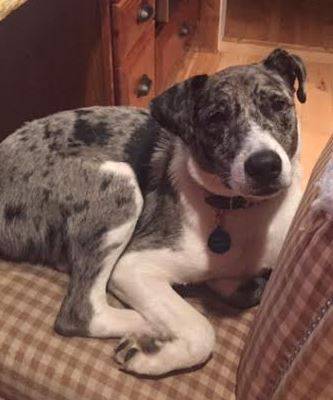 Meet Ryder – an absolutely adorable 1 year old Australian Shepherd mix looking for a loving new home near Detroit, MI. Ryder is very healthy, has been neutered and is up to date on his vaccinations.
He has also undergone obedience training, and is well behaved. He has still got some puppy tendencies, and does like to mouth. However he is good to listen when you tell him to stop.
Ryder is beautiful, smart and very loving and affectionate. He is a typical herding dog and likes to keep tabs on where everyone is in the home. He gets along really well with other dogs. He is so handsome! He has a cute face, floppy ears and beautiful blue-merle markings with a white chest and legs.
Ryder was adopted from a rescue about 5 months ago by his family,  who love him very much.
Unfortunately, Ryder needs to be placed in a home without kids. He's very well-behaved, but recently nipped the little 8 year old girl in the family when she startled him. It was an isolated incident, and probably just a startle response, but the family cannot take chances that it will happen again. They are devastated to have to make this very difficult decision, but are hoping that the right home can be found for this special dog.
He is so very good. He loves people and other dogs and is very smart. Although he likes children, he needs to be in a home without children for everyone's benefit.
Ryder would love to live in a country setting, helping out on a farm or ranch. He's also well suited to suburban life with owners who have a nice big fenced yard, and lots of time to give him the love, attention, exercise and stimulation he needs and deserves.
If you would like to learn more about this beautiful boy, please feel free to call Debbie, his pet rehoming coordinator, toll free at 888-720-3322. You can request to meet Ryder by filling out our form below.
Ryder is a really special boy who deserves a good home with great people.