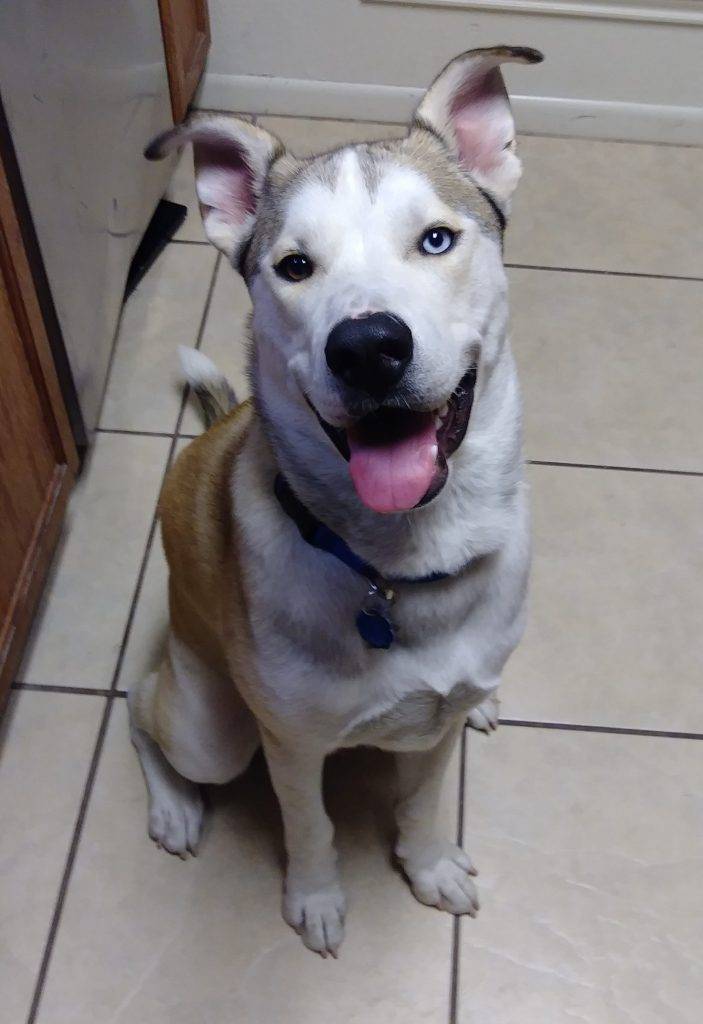 Kai is a gorgeous brown and white male Siberian Husky Labrador Retriever mix dog for adoption to a very loving home in or near Corpus Christi TX. This very special dog is just 1 year old and is a big boy at 92 pounds. Kai is fixed, up to date on shots, very healthy and house trained.
---
Meet Kai, Siberian Husky Labrador Retriever Mix Dog For Adoption in Corpus Christi TX
Kai is still a puppy in many ways. He has a lot of "joie de vivre" and can be a little over the top when it comes to meeting and greeting new people. He can be reliably expected to make you feel very special when you come home – even if you have only been gone for 5 minutes. He is a 90 pound welcoming committee with fur and paws!
Kai is very loving and sweet. He adores children and is a great companion and family member. His owners love Kai so much, but their schedules are so busy that the are not able to give Kai the attention, playtime and exercise he needs and deserves. They want Kai to have the best home ever, and are looking for a family or couple who have lots of room for him to run and play in a securely fenced yard. (An acreage or ranch would be ideal!). Kai needs some positive reinforcement, so someone who can commit to consistently work on his manners will be rewarded.
If you have been looking for a wonderful family companion, Kai is waiting to meet you. Please fill out our online meeting request form below, and Kai's owners will contact you to arrange to meet.
There is a $150 adoption/rehoming fee. Veterinary records and some supplies will be included.
Questions about Kai? Contact our Corpus Christi dog rehoming team. Text "KAI" to (888) 833-2128 or email AdoptKai@dog-lover.us. We look forward to hearing from you.
---
All About Kai – Siberian Husky Labrador Retriever Mix Dog For Adoption in Corpus Christi TX
Behavior Issues: He needs consistent behavior modification as he is still a puppy and has a lot of energy. He tends to get excited and still jumps up on people. Up To Date on Vaccinations: Yes Gets along with cats: Unknown Gets along with dogs: Yes Good with Children?: Yes House Broken or Litter Trained?: Yes Crate Trained?: No Accessories Included: Body harness collar, neck collar, leash, toys, dog bowls, tags, shampoo and conditioner, and records.
---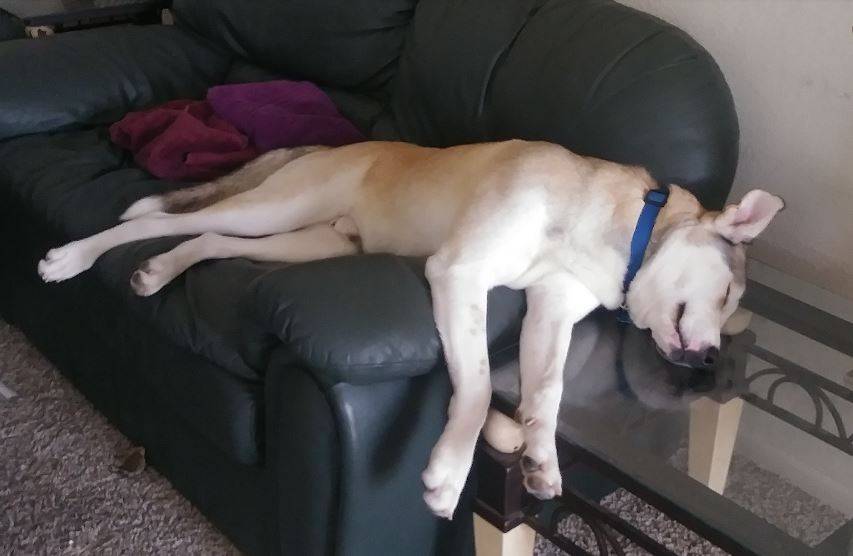 Kai's Personality
Enjoys playing with my 4, 9, and 11 year olds.
He is very trainable. Sit, laydown,stay,shake,look at me, and sit pretty so far.
He is caring
He tries to talk to you sometimes
He's an attention getter
He gets very excited from time to time. He is a dog that needs more attention than the average dog. He is a very curious dog and likes to be adventurous. He greets new people by jumping on them.
Kai's Current Home Environment
He likes going in and out throughout the day. He greets all of us when we get home. We live in a house with a decent size backyard in a close quarter sub division.
Kai's Current Family:
Very busy with 3 kids in sports, mom working/school, and me working/traveling mechanic to different refineries.
Kai's Favorite Toys, Foods, Activities?
He enjoys rawhide bones, pig ears, deer antlers. He likes soccer balls. He is very active and enjoys walks and runs. He really enjoys fetching.
Cute Kai Story:
My 4 year old daughter is his favorite. She lays down with him and sits with him. He is very calm natured around her.
Why is Kai Being Rehomed?
We have become a very busy family over the past year. I got a new job that requires me to travel now. My fiancee can't take charge of the dog as I have been. She has a new job and goes to college. There is just not enough time spent with Kai and he needs attention and to be around people. He is very active and needs playtime and room to get his energy out. We are also trying to get pregnant.
Kai's Perfect Adoptive Home Will Be:
A family as a whole to love and care for him. Give him all the attention he needs. He needs land to run around or taken out to play, run, walk, and such. He needs people around him much of the day. He is calm and relaxed at times, and he gets energy spurts.
---
How To Adopt Kai – Awesome Siberian Husky Mix Dog in Corpus Christi TX
If you are interested in adopting this special Siberian Husky Mix Dog For Adoption in Corpus Christi TX, please fill out our online meeting request here. Once received and reviewed, our staff will ask the pets owner to reach out to you and arrange a meeting.
Questions about Kai? Contact our Siberian Husky dog rehoming team. Text "KAI" to (888) 833-2128 or email AdoptKai@dog-lover.us. We look forward to hearing from you.
---
Kai – Siberian Husky mix Dog For Adoption in Corpus Christi TX
Kai is a Siberian Husky mix Dog for adoption in Corpus Christi TX.He is located within a reasonable drive of the following towns and cities in Texas:
Portland, TX
Ingleside, TX
Robstown, TX
Aransas Pass, TX
Rockport, TX
Kingsville, TX
Alice, TX
Beeville, TX
Port Lavaca, TX
Victoria, TX
Raymondville, TX
Pleasanton, TX
Harlingen, TX
Edinburg, TX
San Benito, TX
North Beach, TX
Nueces, TX
Flour Bluff Junction, TX
Nueces Bayfront Colonia, TX
Nueces Bay Colonia, TX
Doyle, TX
Doyle Addition Colonia, TX
Portland, TX
Crescent Center, TX
Viola, TX
McNorton, TX
Clarkwood, TX
Peary Place, TX
Gregory, TX
Arlington Heights, TX
Ingleside On-the-Bay, TX
Caruthers Cove Colonia, TX
Adopt this sweet Labrador Retriever Siberian Husky mix dog in Corpus Christi TX today.