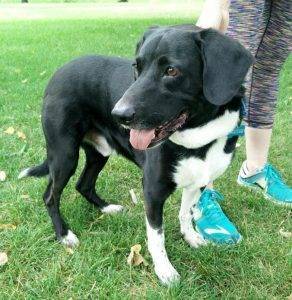 Stanley has been adopted. Denver, CO – Stanley is quite a dog! He is such a handsome guy in his black and white tuxedo with spotted white paws. Stan appears to be an English Springer Spaniel and Labrador Retriever mix. He is 5 years old and weighs about 50 pounds. Stanley considers himself to be a lap dog. He is very sweet natured and loves to snuggle. He has been neutered, and is very healthy, with the exception of occasional ear infections, which are common in floppy-eared dogs.
Stanley is looking for a family who will cherish him. He is fine with older children, but smaller kiddos make him nervous. He is fine with moderate to low exercise, and enjoys spending lots of time with his people.es will be included.
---
All About Stanley
Name of Pet: Stanley
Location: Denver, CO, 80210
Type of Pet: Dog
Breed of Pet: Lab/springer spaniel mix
Sex of Pet: Male
Age of Pet: 5
Spayed/Neutered?: Yes
Health Problems: Yes
Up To Date on Vaccinations: Yes
Gets along with cats: No
Gets along with dogs: Yes
Good with Children?: No
House Broken or Litter Trained?: Yes
Crate Trained?: No
Accessories Included: Leash, collars, dog bed, food bowl, water dispenser if desired, food, Dr. Gold's ear therapy, brush.
Stanley's Personality
1) Calm
2) Good companion! He is chill and loving around the house, great for walking, and/or jogging
3) Great with strangers
4) Follows simple commands, and lets you know when he needs to go out
5) S-o-o-o huggable
Stanley's Current Home Environment
We live in a smaller sized home and have Stanley and another small very energetic male dog. The two dogs get along well, and Stanley enjoys shaking and tugging on rope toys, or towels. We have a fenced yard, but he usually wants to be where the people are. We go on a short walk every morning.
Stanley's Current Family:
Usually two adults present with both short and lengthly stays from older children and 1 grandchild. We both work 8 to 12 hour days but not always at the same time.
Stanley's Favorite Toys, Foods, Activities?
Stan will occasionally play with rope toys and small towels or stuffed animals. He seems to do better with grain-free food. He loves to go on walks and jogs, enjoys dog parks, and car rides!
Cute Stanley Story:
Our door was open and Stanley went exploring. After getting in the groceries, I took the car and went looking for him up the street. Seeing children running around in a gated home fairly far off the road, I thought he may be there. I called his name and here comes Stan running down the long drive toward me with my neighbor and children following. Turns out he ran with my neighbor who was out jogging, back to his house. Stanley just came around to the back of our Rav 4 and jumped in, eager to be back, but happy for the adventure!
Why is Stanley Being Rehomed?
He is nervous around toddlers, and the owner has a 2 year old grandchild. He would be great in a home with older children.
Stanley's Perfect Adoptive Home Will Be:
I would like Stan to go to a caring and affectionate family with older children or as a couple or single person's companion. He is a good companion for someone who would like a calmer dog, who is good with low to moderate exercise.