Sensational Tuxedo Cat Seeks Special Home Due To Owner Illness -Zephyrhills FL – Please Adopt Tuxy Today
Hi, My name is Tuxy!
There is a $25 adoption/rehoming fee. All supplies will be included.
If you are looking for a perennially well-dressed feline companion, Tuxy is looking for you! This absolutely adorable 6 year old black and white Tuxedo cat is so special. He is, simply put, "almost human".  From his gorgeous green eyes that gaze up at you with so much love, to his cute pink nose and "extra fluffy" body shape, Tuxy is a cat that reaches out and leaves furry white paw prints on your heart.
Tuxy is very healthy, aside from occasionally having some dry skin (not a bit issue, for sure). He has been neutered, fully vaccinated, and is a perfect gentleman when it comes to using his litter box and behaving himself around the house.
Some might say that Tuxy is a bit on the pudgy side, but that just means there is more of him to love. He is a foody at heart, but does like to get his exercise by going outdoors on short adventures.  He is the perfect choice for a cat lover who needs a diet and exercise buddy!
Tuxy has a really nice personality. He is a charmer, and loves to follow you around the house, acting as your silent cheerleader in whatever you happen to be doing. Whether you need someone special to give chin rubs to while you sit on the toilet, or some feline companionship when folding laundry, Tuxy is there for you.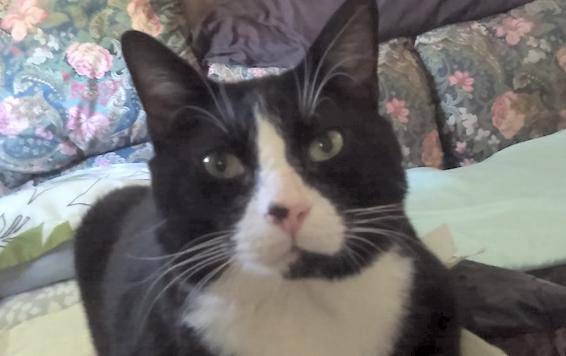 Tuxy's owner loves him so much. Sadly, her health is failing, and she is so afraid of what might happen to him if she were to be taken to hospital or a care facility. She wants to make sure that Tuxy is safe, happy and healthy in a loving home where he will be cherished for the rest of his days. She would love to keep in touch with him, but only if that is OK with his new owners.
If you have room in your heart and home for one very special cat, please offer Tuxy his forever home today. He can't wait to purr his way into your heart. If you have any questions about Tuxy, please feel free to call Debbie, his pet rehoming coordinator, toll free at (888) 720-3322 or fill out an online request to meet him at http://petrehoming.net/adopt-a-pet/
Once received and reviewed, Tuxy's owner will contact you to arrange a mutually convenient time to meet. All supplies and vet records will be included. Thank you for considering this very sweet and special boy as your new best friend.
---
All About Tuxy
Location: Zephyrhills, FL, 33541
Close to Tampa, St. Petersburgh and Orlando
Type of Pet: Cat
Breed: Black and White Tuxedo Cat
Age: 6 years
Color/Coat Type: Black & White/w med length hair
Size: approx 15 lbs
Health Issues: no
Behavior Issues: no
Tuxy is:
Neutered, Litter Trained, House Broken
Personality
Tuxy is gentle and shy at times until he knows you. He wants to be included in things and be near people. He must be able to go outside and inside. Right now, he is depressed because he can't go outside & is overeating. He is obese. He has only been around me and another adult. He is not comfortable around other animals due to his past. He is around my other cat, but didn't bond. He was beaten up by other cats in his past.
Food and Diet
Tuxy is currently on Other
Because of my failing health, he is using a feeder & he eats canned food daily. He would need to be on a strict diet with exercise opportunities.
Reason For Rehoming
My health has been failing over the last 6 months. I don't know how much longer I will be able to stay in my home. In addition, before I moved in, I was told that pets were allowed, but after I moved here, I was advised that all pets had to be on a leash when outside, including cats. This really limits their freedom cause many can't take them for walks due to limitations. It forces them to be inside. I cannot afford to move.
How to Adopt Tuxy
If you would like to consider offering Tuxy a loving, forever home, please fill out our Request To Meet A Pet form here:
http://petrehoming.net/adopt-a-pet/
Once received, we will contact you to discuss your request and set up a mutually convenient time to meet Tuxy and their owner in their home.