Amazing American Pit Bull Terrier (Pitbull) For Adoption in Olympia WA – Meet Kratos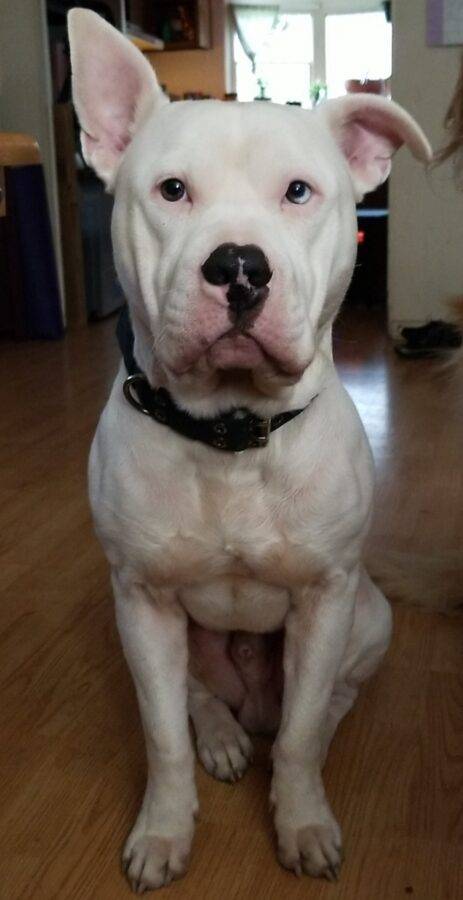 Have you been looking for an amazing family dog for adoption in Olympia, Washington? Kratos is an American Pit Bull Terrier (Pitbull) dog looking for a family to cherish him.
This two year old dog weighs about 60 pounds and has a smooth white coat, accented with black markings. He is really handsome, and gets along very well with children – a hallmark of this popular American dog breed.
Kratos is deaf. Like most deaf dogs, Kratos is not bothered by his disability and manages almost as well as a normal hearing dog. He also has allergies, which are fairly well- managed on his special diet and medication.
His owner has not been able to afford having him fully tested for allergies, and hopeful that this is something his forever family can take care of.
Meet Kratos, Pitbull (American Pit Bull Terrier) For Adoption in Olympia WA
Kratos is a male American Pit Bull Terrier Dog for adoption to a very loving home in or near Olympia, WA. This very special Dog is 2 years old and weighs 60+ lbs pounds.
Kratos is being placed for adoption by owner for the following reason:
I am having to now work 2 jobs to make ends meet and no longer can provide Kratos with the attention and exercise he needs and deserves.
How To Adopt Kratos
If you are interested in this special Pitbull Dog For private rehoming in Olympia WA, please fill out our online meeting request below. Once received and reviewed, our staff will ask the pets owner to reach out to you and arrange a meeting.
There is a $150 adoption/rehoming fee. Supplies and veterinary records will be included.
---
All About Kratos – Pitbull Dog For Adoption in Olympia WA
Name of Pet: Kratos
Location: Olympia, WA,
Type of Pet: Dog
Breed of Pet: Pitbull
Sex of Pet: Male
Age of Pet: 2
Spayed/Neutered?: No
Health Problems: Yes Deaf, Grain allergy, dry skin,
Behavior Issues: Needs to be crated or confined within a smaller space when left alone – otherwise he will pee.
Up To Date on Vaccinations: No
Gets along with cats: Unknown
Gets along with dogs: Yes
Good with Children?: Yes
House Broken or Litter Trained?: Yes
Crate Trained?: Yes
Accessories Included: His remaining food in plastic storage bin, slow feeder bowl (he will swallow his food whole and gets bad gas), the remaining monthly flea treatment, 2 dog beds, collar, leash
Kratos's Personality
Hes very loving, Doesn't bark (unless watching another dog bark), Always ready to play, Calming, Great running partner
Kratos's Current Family:
We were a family of 3 dogs, one child, and one adult.
Kratos's Favorite Toys, Foods, Activities?
He doesn't really play with toys. He will eat balls if left with him. He chews on the fake bones if another dog is also chewing on them. He will swallow rawhides or other treats whole instead of laying down and slowly chewing on them so these are not given.
He loves carrots as treats and is food motivated when training if carrot chips are involved. He eats a high protein grain free food. He LOVES playing fetch and chasing the ball.
Why is Kratos Being Rehomed?
I am having to now work 2 jobs to make ends meet and no longer can provide Kratos with the attention and exercise he needs and deserves.
Kratos's Perfect Adoptive Home Will Be:
A family with another pet with a calm demeaner. One who wont mind Kratos following them around and often sitting next to or on them. He requires guidance and reassurance and gets that through touch with either another animal or person.
He is high energy and would benefit from frequent walks and play time with another animal or outside playing ball. He needs a family who understands that he is deaf and learn to communicate through sign. He knows how to come, sit, lay down, and go. Also has a sign for good boy and no.
He needs medication and treatment for his itchy and dry skin. Currently taking Benadryl daily and oatmeal shampoo baths as needed. He could use further veterinary attention for his skin but unfortunately I am unable to provide this for him.
Kratos – Pitbull Dog For Rehoming in Olympia WA
Kratos is a Pitbull Dog for private adoption by owner in Olympia WA. This pet is located close to the following towns and cities in WA:
Tumwater WA,
Lacey WA,
Shelton WA,
Lakewood WA,
University Place WA,
Spanaway WA,
Centralia WA,
Parkland WA,
Elk Plain WA,
Tacoma WA,
Puyallup WA,
South Hill WA,
Edgewood WA,
Sumner WA,
Federal Way WA,
Adopt this sweet Pitbull Dog in Olympia WA today.