Beagle Dog For Adoption in Herndon Virginia – Meet Riley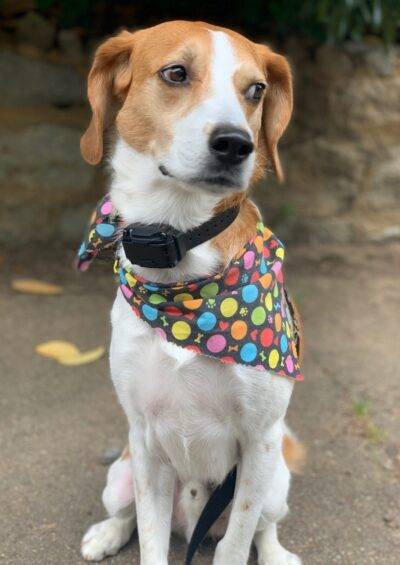 Have you been looking for Beagle Dogs for adoption in Herndon VA?  Please consider offering a loving home to Riley. Riley is a special adult  beagle dog in need of a loving home that is calm, quiet and has a strong routine. He loves all the same things that other beagles love.  He loves walks and hikes. He is a notorious snuggler, and will love to join you on the couch or the bed. He loves tough toys that require chewing, but also stuffed toys that he can destroy. Few things make Riley happier than ripping open a small stuffed toy to get the squeeker!
He practically celebrates in front of you when he accomplishes his mission – a typical beagle! Born to chase  catch small animals and toys.
You can certainly expect this loyal dog to forget you when there are squirrels outside, best not to try him on a cat.
Riley has a few extra needs, so he is best suited for seniors who stay at home and have a fenced back yard for Riley to play in. Like other dogs, he does not like anybody interrupting his meals.  Little kids or other dogs are likely to upset him if they want to grab his toys, or watch him eat.   Being a Beagle, a cat will be something to bark at or chase, so to be be a good home for Riley, he needs a home without small children or other pets. He will be a very happy dog in a home where he is the only pet, and with people who have lots of time to spend with him.  He is a loving, loyal buddy, but he does have his own needs. So his owner really wants to put him in the best possible situation where Riley can quickly adust.  He has adjusted to a new schedule and new home just this past year when his owner moved back in with relatives in a new neighborhood. Riley was great with the transition, as  there are actually a few more people now to spend some time with him. He missed having his fenced yard though, so if you can offer one, it will really impress him! He loves playing in his own yard!
If you have never see a beagle like Riley get excited to see you, then prepare to be amazed!  He is so full of joy whenever he gets to be with his special people.
Riley does require regular medication though, as he has had eplilepsy for a few years. It isn't a big thing to him, as he takes his medication and is used to it.  He even knows when he's likely to have an episode and will come and curl up near his people.  It is pretty rare, maybe something that happens once every 2 or 3 months. If you have a vet near you that you prefer to use, we can get you in contact with Riley's vet.  Really, this is not a problem.  A much bigger issue is leaving Riley home alone for an extended time. He has had anxiety problems when left alone for long times. He's good in his crate for a while, and we have a special crate and collar for him, but routine is so important to Riley, that he will howl and be very stressed if you are gone much longer than he is used to.  When upset, he may relieve himself  or chew on things that you won't want chewed up. So we really want to find a home where there is a second person around often enough to keep him calm at times when you just have to go out for a few hours.
He is such a friendly, healthy, playful dog, that he needs people to be part of his day – every day. He likes having a routine and hates surprises – so if you do too, you'll just love having Riley in your life!
His owner is willing to look in communities within a reasonable driving distance from Herndon, VA which is just across the Potomac River from DC,  and Bethesda. Arlington, Virginia is nearby, as are several communities in southern Maryland.  Trust us, for the right home, Riley's owner will be very pleased  to meet you.
Meet Riley, Beagle Dog For Adoption in Herndon VA
Riley is a Male Beagle Dog for adoption to a very loving home in or near Herndon, VA. This very special Dog is 9 years old and weighs 35 pounds. He is healthy, playful and active and enjoys walks, hikes, and chasing Squirrels or toys. He does have epilepsy, but that only really means that he is on a medication that helps him. It does not affect Riley's love of normal beagle activities or snuggling under the covers with you when you go to bed. He just loves to sleep next to someone.
Riley is being placed for adoption by owner for the following reason:
"My girlfriend and I recently broke up. We've had him together for about 6 years, and now that we've split recently, neither one of us can afford to give him the time and attention he needs."
Right now, his owner is working from home, but being single, having to be an only (full-time) dog parent is very restrictive for a young adult who may need to make some changes in the months ahead. Riley is really missing having  a home with a yard and a second owner around.  So a new home with a settled couple who have lots of free time to be Riley's best friend would be best for everybody.
If Riley's new owners are nearby and willing to send a photo of Riley in his new digs, it will mean the world to the people who love him and are looking to do what is best for their buddy.
There is a $75 adoption/rehoming fee. Supplies and veterinary records will be included.
Questions about Riley? Contact our Herndon Dog rehoming team today.
Text "Riley" to (888) 833-2128 or email [email protected]. We look forward to hearing from you.
---
All About Riley – Beagle Dog For Adoption in Herndon VA
Name of Pet: Riley
Location: Herndon, VA,
Type of Pet: Dog
Breed of Pet: Beagle
Sex of Pet: Male
Age of Pet: 9
Spayed/Neutered?: Yes
Health Problems: Yes.  These issues are all generally minor, and under control, but we want any new owner to be aware that Riley could require extra attention at some time. With a good vet, and a loving home, none of these things will affect him significantly.
Riley has epilepsy. It is under control, and really only means that he needs his medications regularly.
He takes potassium bromide and phenobarbital for treatment. He averages about one seizure every other month. He does not have grand mal seizures — he never loses consciousness or control of bowel and bladder. His seizures last around six to seven minutes and involve involuntary motor dysfunction. He will let you know when he is about to seize by coming over and sitting in your lap. Afterwards, he is a little tired and very thirsty, but a very normal happy dog.
Riley also has systemic lupus onychodystrophy which affects his nail growth, and he does not have many nails as a result. He is not on any medication for this, but about once a year, a nail will grow and cause him pain — it may need to be removed by a vet under anesthesia, but usually not. It isn't a big problem, just something to watch for so that you can avoid a painful problem later.
Behavior Issues: Yes Riley's isolation anxiety has the biggest impact on his health and wellness. He is anxious when left alone to the point of destruction. He has destroyed interior doors in my home and removed the trim around the front door in his efforts to escape. He has taken down window blinds left down and will walk around the house howling intermittently when he is left alone and feeling anxious. He spends the rest of the time on the couch or bed. Sometimes he will use the bathroom in the house when he is feeling anxious. He has destroyed several crates and causes physical harm to himself when left in one. Riley now has an Impact dog crate that is escape proof and can tolerate a couple of hours in it, however, he does tend to howl and cry most of the time he is in it. Riley takes Prozac and Xanax daily for his anxiety.
Aside from his issues with isolation anxiety, he is not destructive to property and has not been for several years. Having a regular routine helps, as does having more than a single human to live with. Riley would love to have a family as long as there are no small children who might surprise him or play carelessly around him. Older kids, teens should be fine.
After completing/getting a refresh on his training, he is much better behaved when left on his own. When I used to live with a roommate who had a normal 9-5 schedule, he would be fine left alone in the house with someone coming by only once in the middle of the day to walk him. The two occasions in which he has regressed, it has been during times such as recently, when Riley was living alone with my ex-girlfriend and he was being left alone for 12 plus hours at a time, multiple days per week because she works in healthcare. Even with someone coming by to walk him in the middle of the day, that wasn't enough anymore.
Riley is food aggressive. He does not always get along with other pets or children. He occasionally is startled by runners when he is on walks. This results in him lunging and trying to bite them on rare occasion.
Up To Date on Vaccinations: Yes
Gets along with cats: No
Gets along with dogs: No
Good with Children?: No
House Broken or Litter Trained?: Yes
Crate Trained?: No
Accessories Included: We have two crates that the new owners can pick from (take either or both). They can also have his dog bed, leashes, training collar, and martingale collar.
Riley's Personality
– Extremely cute and good looking
– very cuddly (he likes to sleep up against you)
– has a strong personality with his own special quirks
– always happy to see you
– sleeps a lot
Riley's Current Home Environment
When my ex-girlfriend and I lived together, it was just the two of us. We had a calm, two-story town-house. He would spend much of his time sleeping on the couch on the main floor or upstairs in our bed. We had a very small fenced in yard where we could conveniently send him out on his own throughout the day and at night to roam around and go to the bathroom. I spent a lot of time working from home, so this helped us to avoid issues with his isolation anxiety.
I have recently moved back with my parents. There are a lot more people here and often my niece and nephew running around. My grandfather also lives here, and he spends several hours a day with him in his room watching tv. We have a large yard here that is not fenced, so we have a stake in the middle of the yard and a 70ft cable that allows him to roam. With more people here, there is more chaos and he requires a higher level of supervision to avoid getting into trouble.
Riley's Current Family:
We all love Riley dearly and consider him a member of our family. My ex-girlfriend and I care for him deeply and are committed to finding him the right home no matter how long it takes. Riley has been at the center of our lives for so many years and we just want to make sure that the result of this decision is just as right for him as it is for us.
Riley's Favorite Toys, Foods, Activities?
Riley's favorite toys are durable and look like animals. He likes to rip the "guts" (stuffing and squeaker) out and can entertain himself this way for quite a while. He likes to play tug of war when he's bored, and he enjoys using his hound nose to play a game of "find it" where he has to hunt down his treats hidden around the room. A fenced yard is ideal for him as he enjoys running around freely and smelling this. He doesn't really play or understand fetch.
He likes just about any food or treat and is very food-motivated.
Cute Riley Story:
In the first place we lived in Richmond, we had a small unfenced backyard where we would hook him up to a short cable to let him out back. One morning we were cooking breakfast and we went out to let him back in, and he was nowhere to be found. We started panicking and ran out to the street calling his name and looking all around for him.
It didn't take long before we saw him wandering down Main Street dragging the cable behind him that had broken and greeting the people around town to a good morning. We called him and he turned around to see us almost looking startled. He then trotted over, happy to see us like nothing had happened.
Why is Riley Being Rehomed?
My girlfriend and I recently broke up. We've had him together for about 6 years, and now that we've split recently, neither one of us can afford to give him the time and attention he needs. Over the past few years, he has developed somewhat severe isolation anxiety.
Riley's Perfect Adoptive Home Will Be:
Riley requires a loving home wherein the residents (at least two) spend much of their time at home, though, as mentioned above, he can and has been trained to spend several hours in the house alone at a time.
Preferably no small kids in the house under the age of 12-13. Although he is not normally aggressive with kids, chaotic environments can cause him to have anxiety and this can sometimes lead to unexpected moments of aggression that require you to be monitoring him extremely close.
Preferably a fenced yard or a large one to stake a cable in the ground in the middle of the yard so he can go out and roam freely and do his business.
---
How To Adopt Riley the Beagle in Herndon VA
If you are interested in adopting this special Beagle Dog For private rehoming in Herndon VA, please fill out our online meeting request below. Once received and reviewed, our staff will ask the pets owner to reach out to you and arrange a meeting.
There is a $75 adoption/rehoming fee. Supplies and veterinary records will be included.
Questions about Riley? Contact our Herndon Dog rehoming team today.
Text "Riley" to (888) 833-2128 or email [email protected]. We look forward to hearing from you.
---
Riley – Beagle Dog For Rehoming in Herndon VA
Riley is a Beagle Dog for private adoption by owner in Herndon VA. This pet is located close to the following towns and cities in VA:
Reston VA,
Dulles VA,
Chantilly VA,
Wolf Trap VA,
Oakton VA,
Vienna VA,
Tysons Corner VA,
Centreville VA,
Fairfax VA,
Potomac, MD
North Potomac, MD
Idylwood VA,
Jefferson VA,
Falls Church VA,
Manassas Park VA,
Adopt this sweet Beagle Dog in Herndon VA today.