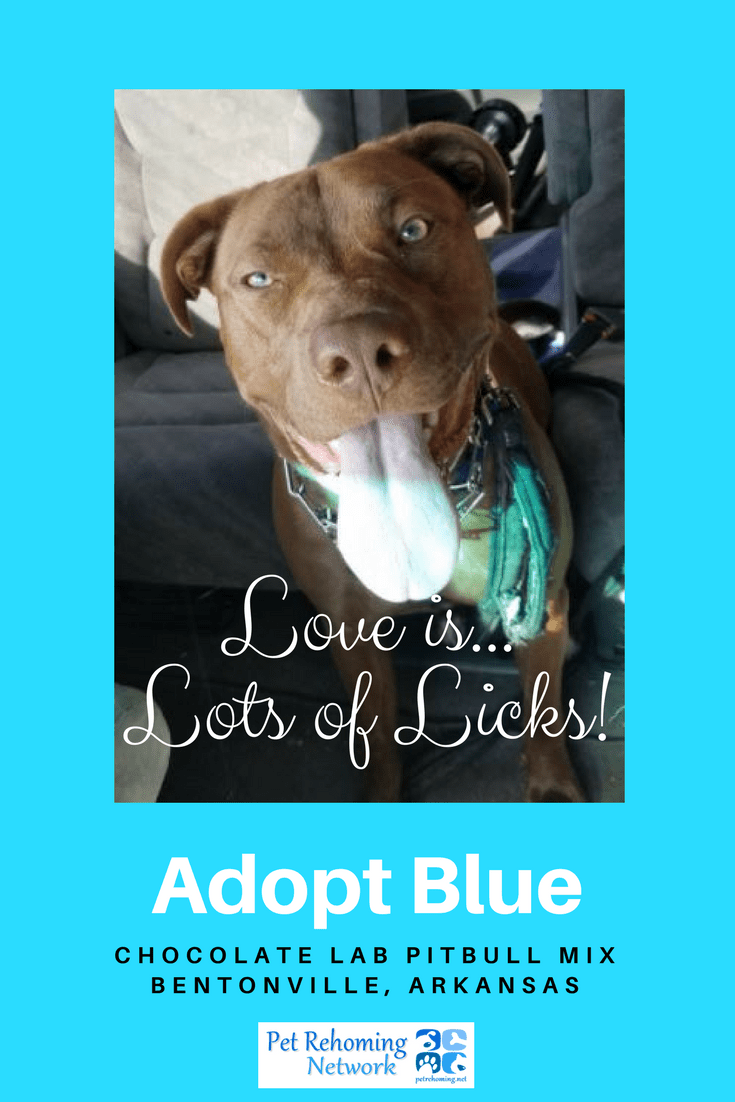 Meet Blue, a 1 Year Old Male German Shepherd Lab Mix Dog For Adoption in Bentonville AR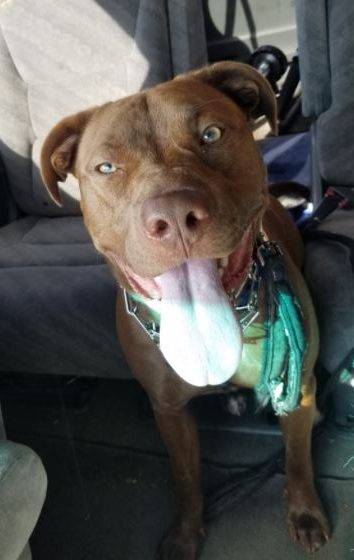 From his big cheeky grin to his dazzling light green eyes, Blue is a dog that you don't soon forget. He is a sweet young dog full of love for people and joy for life.
Blue is just 1 year old. He is fixed, up to date on shots and very healthy. He is house broken and crate trained.
Blue is what we refer to as a "marvelous mutt". He is a delightful mix of Labrador Retriever, American Pit Bull Terrier and Shepherd. Blue weighs 75 pounds. He has a short smooth coat in a vibrant shade of red, which really makes his eyes stand out.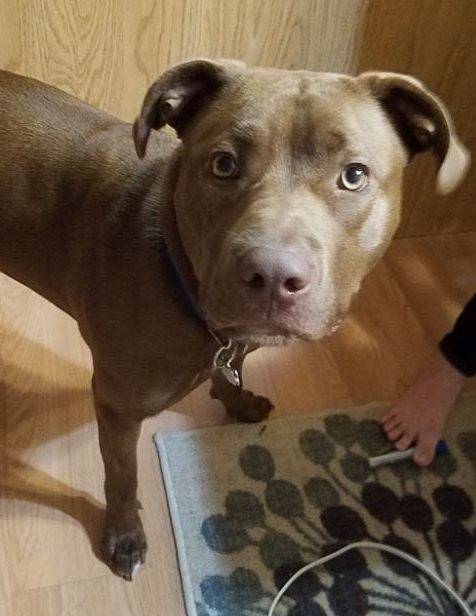 Blue is only 12 months old, and still has lots of energy. He is an athletic dog, and needs a big, securely fenced back yard to play in. He would do really well in a home with active dog lovers who could take him for walks or runs every day.
He is part dog – part clown – part cuddle bunny. Blue loves to snuggle and even takes an afternoon nap. He gets excited when his people come home from work and school, and tends to make a bit of a fool of himself.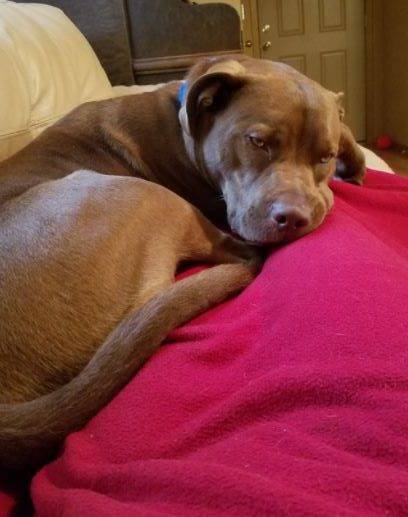 He is a one-dog welcoming committee, and takes his job seriously. He could use some positive reinforcement to help him break the habit of jumping on people when he gets excited. This is also something that will improve as he matures. He still has that "Leaping Lab Puppy" tendency, which they usually outgrow in the first 2 years.
Blue's owners love him so much. They are a family of 6 living in a townhouse. Blue does not have a yard to play in, so it is just not the right situation for him. They want the best for him, and are dearly hoping to find him a family, single or couple who can give him what they cannot.
Blue has so much love to offer. He is an absolutely gorgeous dog with a heart of gold. If you have room in your heart and home for this canine ray of sunshine, please contact our Arkansas dog rehoming team today.
Questions about Blue? Text "BLUE" to (888) 833-2128 or email [email protected] We look forward to hearing from you.
There is a $75 adoption/rehoming fee. Supplies and veterinary records will be included.
---
All About Blue – German Shepherd Lab Dog For Adoption in Bentonville Arkansas
Name of Pet: Blue
Location: Bentonville, Arkansas, 72712-8278
Type of Pet: Dog
Breed of Pet: German Shepherd Lab
Sex of Pet: Male
Age of Pet: 1
Spayed/Neutered?: Yes
Health Problems: No
Behavior Issues: Yes
Up To Date on Vaccinations: Yes
Gets along with cats: No
Gets along with dogs: Yes
Good with Children?: Yes
House Broken or Litter Trained?: Yes
Crate Trained?: Yes
Accessories Included: All of them. Crate, food, leashes, collars, treats, bowls, clippers, nail file (although he really just goes to petco bc he won't let you trim his nails), bark collar, toys.
Blue's Personality
That we have raised him happy and healthy. We love that he lives us. We love it when he chases his tail and gets the "zoomies". We love how he follows us around and waits for us.
Blue's Current Home Environment
4 teenagers and no yard. I run with him 2-3 times a week but he has stayed inside most days. He thrives on his schedule. Up at 6, goes outside, breakfast, morning nap, goes outside, run and play, snack, afternoon nap (loves to snuggle), outside, dinner, bed at 7.
Blue's Current Family:
We are 6 strong. Our oldest left on a 2 year mission to Tahiti, just 2 months ago. The other 3 are all teenagers and they are wonderful. My husband is an engineer and I'm a fitness expert.
Blue's Favorite Toys, Foods, Activities?
All food!!! He goes crazy for bacon. He chews all his tots up so his favorite are water buffalo horns or deer antlers. He's happy just chewing on those. He loves the dog park and just being outside.
Cute Blue Story:
He loves the car and believes he owns the passenger seat. When he was little he climbed up on the dashboard and laid there. He loves the car!
Why is Blue Being Rehomed?
He is very active and needs exercise. He jumps on people still.  All good natured, he just wants to play. Blue needs a yard, he needs space. That's really the biggest reason. This breaks my heart but we want him to be happy.
Blue's Perfect Adoptive Home Will Be:
A family that has land or a big yard that will still allow Blue in the house at night and throughout the day. He gets scared of loud noises. Not storms, but trucks or sirens. A family that smiles at him and looks him in the eye and that will truly make him apart of the family.
Additional Comments:
He barks at other animals if he's on his leash or in the car. He's getting better though. He was attacked by a small dog once so doesn't like them. He barks whenever someone is at the door. He LOVES water and swimming.
How To Adopt Blue
If you are interested in adopting this special American Pit Bull Terrier Labrador Retriever mix For Adoption in Bentonville Arkansas, please fill out our online meeting request here. Once received and reviewed, our staff will ask the pets owner to reach out to you and arrange a meeting.
Questions about Blue? Text "BLUE" to (888) 833-2128 or email [email protected] We look forward to hearing from you.
Blue – German Shepherd Lab Dog For Adoption in Bentonville Arkansas
Blue is a German Shepherd Labrador Retriever Dog for adoption in Bentonville Arkansas, within a reasonable distance of the following towns and cities:
[one_third]Rogers, AR
Bella Vista, AR
Springdale, AR
Fayetteville, AR
Siloam Springs, AR
Neosho, MO
Miami, OK
Joplin, MO
Tahlequah, OK
Webb City, MO
Carthage, MO
Van Buren, AR[/one_third]
[one_third]
Republic, MO
Nixa, MO
Fort Smith, AR
Apple Spur, AR
Woods, AR
Little Flock, AR
Miller, AR
Centerton, AR
Race, AR
Seba, AR
Pleasant Hill, AR
Rago, AR
Rogers, AR[/one_third]
[one_third_last]
Electric Springs, AR
Calis, AR
Vaughn, AR
Blackjack Corner, AR
Osage Mills, AR
Dug Hill, AR
Pea Ridge, AR[/one_third_last]
Adopt this sweet Chocolate Labrador Retriever mix Dog today.
American Pit Bull Terrier Rehoming – Labrador Retriever Rehoming