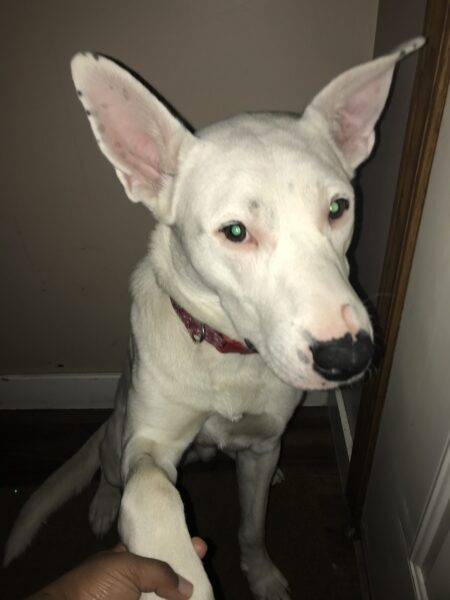 Meet Marlo – German Shepherd Pitbull mix Puppy For Adoption in Calgary, Alberta
Have you been looking for a German Shepherd Pitbull mix Puppy for adoption in Calgary, Alberta and area?
Pet Rehoming Network is pleased to present Marlo, a very special pet in need of a loving, forever home.
Marlo is healthy and has been fixed, is up to date on shots and micro-chipped. This German Shepherd Pitbull mix Puppy has a loving personality and is good with children, Puppys and cats.
Marlo will be rehomed with supplies and vet records. Adopt this deserving German Shepherd Pitbull mix Puppy in Calgary, Alberta today.
How To Adopt Marlo
If you are interested in this special German Shepherd Pitbull mix mix Puppy for adoption in Calgary, Alberta, please fill out our online meeting request form below. Once received and reviewed, our staff will ask the pets owner to reach out to you and arrange a meeting.
There is a $150 adoption/rehoming fee. Some supplies and veterinary records will be included.
Questions about Marlo? Contact our German Shepherd Pitbull mix rehoming team today.
Text "MarloAB" to (888) 833-2128 or email [email protected]. We look forward to hearing from you.
---
Facts About Marlo
♥ Name of Pet: Marlo
♥ Location: Calgary, Alberta  T3k4y6
♥ Type of Pet: Puppy
♥ Breed of Pet: German Shepherd Pitbull mix   Puppy
♥ Color / Coat Type: White Black dots
♥ Age of Pet: 7 months
♥ Size of Pet: medium
♥ Weight: 45lbs
♥ Good with cats?: Unknown
♥ Good with Dogs?:Yes
♥ Good with small kids?:
♥ Good with older kids?:Good With Children aged 8 and up
♥ Health Problems: No
♥ Behavior Issues: No
♥ Fixed: No
♥ Fully vaccinated: Yes
♥ House Broken: Yes
♥ Tattoed/Microchipped: No
All About Marlo
Marlo's Personality
He is very chill and only outgoing to the people he's been around. He very energetic, protective. Loves to play 24/7. He's a happy boy. He loves to see other Puppys. But sometimes he's scared of rabbits if they sit but if they were to run he loves to chase them. He's just a very play full Puppy. He also loves he's squeaky toys.
I love the fact that he actually very active, he loves playing around my siblings but sometimes he gets a little carried over, I love that when we're sitting down watching movies as a family he sits in his comfortable position and watches with us, I love every morning when he wakes up he does he's little stretch and looks excited to be awake which helps a lot Especially waking up early in the morning,
I love when we take him on his walks He makes everything exciting his little stops have helped a lot with exercising. The kids truly love him, they love playing with him.
Marlo's Favorite Toys, Foods, Activities?
He loves cheese the string cheese, we give him small amounts when he's being a good boy! He's favourite toy is anything that's squeaky, we've got him a couple so far. The football and the duck especially. He loves to walk. and run after birds or Rabbits epically. He's a very very active Puppy everything is exciting for him.
Cute Marlo Story:
We've only had him for a month but the funniest thing that's happened so far Is, as we were watching a movie Marlo decided to fart right in front of my older brother. We all laughed all night!
Why is Marlo Being Rehomed?
The reason for rehoming Marlo, unfortunately my older brother brought him to our home without any discussion or planning on how to take care of a Puppy. Due to the financial Problems our family has suffered we cannot provide everything Marlo needs.
We love him soo much truly but we are just not at all equipped to take care of him the way he's supposed to be taken care of. We have no time at all to train him the way we want too due to most of the adults in the house are either working or full time students and both.
Marlo's Perfect Adoptive Home Will Be:
We want a great family/home that will truly love him, care for him the way he's supposed to be taken care of. We want a home for him where he can be himself. A home where they are patient enough to train him. He's a very energetic Puppy never gets tired at all, a home where they can take him on hikes or who can do lots of activities with him!
Additional Comments:
We would like him to be in a home, it's going to be very hard if we stay in touch in it's new home because it'll remind us of what we couldn't do with Marlo, we just hope to find him a great home!
Additional information: Marlo play bites for fun that is what's a little concerning for us, especially if he's very excited he bites. And he also has in the past humped, but I was told he's just very excited.
Marlo's Location
Marlo is located near the following towns and cities in Alberta.
Airdrie AB,
Cochrane AB,
Crossfield AB,
Okotoks AB,
Irricana AB,
Black Diamond AB,
Strathmore AB,
Carstairs AB,
High River AB,
Didsbury AB,
Olds AB,
Nanton AB,
Sundre AB,
Three Hills AB,
Vulcan AB,
Thank you for your interest in this stunning German Shepherd Pitbull mix Puppy for adoption in Calgary.