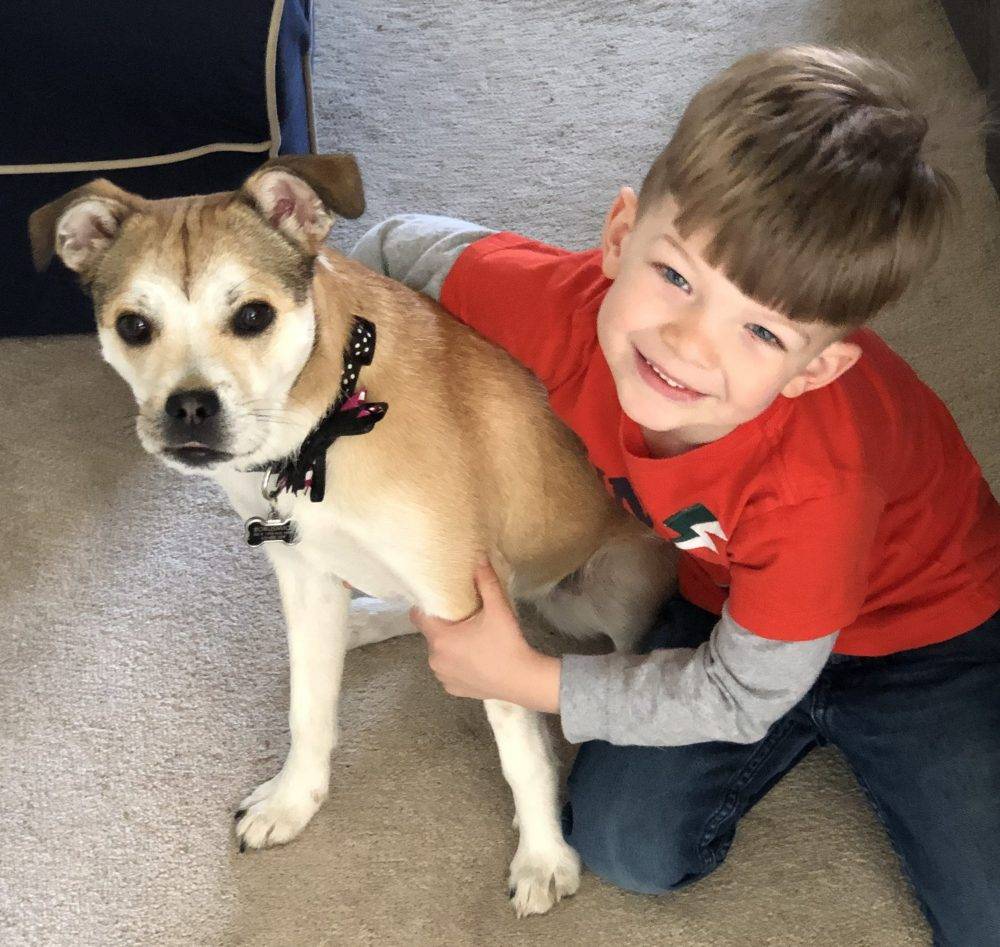 Meet Jojo, Boston Terrier Mix Dog For Adoption in Philadelphia PA
Jojo is a Female Boston Terrier Mix Dog for adoption to a very loving home in or near Philadelphia, PA. This very special puppy is 10 months old and is medium sized, weighing between 25-30 pounds.
Jojo is spayed, up to date on vaccinations, house broken and crate trained. She will be rehomed with all supplies, including her crate.
Jojo is a typical Boston Terrier mix – so full of "joie de vivre" that she easily forgets everything in her environment except her desire to play play play and jump jump jump. She is very sweet and cute, and with time, will settle into being a more sensible version of herself. She loves to run and play with other dogs, and would be a great companion for older children. She is to "wild" at the moment for small children.
Jojo is what you would call a "Diamond in the Ruff". She will need a firm hand and consistent behavior modification, in addition to time to grow up. She would do very well with puppy obedience classes focused on "no play biting" and to come when called. She is a very smart girl, and will learn quickly with consistent training and behavior modification.
Although she can be overwhelming, Jojo is a good dog. She has a loving personality and is as cute as a bugs ear.
Jojo's family were not prepared for Boston Terrier puppyhood when they adopted her. She grew to be much more of a firecracker than they can manage at this time. They have a three year old child and a new baby, and are worried that she will inadvertently harm the children with her antics. She also tents to play very rough with their little boy, leaving him with some bruises and scratches.
Jojo will be perfect for a family who have the time to spend training and playing with her. She needs a securely fenced back yard to play in. She would be a good companion for another dog. This cute little dog deserves a home where she is cherished and with owners who will love her unconditionally, and help her learn to be the amazing family companion she is destined to become.
Jojo will be rehomed with all supplies and vet records. All you need to add is a safe, happy and healthy forever home, and the time and dedication needed for training and behavior modification.
Jojo is located in Conshohoken, near Philadelphia. Dog lovers from anywhere within the tri-states area are welcome to offer her a home.
Adopt Jojo today!
There is a $150 adoption/rehoming fee. Supplies and veterinary records will be included.
Questions about Jojo? Contact our Philadelphia Dog rehoming team today. Text "Jojo" to (888) 833-2128 or email [email protected] We look forward to hearing from you.
---
All About Jojo – Boston Terrier Mix Dog For Adoption in Philadelphia PA
Name of Pet: Jojo
Location: Conshohoken, PA, 19428
Type of Pet: Dog
Breed of Pet: Boston Terrier Mix
Sex of Pet: Female
Age of Pet: 10 months old
Spayed/Neutered?: Yes
Health Problems: No
Behavior Issues: Puppy that needs training.
Up To Date on Vaccinations: Yes
Gets along with cats: Unknown
Gets along with dogs: Yes
Good with Children?: Better for older children
House Broken or Litter Trained?: Yes
Crate Trained?: Yes
Accessories Included: We can send her crate (but it is a little small for her cause we were expecting her to be a little smaller).
The remainder of her preventative Heart worm and flea/tick meds.
Jojo's Personality
1. She is full of energy
2. Her underbite gives her a cute, kooky look.
3. Her curiosity
4. Her sweetness
5. She's smart
Jojo's Current Home Environment
Cape cod house in suburb with park across the street where she plays with other dogs. She has a small fenced in area to go outside on her own when she wants.
Jojo's Current Family:
I was so excited to adopt a puppy! We got Jojo when she was about 2 months old and only 4lbs. My husband and I have a 3 yo son and we had just found out we were expecting another baby when we got JoJo. The baby was just born.
Jojo's Favorite Toys, Foods, Activities?
Loves to run with other dogs. I think she should be entered in a dog jumping contest. 🙂
Loves large dog rawhide bones (really the only thing we can give her to stop her from biting our son).
Likes to play with all kinds of toys (ropes, stuffed animals, balls, etc).
Cute Jojo Story:
Ever since the baby came home she has started acting more mature and protective over our new daughter.
Why is Jojo Being Rehomed?
She has been very difficult to train, partially because of our 3 yo son. I have gates going into every room because she won't stop play biting our son (it's non-stop). She is SO HYPER and we have a newborn, and I am very concerned having her around the baby. She is not aggressive at all, but fast and crazy. She is also difficult to manage because she doesn't listen, and she will try to run out the door if not watched closely (she has successfully multiple times).
Jojo's Perfect Adoptive Home Will Be:
I am so upset I have to make the decision to rehome our dog, but her personality is not conducive to having two small children. I think she would do well with a family with older children, someone who has other high energy dog(s), and/or someone with a large fenced in back yard and time to make sure she gets a lot of exercise.
How To Adopt Jojo
If you are interested in adopting this special Boston Terrier Mix Dog For private rehoming in Philadelphia PA, please fill out our online meeting request below. Once received and reviewed, our staff will ask the pets owner to reach out to you and arrange a meeting.
There is a $150 adoption/rehoming fee. Supplies and veterinary records will be included.
Questions about Jojo? Contact our Boston Terrier Dog rehoming team today. Text "Jojo" to (888) 833-2128 or email [email protected] We look forward to hearing from you.
Jojo – Boston Terrier Mix Dog For Rehoming in Philadelphia PA
Jojo is a Boston Terrier Mix Dog for private adoption by owner in Philadelphia PA. This pet is located close to the following towns and cities in PA:
Conshohoken PA,
Ardmore PA,
East Norriton PA,
West Norriton PA,
Broomall PA,
Drexel Hill PA,
Lansdowne PA,
Yeadon PA,
Springfield PA,
Willow Grove PA,
Lansdale PA,
Darby PA,
Philadelphia PA,
Horsham PA
Adopt this sweet Boston Terrier Mix Dog in Philadelphia PA today.