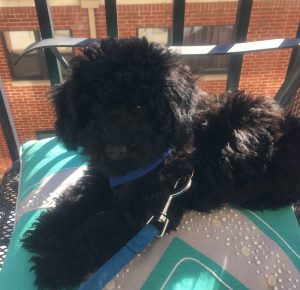 Hi, My name is Nile!
Toy Poodle Puppy For Private Adoption in Chicago IL – Meet Nile
Nile is a sweet little 3 month old Toy Poodle puppy looking for a good home in Chicago, Illinois. Nile has a curly black coat and big brown eyes. He is healthy and well behaved. Nile has received his vaccinations up to date. He has been leash trained and crate trained, and started on obedience training. He has not yet mastered his potty training, so will need an owner willing to be patient with him and teach him his potty training using positive reinforcement and consistency.
Nile is good with respectful children, dogs and dog-friendly cats. He is being rehomed only due to his owner having had a change in work location and working hours. If you have room in your heart and home for this adorable black toy Poodle puppy, get in touch with us by submitting our meeting list request using the button below.
There is a $400 adoption/rehoming fee. All supplies will be included.
NO PHONE CALLS PLEASE!
---
Location: Chicago, Il, 60605
Type of Pet: Dog
Breed: Toy Poodle
Age: 3 months
Color/Coat Type: Black
Size: 4 lbs
Health Issues: No
Behavior Issues: No
Nile is:
Fully vaccinated, Crate Trained, Leash Trained, Obedience Trained
Nile gets along with:
Dogs
Personality
Found loving likes walks, requires attention. Very social, but also naps throughout the day and sleeps through the night.
Food and Diet
Nile is currently on Other
Royal Canine small breeds
Reason For Rehoming
I just got offered a job in Berkley and will start soon. I will not have the time to raise a puppy with relocation, new job, etc.
How to Adopt Nile
If you would like to consider offering Nile a loving, forever home, please fill out our Request To Meet A Pet form here:
https://pet-net.net/adopt-a-pet/
Once received, we will contact you to discuss your request and set up a mutually convenient time to meet Nile and their owner in their home.
NO PHONE CALLS PLEASE!