Dogs For Adoption in Ontario ON

Click to Request Ontario Dog Rehoming Services
Looking for dogs for adoption in Ontario? Ontario Pet Rehoming Network showcases pre-loved dogs and puppies for rehoming in Ontario, as well as throughout the USA and Canada.
Our Ontario home to home dog adoptions help ensure that preloved dogs aond puppies are placed in suitable new homes without ever setting paw in a shelter or rescue. Each dog or puppy stays with it's owner until the right new home is found – so less stressful for both pet and owner.
You get to meet your dog's owners to ask questions and learn all about your prospective dog's history, including health, background, quirks, diet, exercise routine and much more.
Owners get to meet their dog's new family, see where their dog will be living and (if mutually agreed-to) stay in touch with the new family once a dog has been adopted. Home to home dog adoptions in Ontario are beneficial in so many ways. Owner, adopter and dog all benefit from this stress-free rehoming process. And it gives shelters and rescues a break, so that they can devote their resources to finding homes for abandoned, neglected and abused dogs and puppies in Ontario.
Dogs For Rehoming in Ontario by Pet Rehoming Network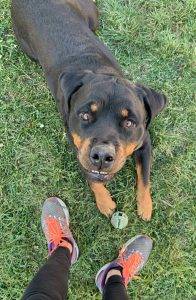 Stunning Purebred Rottweiler For Adoption in Toronto – Adopt Crystal
Gorgeous! Crystal is an absolutely amazing PUREBRED Rottweiler. She is healthy and up to date on shots. 4 years old and looking for a home with responsible owners knowledgeable about the breed (particularly training). Crystal is a diamond in the ruff. A heart of gold in need of slight modifications to harness her "joie de vivre" in the right direction. Good with bigger kids. Needs a big, securely fenced yard and owners who can give Crystal the attention, positive reinforcement, playtime and exercise she needs and deserves. A more rural or suburban setting would be ideal for this girl. Adopt Crystal today.
...
---