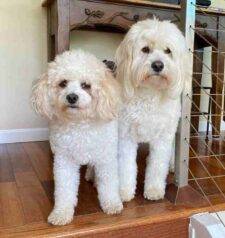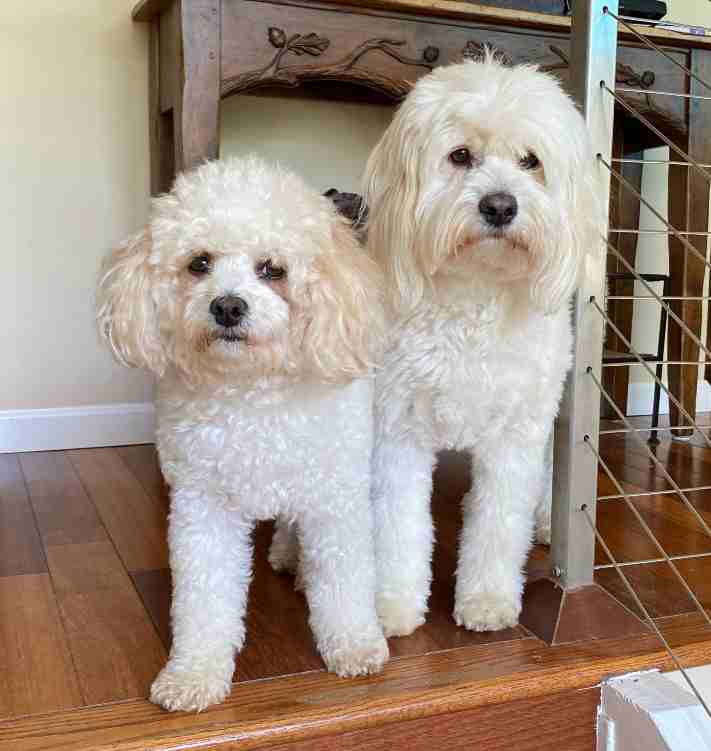 BOBBY (L), a handsome Bichon Frise dog, 2, and JOJO (R), aluscious English Cream Mini Goldendoodle
Bonded Small Hypoallergenic Non Shedding Dogs for Adoption in San Diego CA
Looking for a stunning white English Cream Mini Goldendoodle and a fluffy and gorgeous Bichon Frise dog to adopt in San Diego California and area? Bobby and Jojo would love to meet you!
Weighing 35 lbs, Jojo is a white English Cream Mini Goldendoodle. He is 3 years old. Bobby, his poofy and oh-so-glamorous, smaller best friend is an sweet, 20 pound Bichon Frise dog, aged 2.5 years old.
Both dogs have been fixed, fully vaccinated, housebroken, microchipped, leash trained. They are well behaved, devoted dogs that love their humans, and each other.
This sweet bonded pair of small, non shedding, hypo-allergenic dogs for adoption in San Diego are good with respectful children and other dogs, as well as with dog- friendly cats and other animals.
Owning and spending time with Bobby and Jojo is a dog-lover's dream! They are two of  the most charming little dogs you will ever meet.  Jojo the Mini Goldendoodle has impeccable manners.  You can take him anywhere and be sure that he will be well behaved and a delight to everyone he meets. Bobby is equally impressive. He is such a cute little guy – a typical Bichon Frise ray of sunshine and lollipops.
Their owner describes the dogs' wonderful personalities as follows:
"Bobby is a very loving, friendly, adorable, people and other pet loving dog. Very easy going, smart and cuddly Bichon Frise. Loves to play fetch and go out for walks to meet other dogs and people.
Jojo is also very sweet, and a real charmer. He knows how good looking he is, but is reasonably modest. 🙂 He loves to sit close to you, and makes a great food warmer with his soft, thick cream colored coat.
Jojo loves his nap time, but also very curious and loves his walks. He is a little anxious with car rides,  but he is getting better, the more rides he has taken.
Both dogs have bonded very closely with each other. They love playing with and chasing each other. Both are well behaved and understand and follow multiple commands.
Bobby and Jojo's  owner, Mona, is very sad to have to rehome the dogs. But with a hectic work schedule and other demands on her time, she's just not able to give the dogs the care, attention and companionship that they need and very much deserve.
These are a pair of little dogs that are meant to be devoted companions to their people all day, every day, and not home alone waiting for her to come home.
Mona wants the very best for Bobby and Jojo and is hopeful that finding them a home where all their needs and wants will be met will be the kindest thing for her to do for these sweet little boys.
She is dearly hoping to find a new home for Bobby and Jojo where they will be cherished 24/7 and kept safe, happy, and healthy for life.
A home with active, retired dog lovers would be absolutely ideal. They should own a house with a securely fenced yard, and be mobile and able to take the dogs on walks every day.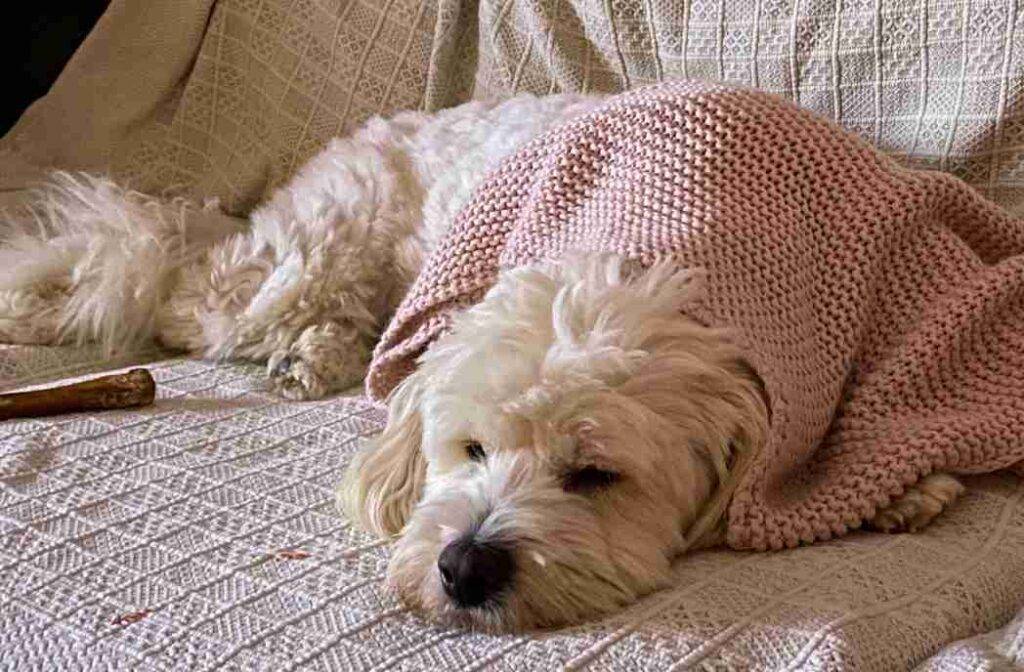 How To Adopt Bobby and Jojo – Mini Goldendoodle and Bichon Frise Dogs in San Diego CA
If you have room in your heart and home for Bobby and Jojo,  and the right situation, please complete our online meeting request form. Once received, our San Diego Dog Rehoming team will make arrangements for you to meet Bobby, Jojo, and their  owner, Mona. Adopt Bobby and Jojo today!