San Diego Private Pet Adoptions – Adopt a Preloved Dog or Cat in San Diego CA
San Diego pet adoption listings. Pet Rehoming Network showcases dogs and cats for private adoption in San Diego and area.
The dogs and cats listed for adoption are being placed directly by their owners, who can no longer care for them due to a variety of understandable reasons.
---
Need to rehome a pet in San Diego?
Contact our pet rehoming coordinator today or request San Diego pet rehoming services now.
Questions about our private pet rehoming services in San Diego?
Call or text our San Diego pet rehoming team today. (888) 720-3322
---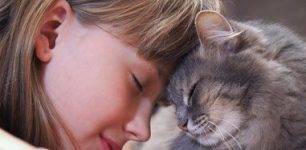 Dogs and Cats For Private Adoption in San Diego
REQUEST TO MEET AN ADOPTABLE PET – GET ON OUR ADOPTION WAITING LIST
Looking for a gorgeous long hair Turkish Angora mix cat for adoption in the Los Angeles area? Hattie is a stunning black and white long haired Turkish Angora mix cat looking for a good home. Located in Culver City, CA, Hattie is a ready to love cat, having been spayed and fully vaccinated. She is 7 years old, in excellent health, Hattie is looking for a very loving home with adults who will cherish her and keep her safe, happy and healthy.

She is a very affectionate companion – sweet, gentle, engaging and cuddly. She would be the perfect companion for a single cat lover, or a retired couple looking for a very beautiful and engaging cat to cherish. Adopt Hattie the Turkish Angora mix cat in LA today. Text "Hattie" to (888) 833-2128 or email Hattie@cat-lover.us if you have any questions about this stunning feline.

Read More
Meet Laurel, Domestic short hair Cat For Adoption in San Diego CA Stunning doesn't even begin to describe Laurel, a gorgeous Tortoiseshell cat for adoption by private owner in San Diego, California. This sweet cat is one of nature's designer cats – with a soft, …

Read More

Meet May, German Shepherd Dog For Adoption in ESCONDIDO CA May is a gorgeous 2 year old black and sable German Shepherd dog for adoption in Escondido, near San Diego, CA. May is in excellent health, and is spayed, up to date on shots and …

Read More

Meet LAYLA, German Shepherd Dog For Adoption in CARLSBAD CA Layla is a gorgeous German Shepherd dog in for private adoption in Carlsbad, California. This loyal, affectionate and incredibly smart German Shepherd is 5 years old and weighs 90 pounds. She is spayed, up to …

Read More

Kansas, a very sweet senior Yellow Lab mix dog has found a wonderful new home in San Diego through the efforts of our California pet rehoming team! Kansas is now the cherished companion of a family who had been looking for some canine companionship. Kansas …

Read More

A sweet and handsome Golden Retriever Border Collie dog for adoption in Los Angeles, CA, Boo is a 2 year old, healthy male. Boo is fixed and up to date on shots. He is house broken and gets along well with other dogs and children. Boo is looking for a loving home with dog owners who are homeowners with a large, securely fenced yard. He is an energetic dog that needs owners who are active and can give him the exercise and playtime he needs to be happy and healthy.

Read More

Meet Lilly, Lynx Point Siamese Cat For Adoption in San Diego CA Meet Lilly, an absolutely darling little purebred Lynx Pt Siamese cat for rehoming in San Diego CA. Lilly is about 11 or 12 years old, but is very healthy. She has been spayed …

Read More

Meet Fred and Ziva, Brown and Orange Tabby Cats For Adoption in Aliso Viejo CA Fred and Ziva are a delightful bonded pair of tabby cats for adoption in Aliso Viejo CA. Both cats are just 4 years old, spayed/neutered, litter trained and very healthy. …

Read More

Meet Brinkley, Beagle German Shepherd Mix Dog For Adoption in Newport Beach CA Brinkley is a country dog stuck in the city – and not very happy about it. This very pretty German Shepherd mix dog is looking for a loving, forever home in a …

Read More

Extreme cuteness alert! Koa, a sweet little 8 month old fawn Pug puppy is looking for a loving new home in San Diego CA. Koa is a very well behaved, playful and cuddly puppy. She is up to date on shots, very healthy and crate trained. She is house broken and ready to love. Koa is being rehomed by her owners, who love her a lot and have had a difficult time making the decision to find her a new home. They are unable to give her the time, attention and exercise she needs and deserves. Financial issues are also making things difficult, and they are having to move to a small, studio apartment – not a great environment for an active puppy. If you have been hoping to adopt a Pug, Koa is waiting to meet you. She is full of love and licks, and ready to become your dream dog. Offer Koa a loving home today.

Read More

Meet Poe – Siberian Husky German Shepard mix Dog For Adoption in Chula Vista CA Part clown, part playmate and part cuddle bunny, Poe is the dog that all other dogs wish they could be. This 3 year old German Shepherd Siberian Husky mix is …

Read More
---
Dogs and Cats For Adoption By Owner in San Diego
Thinking of adopting a pet privately in San Diego? While there are many sources offering pets for adoption throughout San Diego, one of the best ways to find the pet of your dreams is through our private pet adoption service, direct from a pet owner who can no longer care for their companion.
At San Diego Pet Rehoming Network, we specialize in bringing pet lovers together; pet owners who are faced with the very unfortunate situation of having to find a good home for their dog or cat, and pet lovers who have been searching for the right companion to add to their home.
While San Diego animal shelters and pet rescue organizations provide a much needed service for pets in need, they are really no place for pre-loved family companions that are used to being pampered. San Diego Pet Rehoming Network helps facilitate home-to-home pet adoptions, so that family pets need never "set paw" in a shelter or rescue.
San Diego Private Pet Adoptions offer so many benefits:
You get to help keep family dogs and cats out of local shelters and rescues, allowing these important organizations to focus on helping abandoned, neglected and abused animals find forever homes.
You get to learn all about your prospective pet from the people who know the pet best – their owners.
Most private pet adoptions include any supplies and veterinary records.
Most pets adopted privately are in good health, and have been spayed/neutered, fully vaccinated and even tattooed or micro-chipped.
You get to make a difference for pet owners devastated by having to rehome their cherished pet due to circumstances beyond their control.
Adopt a dog or cat from San Diego Pet Rehoming Network today!
---
Private Home to Home Pet Adoptions in San Diego and Area
Find pets for private adoption throughout San Diego and area, including in:
Coronado, CA
National City, CA
Chula Vista, CA
Lemon Grove, CA
Bonita, CA
La Mesa, CA
La Presa, CA
Spring Valley, CA
Imperial Beach, CA
El Cajon, CA
Rancho San Diego, CA
Santee, CA
Bostonia, CA
Tijuana, Mexico
Lakeside, CA
Sherman Heights, CA
Grant Hill, CA
Golden Hill, CA
Barrio Logan, CA
South Park, CA
Logan Heights, CA
Hillcrest, CA
North Park, CA
Five Points, CA
Coronado, CA
Mount Hope, CA
University Heights, CA
South Crest, CA
Old Town San Diego, CA
East San Diego, CA
Chollas View, CA
Normal Heights, CA
San Diego private pet adoptions by owner. Find dogs, cats, puppies and kittens for private adoption by owner throughout San Diego CA.