About Coon Hounds
The Coon Hound, is a type of scent hound, a member of the hound group. They are an American type of hunting dog developed for the game animals and working conditions found in the United States, specifically raccoon hunting. There are six distinct breeds of Coon Hound. Wikipedia
Mass: Black and Tan Coon Hound: 29 – 34 kg,
Lifespan: Black and Tan Coonhound: 10 – 12 years, Basset Hound: 11 – 12 years
Height: Black and Tan Coonhound: 58 – 69 cm,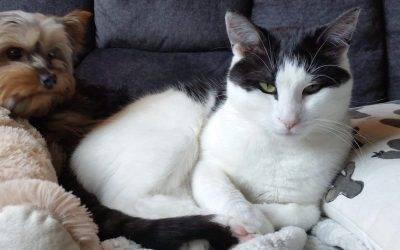 Looking for an affectionate and laid back cat for adoption in Edmonton? Meet Louie, a lovable white cat with tabby markings in need of a loving home. Louie is just 3 years old and weighs about 10 pounds. He has been neutered and is healthy, litter trained and well behaved.
read more
Coon Hound Dog Adoption and Rehoming
Coon Hound Dog adoption. Adopt a preloved Coon Hound Dog or puppy from an owner who can no longer care for their pet. Coon Hound dog rehoming.
Need to Find a Good Home For Your Coon Hound Dog or Puppy?
Pet Net offers expert help in rehoming Coon Hound Dogs and kittens throughout the USA and Canada.
If you need help finding your Coon Hound a good home safely, effectively and permanently, please request our dog rehoming services today!
Questions about our Coon Hound rehoming services? Click Here!
---
Coon Hounds For Private Adoption By Owner