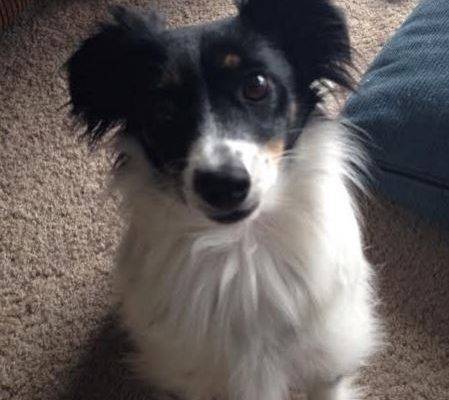 REHOMED – Sami – Adorable Papillon/JRT Mix Female – Seattle WA
Sami found her forever home! This sweet little girl has been placed in the care of Patsy and Jay, an active, retired couple who were looking for a small dog to add joy to their lives. Sami more than fit the bill, being active, playful, cuddly and adorable. The placement has made Sami's original owner, Ellen, very happy, knowing that she is in such a loving home with people who are very open to staying in touch.
[colored_box title="From Sami's Owner, Ellen:" variation="tan" textColor="#000000″]
Hi Debbie and Maram,
Sami went home with Patsy today and I feel optimistic that things will work out. Patsy and Jay are so lovely, kind, and easy to communicate with, and we feel very comfortable with them.
I want to thank both of you so much for the service you're providing for people in our situation. We were just so relieved when we found your site – it's incredible to me that there are not more options for people who need to find a new home for their pet but are not willing to "surrender" (I hate that word!) to a rescue and never know what happened to them.
We are sincerely, incredibly grateful to have found you and that you stuck with us through this process. And Debbie, thank you especially for that long phone call a few weeks ago – I really appreciated your support.
Thank you again and wish you all the best of luck!
Ellen[/colored_box]
---
Here is how Sami's Rehoming Team Presented Her To Attract Her New Family:
Hi, My name is Sami!
What do you get when you cross the loveable lap dog known as the Papillon with the tiny firecracker known as the Jack Russell Terrier?
Sami, the adorable little creature you see before you. Sami is a sweet lap dog. Often her Papillon side takes over, and she is calm and cuddly. The Jack Russell Terrier in her als craves activity, so this little cutie pie needs a good exercise session twice a day. Whether it's taking her for a lively walk morning and evening, or heading out in the back yard to chase a ball, Sami needs this activity to keep her healthy, happy and engaged.
This pretty and sweet little dog is a loveable lap dog who loves to snuggle. She can also be playful, funny and goofy at times.
Sami has a medium length white coat with black and brown markings,  cute perky ears and a dazzling smile. She is just 5 years old, very healthy, up to date on shots, spayed and perfectly house broken. She is also crate trained. Sami weighs 12 pounds.
Hi, My name is Sami!
My owners love me very much. I have lived with them since I was 7 months old.  Recently they welcomed a baby into our home. As much as I love my new human sibling, I sometimes get carried away when toys are involved.  She has started crawling, and I accidentally nipped her when I wanted to play with one of her toys. My owners realize that it is not a good situation for me to be around babies and toddlers. They are planning to have more children, so finding me a good home where I am not around small children is a must-do.
I am AOK with the idea, just so long as my new home is wonderful. My wish list includes people to spend lots of time with me, daily exercise in the form of a couple walks, unconditional love, and a home where I will be cherished, kept safe, happy and healthy.
I would make a wonderful emotional support dog because I am very empathetic and try to comfort you when you are feeling out of sorts. I am a wonderful companion with a lot of love to offer to right person, couple or family.
If you would like to offer me a loving, forever home, please fill out our online information form first. Once received, my owner will contact you to arrange a mutually convenient time for us to meet.
I can't wait to meet you!
Love and licks,
Sami
---
All About Sami
[one_half]
Name of Pet:
Sami
Location:
Seattle, WA, 98103
Type of Pet:
Dog
Breed of Pet:
Jack Russell/Papillon mix
Sex of Pet:
Female[/one_half] [one_half_last]
Age of Pet: 5
Spayed/Neutered?: Yes
Health Problems: Yes
Up To Date on Vaccinations: Yes
Gets along with cats: No
Gets along with dogs: Some – Depends on the dog.
Good with Children?: Older children are fine – no toddlers or babies.
House Broken or Litter Trained?: Yes
Crate Trained?: Yes
Accessories Included: Everything she needs. A crate, a bed, food and water dishes, toys, leash, poop bags and dispenser, supply of Sentinel, most of a big bag of food, treats.
[/one_half_last]
Sami's Personality
1. Her joyful and happy spirit
2. How much she loves to snuggle
3. How much she loves people (we also call her "love magnet" because any time she sees members of her family hugging or sitting together, she wants to be near them to get some of the love)
4. How fun she is to play with
5. Her goofy personality
Sami's Current Home Environment
We live in a 1-bedroom apartment with a large courtyard that she can run around in. She is allowed to be in most of the apartment though currently she is not allowed in the bedroom.
Sami's Current Family:
We are a husband and wife couple in our 30s. When we got Sami four years ago, it was just the two of us. Now we have a nine-month-old baby daughter.
Sami's Favorite Toys, Foods, Activities?
She loves to run and chase a ball in the yard and will retrieve it over and over. Inside the house she loves to chase a laser pointer or catch a ball that has been thrown in the air in her mouth (she's really good at it!). She has kind of a delicate stomach so she is mostly on a strict dog-food-only diet, though the exceptions to that are tuna fish and peanut butter, which she loves. She loves to snuggle and take naps together with her people. She is also a great hiking companion.
Cute Sami Story:
There are too many to choose from. One thing about Sami is that she's very good at comforting people when they're sad. One time when I was really upset about something, she just jumped up into my lap and sat there until I felt better.
Also, her name means "lucky" in Quechua (South American indigenous language) and we think that whoever has her will be really, really lucky.
Why is Sami Being Rehomed?
Though we thought that the dog and the baby were learning to live together peacefully, Sami has not adapted well to the baby recently learning to crawl. We had been a little concerned about her behavior but thought it was manageable until the other day, when Sami nipped  the baby in the face when she decided she wanted a toy that the baby had spit up on. We are completely heartbroken that it has come to this, but the only option other than finding another home for Sami is to keep her behind a gate all the time, which makes her so sad. Considering she is so affectionate and loves her family so much, we feel that it is unfair to her to keep her under these circumstances, and we are afraid that we cannot police the interactions between her and the baby at all times and the baby is not safe. Since we would like to have other children in the future, we think that Sami deserves better than the environment we would be able to give her over the next few years, and we think it is better for her to find a new place to live. The funny thing is that we think she actually loves the baby (and generally seems to love kids) but she is just a little high-strung and we think she just can't control herself all the time, which is just too risky for us.
Sami's Perfect Adoptive Home Will Be:
Sami would need to be in a place with a fenced yard where she could run around. She would also need to be with people who could give her enough attention and exercise (we do two 15-30 minute walks or outside playtime sessions per day, once in morning and once in evening), and who would give her lots of love and affection (and be willing to receive lots of lots of love and affection in return).
Additional Comments:
We absolutely want to stay in touch; we cannot imagine not seeing Sami anymore. We are hoping to find a compassionate new home for her with someone who would be willing to have us visit just every once in a while – a few times a year, maybe. We would be totally respectful of their privacy and the fact that they are Sami's new family but desperately want to be able to still see her occasionally. She has been a part of our family for four years and we will miss her terribly.
Other notes: She is microchipped. We got her when she was seven months old and she had only been in one home before this (her previous home actually had other pets and small kids/babies, which is why we thought she'd be okay with it if we decided to have kids, but I guess something has changed).
While I indicated above that she does not do well with other dogs, this is actually kind of hit-or-miss – her regular sitter has two other dogs and she does fine with them; she just sometimes gets frightened by dogs who are too jumpy or pushy with her and gets a little aggressive.. It really depends on the dog. She is NOT aggressive at all with other dogs that she just passes on the street during walks so no worries there.
In case it isn't already clear: Sami is an amazing dog. We adore her and are devastated that she won't be part of our household anymore but hope to find a situation that is better for her. This is one of the hardest things we have ever had to do and we really appreciate the support and compassion.