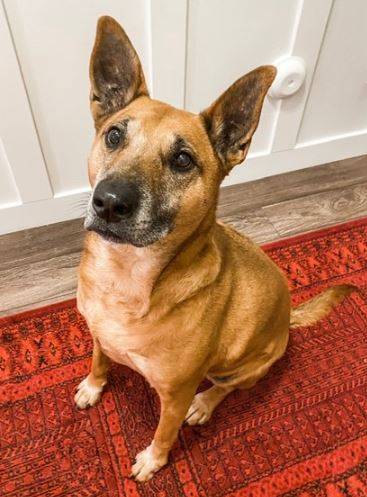 With the nickname "Wigglebutt", Sasha is a very special dog indeed! A beautiful and very affectionate German Shepherd Black Mouthed Cur mix for adoption in Syracuse, Utah, close to Salt Lake City and Ogden. This lovable 8 year old , 60 pound female dog is in good health, and is spayed, up to date on shots and house trained. She is well behaved, and a beloved member of the family. Sasha gets along well with older children and female dogs, and is welcoming of visitors to her home.
Sasha is cute and funny. She loves to cuddle on the couch with her favorite humans, and is very good at letting you know how much she loves and appreciates you.
Sasha's owners love her very much. They are devastated to have to find her a new home, but have no choice. They welcomed their first child in the summer, and now that their baby is starting to become mobile, it has become apparent that Sasha is very nervous around smalll children. This is a common issue – many dogs just don't know what to make of small children. They move funny, smell funny and make a lot of noise. Sasha has become noticeably fearful of the baby, and it is therefor necessary to find her a loving new home where she will be more comfortable.
Sasha's ideal home will be with a family with older children or teenagers, or with a couple. She would be a wonderful companion for retired dog lovers looking for just one special dog to cherish and keep safe, happy and healthy.
If you live in Syracuse, Ogden, Salt Lake City or anywhere within a reasonable distance and are looking for a wonderful German Shepherd Mix to add love, joy, laughter and companionship to your home, please consider adopting Sasha. She can't wait to wow you with her wiggle butt and show you the true meaning of unconditional love. Adopt this gorgeous female German Shepherd mix today.