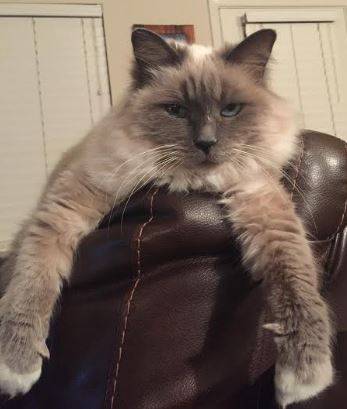 REHOMED – Adora – Gorgeous Purebred Birman Cat Adopted in Austin TX
Adora the beautiful Birman cat has found her forever home! She has relocated to Austin, Texas, to live with CeCe, a long time cat lover, who already has fallen in love with her.
---
Here's how our rehoming team presented Adora to attract her new owner:
Hi, My name is Adora!
If you have been looking to adopt a healthy, young female purebred Birman cat for adoption near you, here is your chance!
I live with my owner in San Antonio, Texas. I am such a sweet little girl.  I am 3 years old and weigh 10 pounds. I am front-declawed, spayed, up to date on my shots, micro-chipped and very healthy. I am affectionate and very sweet. I have sparkling ice-blue eyes and a long, luscious cream colored coat, with lilac markings. (Right now I have my summer hair cut to keep me cool – it's really cute!)
I am a lazy, couch potato cat. I love to curl up beside my favorite human and purr my little heart out. I am gentle and sweet. It takes me a little time to get used to new people, but once you have my trust, I am all yours.
My owner loves me very much, but unfortunately is needing to look for the right home for me. I am currently living in a home with other cats, small kids, and a baby on the way. One of the cats is quite territorial, and makes me feel anxious. This has resulted in me having issues using the litter box. I just don't feel safe doing my business in the box, and sometimes feel like I need to leave my smell places to let him know I live here too.
With a baby on the way, my owner can no longer keep up with the cat dynamics in our home. She knows that in the right home I will shine, and be the center of someone special's world.
My rehoming coordinator, Debbie, has helped find homes for many other cats with litterbox issues. She has found that once cats like me are placed in a quiet, predictable home environment where we are the only pet, and with adults only – or teenagers – our litter box issues resolve. There is also a possibility that my paws (declawed before my owner adopted me) are very sensitive to some brands of cat litter. My new owners will need to be patient with me and try different things to help me relearn proper litter habits. I am definitely worth the effort!
My ideal home will be one where I can be kept safe, happy and healthy. I would love to have some nice windows where I can bird watch, and some cat lovers who will cherish me. Because I am front-declawed, it is very important that I be kept indoors at all times.
My owner will provide my veterinary records to my new family, along with my micro-chip id, and any belongings I have.
Please offer me a loving, forever home today. I can't wait to show you what unconditional love is all about.
Purrs and paws,
Adora
---
Location: San Antonio, Texas, 78249
Type of Pet: Cat
Breed: Birman
Age: 3
Color/Coat Type: Cream/white. Currently short but naturally long
Size: 10
Health Issues: No
Behavior Issues: Litter Box issues probably caused by anxiety due to living with other cats who are territorial.
Adora is:
Spayed, Litter Trained
Adora gets along with:
Adults Only, Dogs
Personality
Couch potato, lazy, sweet, wants attention on her terms.
Reason For Rehoming
I have one dominant cat who is older and I have had since a kitten. Her and Adora do not get along and due t adopted in Austin Texas o this Adora pees and poops outside litter box and has for time we've had her. I have a baby coming and my husband is gone a lot and feel she may do better in single cat home or with a cat that is passive.
Adorable has been adopted in Austin Texas.