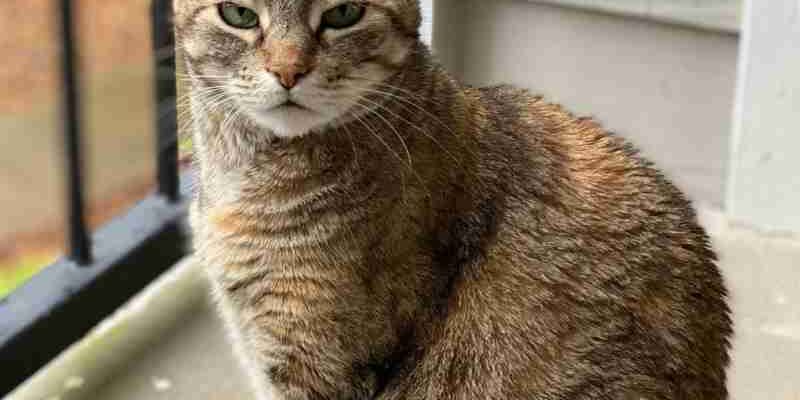 Pretty Brown Tabby Cat For Adoption in Richmond TX – Supplies Included – Adopt Sora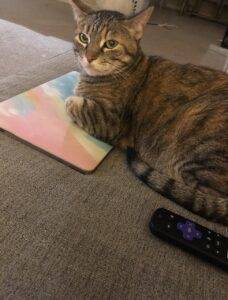 Brown Tabby Cat for Adoption in Richmond, Texas
Looking for a Brown Tabby Cat to adopt in Richmond, Texas? Just 10 years old and weighing 12 lbs, Sora has been fixed and fully vaccinated, and is good with people once she warms up to them.
A typical cat, Sora is a little nervous to meet new people at first and tends to run and hide. Once she becomes accustomed to new faces, however, this pretty tabby cat is very lovable and loving. She likes to cuddle and groom her people, and even tries to take care of other when they are sick. Sora is contented to lay in the sun and observe the happenings in her neighborhood, especially from the balcony. Sora would be best suited as the only pet in her new home, and she will surely provide plenty of love to her furever family in the years to come. Will you take Sora home?
Sora's owners are very sad to have to rehome their cherished cat. They are hoping to find a new home for Sora where this special cat will be cherished and kept safe, happy, and healthy for life.
If you have room in your heart and home for Sora, please complete our online meeting request form. Once received, our Richmond Cat Rehoming team will make arrangements for you to meet Sora and her owners. Adopt Sora today!
There is a $25.00 adoption processing fee. Supplies, accessories, and veterinary records will be included.

How To Adopt Sora
If you are interested in adopting this special Brown Tabby in Richmond Texas, please fill out our online meeting request below. Once received and reviewed, our staff will ask the pets owner to reach out to you and arrange a meeting.
Questions about adopting Sora?
Text SoraRichmond to (888) 833-2128. We look forward to hearing from you!
---

All About Sora – Brown Tabby Cat For Adoption in Richmond Texas
♥ Name of Pet: Sora
♥ Location: Richmond, Texas, 77469
♥ Type of Pet: Cat
♥ Breed of Pet: Brown Tabby
♥ Color / Coat Type: Brown Tabby
♥ Age of Pet: 10
♥ Size of Pet: 12 lbs
♥ Health Problems: No
♥ Behavior Issues: Minor – She's a very skittish/anxious cat who doesn't intensely enjoy meeting new people and will hide. She hisses a lot as a warning for people to stay away, even people she knows at times. She has scratched people that don't listen to these cues.
♥ Gets along with: People once she has warmed up
♥ Pet is: Fixed, Fully Vaccinated
♥ Food: Hills Science Diet Sensitive Stomach, about a half a cup a day. She likes Tiki Cat and Blue Buffalo Tastefuls wet food at dinner time.
Sora – Brown Tabby Cat For Adoption in Richmond Texas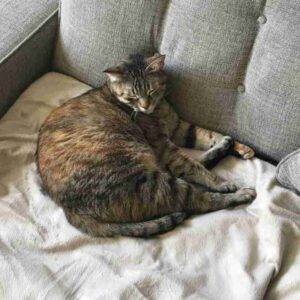 ---
Sora's Personality
She is skittish and stand-off-ish to strangers but when she becomes accustomed to you she is extremely affectionate. She will clean you and lay with you when you are sick, and lay on a table or perch next to you while you work or engage in activities. At this age she isn't the most energetic cat and is content with lying around the house. But she does love looking out of windows or hanging out on balconies (that she can't escape from of course). She has strictly been an indoor cat with only supervised time outdoors. Her ideal situation would be with someone or a couple looking for a calm companion to spend their days with. She has lived with another male cat and a female dog before but is ideally suited to being the only animal in the home as she doesn't like to be bothered.
Why is Sora Being Rehomed?
I have a newborn at home now and my wife doesn't trust how she'll respond to the unpredictable movements of a baby. She's a very precious cat to me and it pains me to give her up so I will really be looking for a good home.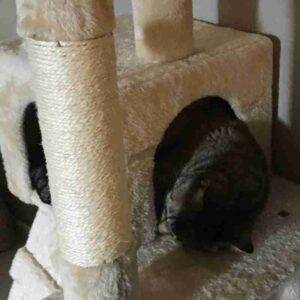 Nearby Locations
Sora is located in Richmond, Texas, close to the following towns and cities:
Rosenberg TX,
Pecan Grove TX,
Sugar Land TX,
Mission Bend TX,
Stafford TX,
Missouri City TX,
Katy TX,
Bellaire TX,
West University Place TX,
Houston TX,
Wharton TX,
Pearland TX,
South Houston TX,
Alvin TX,
Aldine TX.
Thank you for your interest in this deserving Brown Tabby Cat for Adoption in Texas.