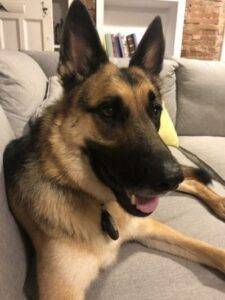 Koda is a gorgeous Black and Tan
German Shepherd Dog for adoption in Seneca Falls NY
. Weighing 97 pounds and 3 years old, Koda is fixed, up to date on shots and microchipped. She is in good health and is house trained. Koda will be rehomed with all supplies and veterinary records.
Koda needs a home where there is a large, securely fenced yard. She is a very protective dog, and has shown aggression towards a visitor to the home she  currently lives in. She is a very devoted and sweet dog that loves to fetch sticks and spend time with her people. She is not good with other dogs, so needs to be the only dog in the home. She is best suited for German Shepherd lovers who will keep her safe, happy and healthy for the rest of her life. It is very important that her new owners understand the GSD breed and will be proactive about ensuring she is not allowed into a situation where her aggression towards strangers will be a problem.
Koda is a gorgeous German Shepherd that deserves a good home. If you have the right home environment and breed knowledge to provide a forever home for Koda, please get in touch with us to arrange to meet Koda and her owners.
There is a $150 adoption fee. Supplies and veterinary records will be included.
Questions about Koda? Contact our German Shepherd Dog Rehoming team today.
Text "Koda" to (888) 833-2128 or email [email protected]. We look forward to hearing from you.