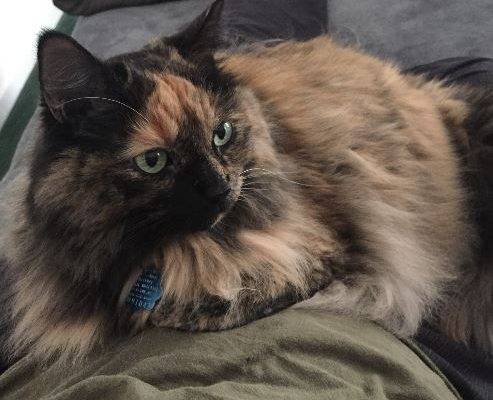 ADOPTED Millie – Exquisite Long Hair Calico Tortie Cat in Lawrenceville Ga
Adorable Quinn the Longhaired Tortoiseshell cat has found her forever home. If you are hoping to adopt a Longhaired Tortoiseshell cat in Georgia, please feel free to complete our online waiting list form, and a member of our Georgia cat rehoming team will contact you when we have an available Longhaired Tortoiseshell cat.
Need to rehome a Longhaired Tortoiseshell cat in Georgia? Contact our Georgia cat rehoming team today.
---
Here is how our team presented Quinn:
If you have been looking for an incredibly fluffy feline friend, look no further. From my amazing long tortie coat and gorgeous two-toned green eyes to my sweet, gentle personality, I have been known to capture hearts within seconds of meeting me. I am a very healthy 11 year old long haired tortoiseshell calico cat. I have been spayed, am up to date on my shots and perfectly clean and well behaved. I live in Lawrenceville, GA, near Atlanta.
I have been the cherished companion of my owner for my entire life. She has taken great care of me and given me lots of love, which has helped me blossom into the beautiful fluffy wonder you see before you.
She is about to embark on a long journey that will take her all the way to BC Canada, and bringing me, and my brother cat Quinn along with her is just not possible. She is dearly hoping to find Quinn and me the home we need and deserve, either together as a bonded pair, or individually.
Our dream home will be with people who love us a lot and will give us the care, attention, time and safe environment we need and deserve. We are both great with other cats, dogs and even kids, just so long as the cats, dogs and kids are great with us.
Please offer us the home we need and deserve today. We can't wait to Purr and Meow our way into your home and leave little furry paw prints on your heart.
Love,
Millie
---
All About Millie
Name of Pet: Millie
Location: Lawrenceville, GA, 30046
Type of Pet: Cat
Breed of Pet:
Sex of Pet: Female
Age of Pet: 11 years old
Spayed/Neutered?: Yes
Health Problems: No
Up To Date on Vaccinations: Yes
Gets along with cats: Yes
Gets along with dogs: Yes
Good with Children?: Yes
House Broken or Litter Trained?: Yes
Crate Trained?:
Accessories Included: A decent supply of food, both wet and dry. If they go together, 1 furminator brush, 1 bristle brush, and toys. Otherwise, I'll have to separate their favorite things and send some with each. They will need a new cat box with litter that I can supply also.
Collars are personal, so I was going to let their new family choose a collar for them, but I have their Vet Tags separately.
Millie's Personality
Definitely their quirks like knowing exactly when it's time for breakfast and they sit by the food bowl waiting for me. When it's quiet both of them like snuggling very close – it's so sweet. They know each other's name and raise to attention to see what's going on. Millie loves the sound of her name and will usually do something cute in response.
Millie's Current Home Environment
It is a small apartment on the third floor. They love sitting in the open windows, when weather permits. I live alone, so it's fairly quiet, but they like visiting with guests when they come over. They have been exposed to children and dogs. Millie is a bit wary of large loud dogs and will hide if a child is rough, but Quinn gets along with anyone.
Millie's Current Family:
I found them on the side of a busy highway when they were approximately 8 weeks old. I did try to find them a home that first day because I was busy with my education and work and did not think I'd have time for two kittens, but I became attached to them right away and knew that they would be great. They're like my little children, so it's difficult to move away from them, but I simply cannot take them with me.
Millie's Favorite Toys, Foods, Activities?
Millie: food!, catnip toys, , feathers, catnip fresh or dried, watching birds from windows.
Quinn: laser pointers, round jingle balls, catnip fresh or dried, watching birds from windows.
Cute Millie Story:
Millie is such a soft, sweet cat. She's a long-hair tortoise shell calico with two-toned green eyes; she's quite lovely. I just spend time cooing to her quietly while petting her fur, and she loves to hear about how pretty she is. When she wants attention, she'll reach up and put a paw on my leg, and she has the cutest little meow that's not quite a meow.
Why is Millie Being Rehomed?
I'm moving across the country and into another country, Canada. I will literally be travelling with some clothes and toiletries, as that is all I will have room for in my car. All of my possessions have been given away or donated. I've spent the past few months trying to find a good home for the cats, but I have been unsuccessful on my own, and now there is not much time before my departure date.
Millie's Perfect Adoptive Home Will Be:
Definitely a cat lover. A cat lover is different than a dog lover. A pet lover might also like cats, but these two have such a personality that a cat lover would appreciate them. Ideally, I would love to place them together, but I really think they'll be ok going to separate homes if need be.
Thank you for your interest in this gorgeous longhaired Tortoiseshell cat for adoption in Lawrenceville GA.