Persian Cats For Adoption Near You – Rehome Adopt a Persian Cat or Kitten
Your precious Persian cat deserves the very best new home!
Rehome Your Persian Cat Safely and Effectively
Need to rehome your Persian cat? Cat Rehoming Network can find your cat or kitten the ideal new home safely, effectively and affordably. For our one-time fee of just $150 per cat, our team of experienced cat adoption experts will work quickly to locate and carefully screen prospective adopters for your consideration. We will then help you make the right decision about the best new home, and guide you through the process of placing your cat in the new home.
Our service includes an adoption application, background and reference checks, a comprehensive adoption agreement, and 6 months of follow-up with your cat's new family. Your cat's adoption is guaranteed: if, for any reason, things do not work out with the adoption within the first 6 months, we will find another good home for your cat – while the pet stays in the comfort and care of the adoptive family.
There is no cat rehoming service like us! Our top priorities are your cats welfare and well-being, and your peace of mind. Contact us today for more information about our proven cat rehoming process.
Persian Cats and Kittens For Private Adoption By Owner
Listed below are pre-loved Persian cats and kittens for adoption through Cat Rehoming Network. If you are interested in a Persian cat or kitten listed below, please complete our "request to meet a cat" form. Once received and reviewed, your request will be sent directly to the cat's owner, who will then contact you to make arrangements to meet. 
Want to get on our waiting list to adopt a Persian cat once the right pet comes available near you?
Complete our Waiting List application.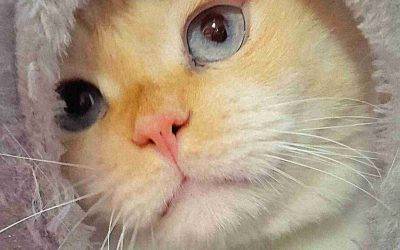 Adopt This Scottish Fold Persian Mix Cat in Edmonton, Alberta If you have been searching for a very special cat to add love and purrs to your home, Yuki is waiting to meet you. This gorgeous cat is a mix of Persian and Scottish Fold – two very sought-after...
read more
Didn't find the Persian cat of your dreams?
Ready to Rehome Your Persian Cat?
Safe, effective and affordable Persian Cat Rehoming is our specialty. Contact our cat rehoming team toll free by text or voicemail at (888) 720-3322, or simply click the button below to get in touch with us.
Our empathetic and knowledgeable team members will be happy to speak with you about your situation. We will help you decide if rehoming your Persian cat through the Pet Rehoming Network is the right choice for you. We will listen to all your hopes and fears for your precious companion and provide you with answers, options, guidance and emotional support.
Rehoming your precious Persian cat can be very stressful for both pet and owner. Let us replace your worry with peace of mind and heartache with hope.  Help is just a phone call away.We look forward to hearing from you!
 Toll-Free Text/Voicemail:
(888) 720-3322