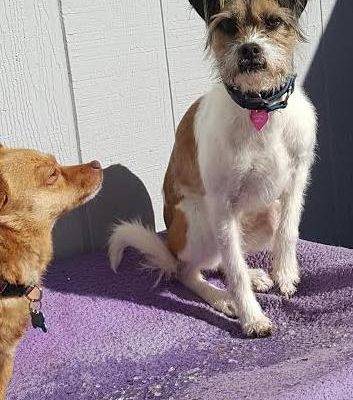 REHOMED! Small Border Terrier to Adopt in Denver Colorado
We are happy to tell you that Yamila has been adopted and will no longer be at the mercy of the Evil Ubu!
Congratulations on your new home, Yamila, and we hope that the rest of your life will be filled with peace, love and lots of dog treats!
---
Here is how our rehoming team attracted her new family!
Hi, My name is Yamila and I need your help!
What sort of problems could a beautiful little friendly border terrier like Yamila have?
I'm happy and healthy.  I like to go on walks and I get along great with the other dog that I live with.
I am patient and caring and love people and kids. However, I do not like being bullied by an African Grey parrot named Ubu. Ubu is 16 years old and has a bit of a mean streak when it comes to me.  It has gotten to the point where I can't relax or feel comfortable in my own home. Stupid Ubu!!
Recently things have gotten worse and my owner has gotten very concerned for me.  She feels that we'd all be a lot happier knowing that I would be free from that evil bird. We agree that maybe the best choice is to find a healthier environment for this lovely mild tempered little dog.   (Honestly, I'm very cute when I'm not anxious and watching the skies for Ubu.)
Yamila is eager and easy to fit into almost any family. She is used to being crated when her owner works 12 hour shifts and is perfectly housebroken. If she can find a home without a big aggressive pet or a vindictive parrot bully, and a place where she has human company to help her come out of her shell again, then Yamila will be back on top again!
If you can offer a home with lots of love, and not one with unexpected screeches then you could well be getting the best little dog in Denver.
Yamila is a White/Brown Female Border Terrier Dog.  She is almost 5 years old and weigh 25Lbs. We live in Denver, Colorado.
Yamila is:
Sweet
Loyal and great watchdog but not a barker
Very eager to please
Eager and easy to train
Loves people and children

---

All About Yamila

[one_half] Name of Pet: Yamila
Location: Denver, Colorado, 80247
Type of Pet: Dog
Breed of Pet: Border Terrier
Sex of Pet: Female[/one_half] [one_half_last]

Age of Pet: 4-5
Spayed/Neutered?: Yes
Health Problems: No
Up To Date on Vaccinations: Yes
Gets along with cats: Unknown
Gets along with dogs: Yes
Good with Children?: Yes
House Broken or Litter Trained?: Yes
Crate Trained?: Yes
Accessories Included: Coats, collar, leash, blankets, dog beds, all vaccinations, heartworm pills, microchip.
[/one_half_last]

Yamila's Personality

Sweet
Loyal and great watchdog but not a barker
Very eager to please
Eager and easy to train
Loves people and children

Yamila's Current Home Environment

I'm in a townhouse with a small patio. There's a grass area on the patio to which she is potty trained to. I work 12 hour shifts and she can be kenneled or crate trained and is used to 12 to 14 hours at a time, approximately three times a week when I'm at work. She uses puppy pads during the time that she is crated or kenneled

Yamila's Current Family:

I live by myself. I have a second dog that she gets a lot gets along great with. However, Yamila is being attacked and harassed by my African Grey Parrot, which has made her very anxious and upset. She's having a difficult time being calm and comfortable at home and has recently lost some weight. She loves long walks and actually runs with me four to five times a week up to 5-7 miles at a time, but also does fine with shorter walks and hikes.

Yamila's Favorite Toys, Foods, Activities?

Your mom loves to eat, so food should not just be left out for her but rather at a scheduled time/times. She loves any kind of treats. She loves outdoor activities whether that's walking running or hiking. She's not a huge fan of water, but could possibly learn to like it.

Cute Yamila Story:

Why is Yamila Being Rehomed?

I have come to an impasse with you Maya and my African Grey Parrot, Ubu. Ubu is attacking and harassing Yamila both when I am here and not at home. I have attempted some behavior modification with my parrot, however she is 16 years old, and most likely not going to change. Over the past 6 months this is gotten much worse and is not a healthy environment for my dog

Yamila's Perfect Adoptive Home Will Be:

She would do great with someone that is at home more often than not. She would do fine with a single person who is not gone for extended hours. She would do great in a family setting, she loves children. She would probably do fine with another dog and potentially a cat or other pets