Manchester Terrier Mix Dog, 11, For Adoption to Loving Home Boston MA – Adopt Jessie Today!
Hi, My name is Jessie!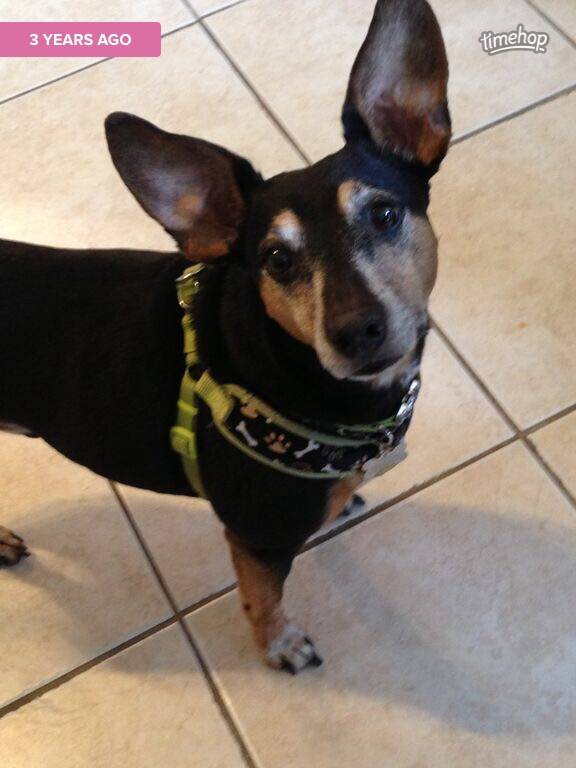 There is a $25 adoption/rehoming fee. All supplies will be included.
I am a Black/Dark Brown Male Manchester Terrier Mix Dog. I am 11 and weigh 22lbs. I live in Nahant, Massachusetts.
Jessie is very affectionate, loyal, smart, laid back, and I love how he almost seems to be able to communicate with people through the sounds he makes and his facial expressions.
---
All About Jessie
Name of Pet:
Jessie
Location:
Nahant, Massachusetts, 01908 (Near
Boston
)
Type of Pet:
Dog
Breed of Pet:
Manchester Terrier Mix
Sex of Pet:
Male
Age of Pet: 11
Spayed/Neutered?: Yes
Health Problems: No
Up To Date on Vaccinations: Yes
Gets along with cats: Unknown
Gets along with dogs: Yes
Why is Jessie Being Rehomed?
I need to rehome Jessie mainly because of my schedule. As he gets older, the time I spend out of the house is really affecting him more to the point that he developed anxiety. I am typically gone 10-12 hours a day M-F and 12-14 hours on Saturdays. When I am not at work, its typically because I am sick due to another migraine, so Jessie has to spend the day with me in a dark room sleeping instead of walking, playing, moving, and enjoying life.
Jessie's Perfect Adoptive Home Will Be:
I'm looking for a person or family who works less than I do and can give Jessie the attention and love he deserves. Jessie would do best in a family with no young children, and he especially likes older people and women for some reason. A fenced in yard would be a plus since he loves to get out an run around, but he does well on a tie out if there isn't a fence.
Additional Comments:
Jessie is a great dog and I love him dearly and would not rehome him if I had more time for him and was not dealing with a chronic illness. Whoever takes him home is getting the most loyal, lovable companion there is.
Request to Meet Jessie Here