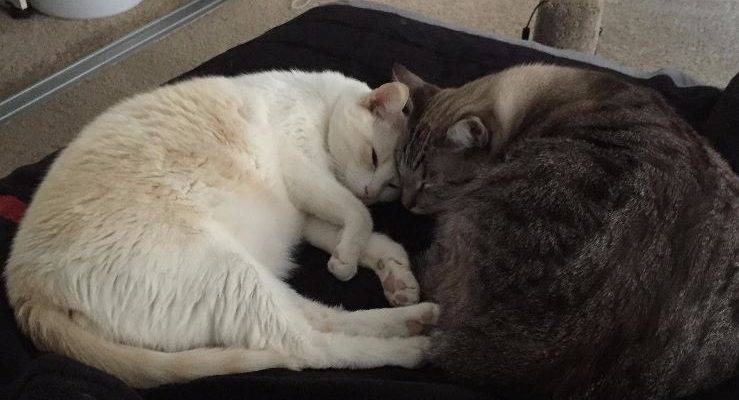 Bengal Mix and Siamese Mix Cats For Adoption Together in Santa Monica, California – Adopt KitKat and Dodger Today!
Meet KitKat and Dodger!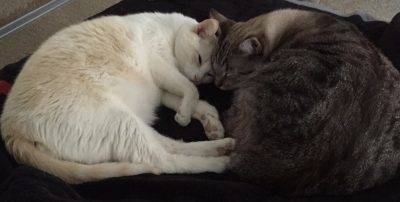 [button link="/adopt-a-pet/" size="large" variation="hotpink" align="center"]Apply to Meet / Adopt KitKat and Dodger Here![/button]
$25 Adoption Processing Fee – All Supplies Included
---
If you have been looking for the ultimate feline tag team of cuteness and purrs, KitKat and Dodger would like to apply for the position! This sweet bonded pair of healthy young cats are purebred mixes. A Siamese mix cat for adoption – and a Bengal mix cat for adoption.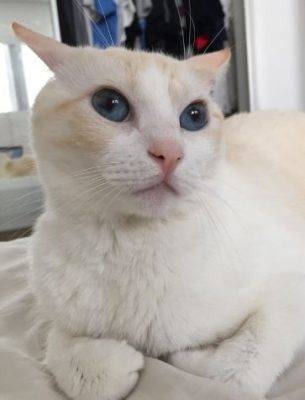 All About KitKat and Dodger
[one_half]
Location:
SANTA MONICA, California 90404
Name of Pet:
KitKat & Dodger
Type of Pet:
Cat
Breed(s) of Pet:
Siamese mix and bengal mix
How old is your pet?:
3 & 2
Size / Weight:
11lbs & 17lbs
[/one_half] [one_half_last]
Color / Coat Type:
White/short hair & grey stripes/short hair
Health Issues:
No
Behavior Issues:
No
Both Cats Are:
Spayed
Neutered
Microchipped
Fully vaccinated
Litter Trained
[/one_half_last]
---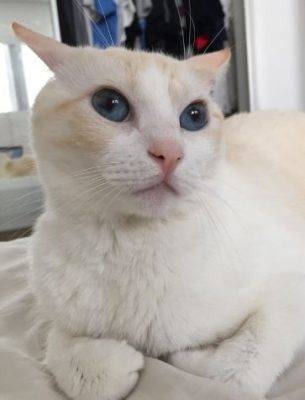 KitKat is a stunning and sassy Siamese mix cat, with blue eyes and a creamy white coat accented with red. Kitkat is a female, aged 3, very healthy, spayed and up to date on shots.
KitKat is the Alpha Female. She likes to walk around and check things out. Anytime someone new is around she will approach them. She is also a "talker" like most siamese breeds, but mostly only when we get home from work. She is all white with blue eyes.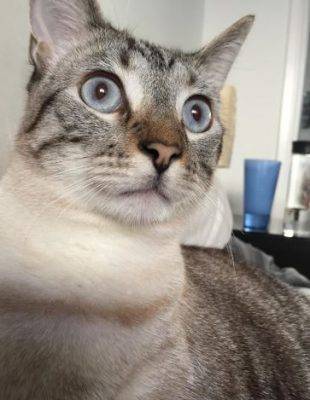 Dodger is a Bengal mix cat, with jungle stripes and Bengal "catitude" (once he gets to know you – he is very shy with new people, and will hide until he knows he is safe).
Dodger is a boy. He is just 2 years old, neutered and up to date on shots. Dodger is very shy and like to sleep all day. He rarely comes out of his hiding spots when new people are around, but eventually warms up after a while. He loves to cuddle is a complete goofball. He is black and grey stripped with blue eyes.
Both cats are very healthy, well behaved, and always use their litter boxes.
---
Why Are These Cats Being Rehomed?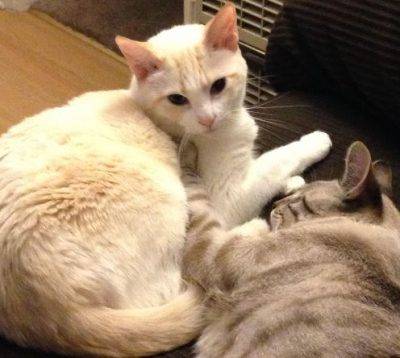 These sweet cats are being rehomed by their owners, who had to make this heartbreaking decision due to an upcoming long distance move. As much as they would love to, bringing the cats along is not possible. Instead, the owners are dearly hoping to find KitKat and Dodger a loving home where they will be cherished and kept safe, happy and healthy.
---
What Kind Of Home Will Be Best?
The ideal home for this pair of purring machines will be where the cats will get plenty of love and attention, and where they will feel safe and happy. Because Dodger is skittish, he would not be a good choice for small children, other cats, or cat-chasing dogs. Respectful older children and very cat-friendly dogs would be fine.
---
How to Adopt/Meet KitKat and Dodger
Please offer KitKat and Dodger the loving, forever home they need and very much deserve! These are very special cats who will be sure to purr their way into your heart.
[button link="/adopt-a-pet/" size="large" variation="hotpink" align="center"]Apply to Meet / Adopt KitKat and Dodger Here![/button]
$25 Adoption Processing Fee – All Supplies Included