Bluenose American Pit Bull Terrier Pitbull Dog For Adoption in Palm Springs (Thermal) California Meet Fabulous Negra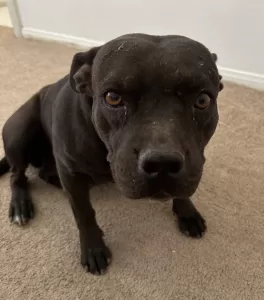 Looking for a Bluenose Pitbull dog for adoption in Palm Springs, Coachella, Indio and area in southern California? Located in Thermal, Negra would love to be considered for the position of your cherished family companion. This "dogess" is such an amazing companion. Not only is she drop-dead gorgeous, but she has the most loving personality you will find in any dog. Not even Lassie herself would compare to Negra when it comes to ticking all of your "dream dog boxes".
Read on to learn all about this black beauty and send in a meeting request for her today!
---
Meet Negra | About Negra | Personality | Why Rehoming? | Location | Adopter Requirements | How to Adopt
---
Meet Negra – Pre-Loved Bluenose Pitbull dog For Adoption by Owner in Thermal California
Meet Negra – the Lassie of Thermal, California with a glossy coat that puts even the darkest night sky to shame. This five-year-old Bluenose Pitbull possesses a stellar personality that far eclipses any canine celebrity you might come across on your TV screen. With eyes as deep as the night, she's a bona fide stunner, radiating sweetness and warmth brighter than any sunbeam.
But her beauty isn't merely skin-deep. Negra has an endearing quirk; she's a gift-giver. She loves to present her favorite humans with treasures she's found – be it sticks, rocks, or other curiosities. It's her way of showing you that you're loved, cherished, and utterly deserving of these tokens of her affection.
Negra is in need of a new home – not because she's done anything wrong, but due to unforeseen circumstances. Her current owners are heartbroken about this, but they know it's the right decision. They're searching for that perfect someone who can offer her the same level of affection she is sure to bestow upon her new family. Negra can't wait to become the heart and soul of your household, just as she was in hers.
5 Amazing Things About Negra:
Sweet
Loving
Brings gifts (rocks, sticks etc. as a present to you)
If you have room in your heart and home for this deserving adoptable Bluenose Pitbull dog, then please offer Negra a loving, forever home today. Negra can't wait to show you the true meaning of unconditional love.
---
How To Adopt Negra
Please fill out our online meeting request form via the button below. Once your application is received and reviewed, our staff will ask the pets owner to reach out to you and arrange a meeting.
Please Note: Negra has a puppy. Her owners are also seeking a home for him. If you would like to offer the two of them a home together, please indicate this on the meeting request form below. They are a very special pair, but can also be adopted separately.
There is a $150 adoption/rehoming fee. Supplies and veterinary records will be included.
Questions about Negra?
If you have questions about Negra and her puppy, you can call or text her owners at (760) 618-2157, but please be sure to complete our meeting request form using the big blue link above if you would like to meet her and offer her a loving home.  Negra and her owners look forward to hearing from you!
---
All About Negra – Bluenose Pitbull dog For Adoption in Thermal California
Name of Pet: Negra
Location: Thermal, California, 92274
Type of Pet: dog
Breed of Pet: Bluenose Pitbull
Sex of Pet: Female
Age of Pet: 5 years
Spayed/Neutered?: Yes
Health Problems: No
Behavior Issues: No
Up To Date on Vaccinations: Yes
Gets along with cats: Yes
Gets along with dogs: Yes
Good with Children?: Yes
House Broken or Litter Trained?: Yes
Crate Trained?: Unknown
Accessories Included: N/A
Negra's Personality
She is very loving, sweet and gentle. She is understanding and is perfect around children.
Negra's Favorite Toys, Foods, Activities?
She loves pizza, her favorite toys bones!
Why is Negra Being Rehomed?
We have to rehome her and her puppy because we are having another baby in October and we also have 3 dogs. She is a foster and gave birth to 8 puppies, we only have 1 left that hasn't been adopted. The previous owner we were fostering her for didn't want her back at all. So we are seeking to rehome both of them.
Negra's Perfect Adoptive Home Will Be:
We would like someone who is caring, will give a good life to both of them. Have a quiet space for her to chill out in.
---
Negra – Bluenose Pitbull dog For Rehoming in Thermal California
Negra is a Bluenose Pitbull dog for private adoption by owner in Thermal California. Negra is located close to the following towns and cities in California, and can be adopted from anywhere within a reasonable distance.
Thermal CA,
Coachella CA,
Indio CA,
La Quinta CA,
Palm Desert CA,
Rancho Mirage CA,
Cathedral City CA,
Palm Springs CA,
Desert Hot Springs CA,
Twentynine Palms CA,
Yucca Valley CA,
East Hemet CA,
Banning CA,
San Jacinto CA,
Hemet CA,
Beaumont CA,
Adopt this deserving Bluenose Pitbull dog in Thermal California today.