1 Delightful Doberman Pinscher For Adoption in Irvine California – Meet Nebula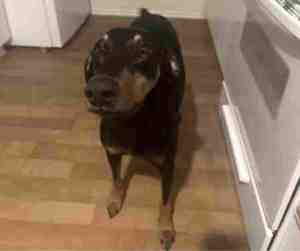 Looking for a Doberman Pinscher for adoption in Irvine, California CA?  Are you in search of a distinguished Doberman Pinscher to add a dash of delight to your domicile? If you've been longing for a loyal, loving, and lively companion to light up your life, Nebula is the noblest nominee for your nurturing nest.
Hailing from Irvine, CA, our canine candidate Nebula, a 3-year-old Doberman Pinscher dame, is currently seeking a serene sanctuary. This delightful damsel weighs a healthy 55.5 pounds and is packed with an abundance of affection and agility.
Nebula is a wonderful whirlwind of watchfulness without the wailing, personifying the perfect balance of vigilance and tranquility. Her friendly and frolicking nature extends to both humans and hounds alike, making her an exceptional emissary of empathy. She's impressively adaptable, comfortably cruising through any environment with the ease of an explorer.
A quick learner with an obedient outlook, Nebula is the quintessential quadruped who is eager to please. She is a cuddle connoisseur who would love nothing more than to snuggle up with you after a long day.
Heartbreakingly, due to unfortunate circumstances, Nebula's current custodians have found themselves in a position where they must find her a new forever home. Their hope is to find a family that will shower Nebula with unconditional love, ensuring her safety, happiness, and well-being.
If Nebula sounds like the dream dog you've been waiting for, don't hesitate! Make your move and make Nebula the newest member of your family today. Nebula is eagerly waiting to lavish you with love and loyalty. Read on to learn how you can add this precious pet to your family. You're just a click away from canine bliss!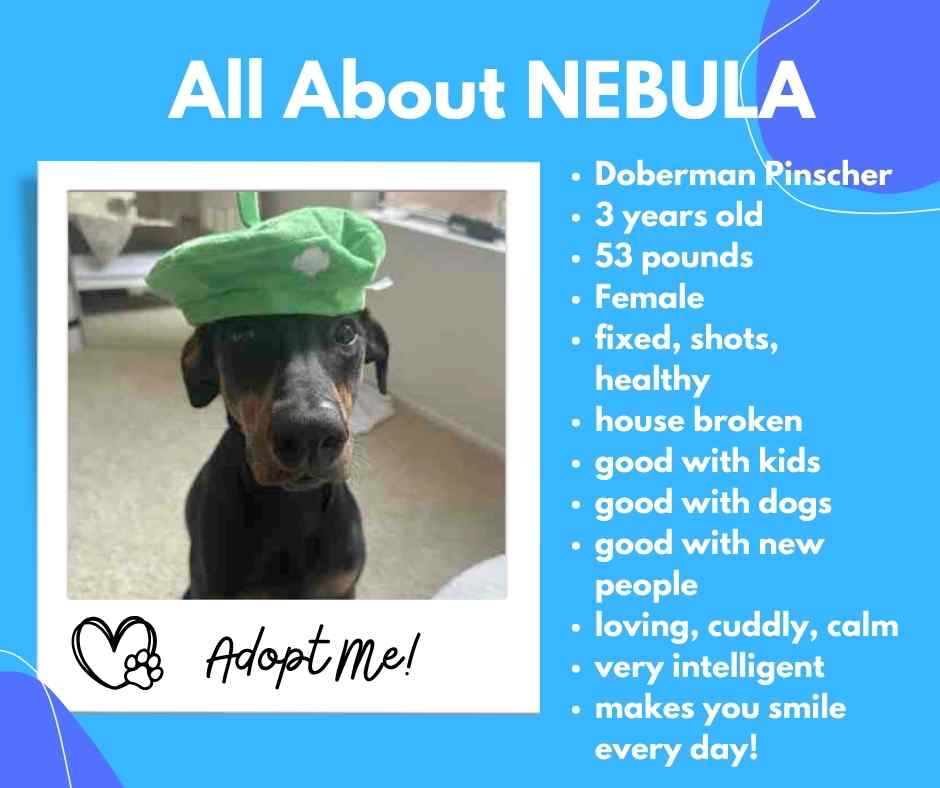 ---
Meet Nebula – Pre-Loved Doberman Pinscher For Adoption by Owner in Irvine CA
Nebula is a Female Doberman Pinscher dog for adoption to a very loving home in or near Irvine, CA. This very special dog is 3 years old and weighs 55 pounds.
5 Amazing Things About Nebula:
– watchful but not obnoxiously loud
– friendly to all dogs and people
– extremely adaptable to any environment
– very easy to train and is obedient
– loves to cuddle
Nebula's owners are very sad to have to rehome their cherished dog, but circumstances beyond their control have made rehoming a must-do.
They are hoping to find the right home where this deserving dog will be loved unconditionally and kept safe, happy, healthy and well-cared-for.
If you have room in your heart and home for Nebula, then please offer a loving, forever home today. Nebula can't wait to show you the true meaning of unconditional love.
---
How To Adopt Nebula
Please fill out our online meeting request form via the button below. Once your application is received and reviewed, our staff will ask the pets owner to reach out to you and arrange a meeting.
[vcex_button url="https://pet-net.net/adopt-a-pet/" rel="nofollow" layout="block" align="center" font_padding="top:15|bottom:15″ font_size="d:18px|tl:18px|tp:18px|pl:16px|pp:16px" font_weight="semibold"]Request to Adopt Nebula Here[/vcex_button]
There is a $250 adoption/rehoming fee. Supplies and veterinary records will be included.
Questions about Nebula?
COMPLETE OUR QUICK QUESTIONS FORM NOW
---
All About Nebula – Doberman Pinscher for Adoption in Irvine CA
Name of Pet: Nebula
Location: Irvine, CA, 92612
Type of Pet: dog
Breed of Pet: Doberman Pinscher
Sex of Pet: Female
Age of Pet: 3
Spayed/Neutered?: Yes
Health Problems: No
Behavior Issues: No
Up To Date on Vaccinations: Yes
Gets along with cats: Unknown
Gets along with dogs: Yes
Good with Children?: Yes
House Broken or Litter Trained?: Yes
Crate Trained?: No
Accessories Included: Food dispenser, bed, her favorite blankets, toys, harness, leash, and grooming tools
Nebula's Personality
Nebula is energetic, happy, and care free. She loves being around people as well as people watching. When we're at coffee shops for example she'll sit next to me and people watch while I work. She is in doggy day care two times a week and has been going since she was very young so she is very well socialized with small and big dogs.
Nebula's Favorite Toys, Foods, Activities?
– playing tug
– chewing on her bones
– hanging out around other people/dogs
– loves sunbathing
Cute Nebula Story:
She's house trained so she knows to whine whenever she needs to go potty and one morning she kept whining even after going potty. I finally took her out again and she walked outside and found a spot in the sun on the concrete. When I motioned her to come in she just stared up at the sun in contentment. I didn't have the heart to bring her back inside so I stayed out there with her.
Why is Nebula Being Rehomed?
Career has shifted and with the added responsibility I've been given I am no longer able to provide her with a full life. She deserves an owner who is more active and not as on the go.
Nebula's Perfect Adoptive Home Will Be:
I'm looking for a home that treats a dog as a family member and not a watch dog. Commonly her breed is treated as a security guard or watch dog and kept outside. I want her to be able to live in a full home and if not a full home to have an owner who can live an active lifestyle and bring her along for the ride. Above all, she deserves an owner who is going to spend more time with her. Her exercise needs are not high but she does love people and it's important she won't be left alone for long amounts of time.
I don't need to stay in touch but if I could follow them on social media and see that she is living a good life I would love that.
---
Nebula – Doberman Pinscher dog For Adoption in Irvine CA
Nebula is a Doberman Pinscher dog for adoption by owner in Irvine CA. Nebula is located close to the following towns and cities in CA, and can be adopted from anywhere within a reasonable distance.
Aliso Viejo CA,
Anaheim CA,
Banning CA,
Bell Gardens CA,
Bellflower CA,
Buena Park CA,
Carlsbad CA,
Chino CA,
Chino Hills CA,
Corona CA,
Costa Mesa CA,
Cypress CA,
Dana Point CA,
Diamond Bar CA,
Downey CA,
El Monte CA,
Escondido CA,
Fountain Valley CA,
Fullerton CA,
Garden Grove CA,
Glendora CA,
Hawthorne CA,
Hemet CA,
Huntington Beach CA,
Inglewood CA,
La Habra CA,
La Mirada CA,
La Palma CA,
Laguna Beach CA,
Laguna Hills CA,
Laguna Niguel CA,
Laguna Woods CA,
Lake Elsinore CA,
Lake Forest CA,
Lakewood CA,
Long Beach CA,
Los Alamitos CA,
Los Angeles CA,
Mission Viejo CA,
Murrieta CA,
Newport Beach CA,
Norwalk CA,
Oceanside CA,
Orange CA,
Palm Springs CA,
Perris CA,
Placentia CA,
Pomona CA,
Rancho Cucamonga CA,
Rancho Santa Margarita CA,
Riverside CA,
San Bernardino CA,
San Clemente CA,
San Diego CA,
San Juan Capistrano CA,
Santa Ana CA,
Seal Beach CA,
Stanton CA,
Temecula CA,
Torrance CA,
Tustin CA,
Vista CA,
Westminster CA,
Whittier CA,
Wildomar CA,
Yorba Linda CA.
Irvine CA,
Nebula, a 3-year-old Doberman Pinscher from Irvine, CA, is an exceptional dog seeking a loving new home. With her friendly nature, adaptability, and obedience, Nebula promises to bring joy and love to her new family. She is a loyal companion who is eager to please and loves cuddles. Unfortunately, her current owners are unable to keep her and are looking for a new family that will provide her with the love, safety, and happiness she deserves. If you are in Irvine, CA, and looking to adopt a Doberman Pinscher, don't hesitate to consider Nebula. She is just a click away from becoming the newest member of your family and bringing you canine bliss.
Adopt this deserving Doberman Pinscher in Irvine California today.