Meet Bodhi, Orange Tabby Cat For Adoption in Los Angeles CA
Meet Bodhi, Orange Tabby Cat For Adoption in Los Angeles CA
When it comes to looks and personality, Bodhi would give Garfield, himself a run for his money. This incredibly handsome 18 pound orange tabby bundle of purrs and cuddles is about the friendliest and most engaging feline companion you will find.
Bodhi is really easy to care for. He is somewhat low-energy, and prefers napping in sunbeams to running on the treadmill. He is very interested in his humans, and often will follow you around the house, offering moral support as you take care of your daily chores.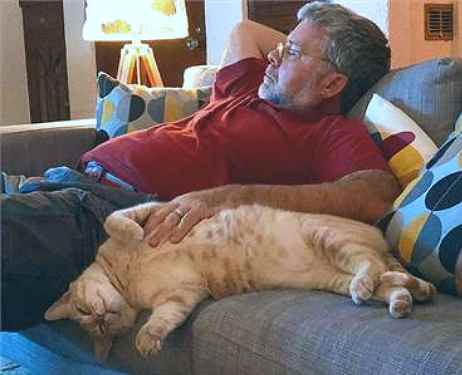 He is a gentle soul with a laid back personality. He loves to watch birds and bugs through a sunny window, or spend some supervised time outdoors in the back yard. He would be fine living in an apartment or a home.
Bodhi may have Southern California's loudest purr! He really lets you know you are appreciated when he decides to snuggle up next to you. He has a cute chirp that he uses to say hello when you come home from being at work or out doing errands. It is really cute and special.
Even though he is 8, Bodhi still enjoys playing. His owner bought him all kinds of fancy cat toys, but Bodhi is partial to simpler things. His favorite toys are cocktail straws, which he has a ball playing with in the living room. It is quite a sight to behold as he tosses them into the air and zooms around chasing them.
Bodhi's owners are sad to have to find him a new home, but are moving to England to a home where pets are not allowed. They are dearly hoping to find Bodhi a very loving him anywhere within a reasonable distance of Los Angeles, including, but not limited to San Diego, Orange County, Palm Springs, Oxnard / Ventura, Simi Valley, Bakersfield, etc.
If you have room in your heart and home for this very special Orange Tabby Cat, please offer Bodhi his forever home today. He can't wait to purr and play his way into your heart.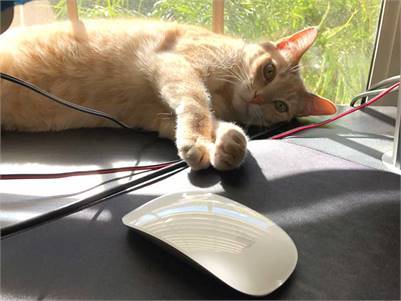 There is a $25 adoption/rehoming fee. Supplies and veterinary records will be included.
Questions about Bodhi? Contact our Los Angeles Cat rehoming team today. Text "Bodhi" to (888) 833-2128 or email Bodhi@Cat-lover.us. We look forward to hearing from you.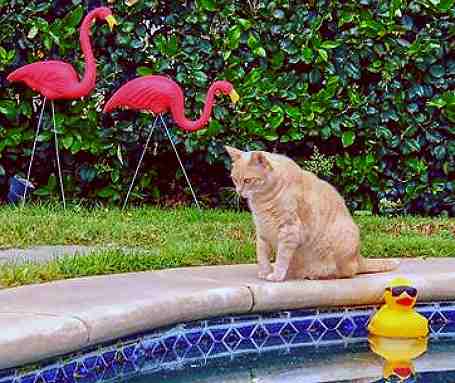 ---
All About Bodhi – Orange Tabby Cat For Adoption in Los Angeles CA
Name of Pet: Bodhi
Location: Los Angeles, CA, 90048
Type of Pet: Cat
Breed of Pet: Tabby
Sex of Pet: Male
Age of Pet: 8 Years
Spayed/Neutered?: Yes
Health Problems: No
Behavior Issues: No
Up To Date on Vaccinations: Yes
Gets along with cats: Unknown
Gets along with dogs: Unknown
Good with Children?: Yes
House Broken or Litter Trained?: Yes
Crate Trained?:
Accessories Included: Food (canned and dry) and treats
Toys
Litter boxes and litter
A 'Kitty Condo' (indoor cat tree for sleeping and lounging)
Full set of vet records
Bodhi's Personality
When he likes to cuddle. Bodhi has a very loud and affectionate purr.
Bodhi follows me around the house. Just look around and he won't be far away.
He can be talkative. He'll give me a little 'chirp' when he sees me.
Bodhi will have an occasional burst of energy where he will be quite playful.
He's a very handsome cat.
Bodhi's Current Home Environment
We live in a three bedroom house in Los Angeles. I will take him into the backyard on a regular basis but we don't let him wander around the neighborhood.
When we used to live in an apartment, we would give him unsupervised access to the balcony. We were on the third floor and he never once tried to jump off the balcony. He could see how high it was.
Bodhi's Current Family:
We are a middle aged married couple. It's just the two of us, plus Bodhi. No other pets.
Bodhi's Favorite Toys, Foods, Activities?
Toys – Cocktail straws. (See below.)
He likes Trader Joe's canned food the best. It's inexpensive and highly rated for quality. Interesting quirk, he likes to smell human food but rarely tries to eat it.
Apart from occasionally going outside for supervised visits, he has become VERY expert at afternoon napping.
Bodhi also finds it fascinating to stare at the tiny, little birds that land on the fountain outside. He can then practice his chattering and tail twitching.
Cute Bodhi Story:
Even though I have bought Bodhi all manner of toys, he loves to play on the floor with cocktail straws. Pushing them across the floor and chasing after them. Catching them in midair when I toss them to him. I promise that I don't let him drink. 🙂
Why is Bodhi Being Rehomed?
We are permanently moving to London, UK. And the building we are moving into doesn't allow pets.
Bodhi's Perfect Adoptive Home Will Be:
Probably a more mellow environment would be preferable to lots of young children. He may very well get along with another cat but I don't know for sure. As he is an older cat he loves to nap and is used to a relatively quiet home.
Additional Comments:
How To Adopt Bodhi
If you are interested in adopting this special Orange Tabby Cat For private rehoming in Los Angeles CA, please fill out our online meeting request below. Once received and reviewed, our staff will ask the pets owner to reach out to you and arrange a meeting.
There is a $25 adoption/rehoming fee. Supplies and veterinary records will be included.
Questions about Bodhi? Contact our Orange Tabby Cat rehoming team today. Text "Bodhi" to (888) 833-2128 or email Bodhi@Cat-lover.us. We look forward to hearing from you.
Bodhi – Orange Tabby Cat For Rehoming in Los Angeles CA
Bodhi is a Orange Tabby Cat for private adoption by owner in Los Angeles CA. This pet is located close to the following towns and cities in CA:
Adopt this sweet Orange Tabby Cat in Los Angeles CA today.