Need to find your pet a home in Calgary AB and area? Our Calgary pet rehoming service offers expert help  for caring pet owners who want the very best for their dog or cat. We help you rehome a dog or cat safely and effectively in and around Calgary AB.
Rehome a Dog Cat Puppy or Kitten in Calgary Alberta
Contact our pet rehoming coordinator to find out more about our Calgary pet rehoming services, or request pet rehoming services now. You may also text or leave a voicemail​ on (403) 755-2406 and our team will get back to you to arrange a time to discuss your situation.
Text or Voicemail​:
(403) 755-2406

No responsible pet owner wants to give up their dog or cat, but there are many understandable reasons why pet owners need to rehome pets in Calgary and surrounding areas.
Placing your beloved family member in a shelter or rescue is NOT the answer. Most Calgary area animal shelters are filled to capacity with pets needing homes, and some even put pets to sleep if they are considered "unadoptable", or if the shelter needs to make room for more pets. It is not something that most pet owners would want for their cherished companions.
Finding a loving new home for your pet while they remain in your care is the very best solution. And that is exactly what our dedicated Calgary pet rehoming team do for our clients.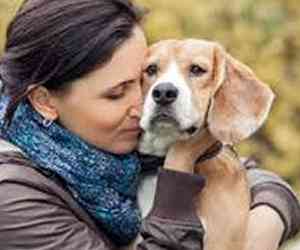 Rehome a Dog in Calgary
Need dog rehoming help? If you need to find a home for your dog or puppy, our Calgary dog rehoming team can help. We find great homes for dogs and puppies in Calgary, and are your at your service. We will be happy to speak with you and answer any questions you may have about how we rehome dogs and puppies in Calgary and area.
Being faced with rehoming a dog is a difficult situation. We know that this is not a decision you have reached without careful thought. We are here to help you do everything possible to find your companion a new home where they will be cherished, and kept safe, happy and healthy.
Contact our pet rehoming coordinator to find out more about our Calgary dog rehoming service, or request pet rehoming services now. You may also call   (888) 720-3322 to discuss your situation.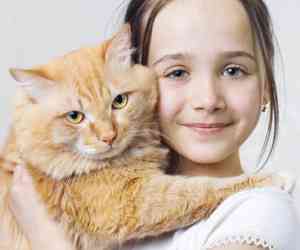 Calgary Cat Rehoming
Rehoming a cat is not an easy thing to do. You love your cat, and having to give up your cherished feline friend was never something you planned for. When life makes cat rehoming necessary, our caring team of pet adoption experts are here for you. We can help find your cat a very good home, and you can rest assured that the process will be safe and effective.
We help cat owners in so many ways. We are here as a shoulder to lean on – to offer guidance and support to you at this very difficult time. We help you locate and choose the right new home for your cat or kitten – a home where their needs for companionship, love, care and play are met, and where they are loved unconditionally.
Contact our pet rehoming coordinator to find out more about our Calgary cat rehoming service, or request pet rehoming services now. You may also call  (888) 720-3322 to discuss your situation.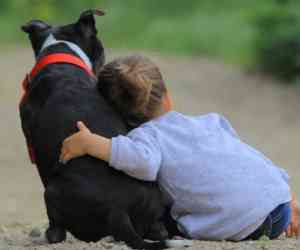 Judgement-Free Help Rehoming Your Pet
Are you feeling guilty thinking about rehoming your cat or dog? We offer empathy – not judgement. We are here to help you find your pet the very best home, and give you much needed emotional support as you face one of life's most distressing situations.
We replace heartache with hope, and worry with peace of mind. We will help turn that guilt into positivity, knowing that you have made your pet's life even better by placing them in a loving home where all of their needs and wants are met.
1. It's Safe
Our dedicated pet rehoming team take great care to ensure that you are matched only with potential pet adopters with a legitimate interest in offering your pet a loving, forever home.
2. It's Affordable
We charge a modest fee of just $150 to find your pet the perfect home. We also offer a basic pet rehoming service for just $50.
3. We Care About You
We have so much empathy for pet owners faced with having to rehome their cherished pets. Before you found our service, chances are you may have had to deal with judgmental friends, co-workers, family or acquaintances unable to understand your situation.
We know what you have been through, and are here to give you our solid support, guidance and advocacy. We will shield you from online trolls and keep your identity confidential, all while supporting you through one of life's most difficult situations.
4. We Follow Up
Our staff provide FOLLOW-UP. We stay in touch with your pet's new owners for a year, ensuring that all is well and your pet is being well taken care of.
5. It's CONFIDENTIAL
Let us deal with all those emails and phone calls inquiring about your cat. We'll keep your identity, phone number and email address CONFIDENTIAL until a suitable adoptive family is found.
6. IT'S STRESS FREE FOR YOUR PET
There is nothing more traumatic for a beloved family pet than to be left at an animal shelter. It is always hard on the owner as well. Our gentle approach ensures a gradual transition into the arms of new owners that you have met, gotten to know, and to whom you have given plenty of information about your pet's care routine.
Hello Debbie, 
Thank you for all your help in finding a family to adopt Rusty. The family that adopted Rusty will love and care for as a member of the family. Finding the right family is important because he got off a rough start. The screening process and introductions are well worth fee.
Being assured that he will be well cared for is the most important thing. Rusty deserved a good home and family. Thanks to your efforts and patience the right home was found. Also thank you for guiding me through the process.
Rolfe and Alison are wonderful people. I have received text messages and phone calls letting me know how Rusty adjusting. While we miss Rusty I know he is being well cared for and is making good adjustment.
I am more than happy to recommend you to anyone who needs to find a new home for a pet.
Thanks again for your help and efforts.
Veronica
P.S. Last report Rusty has glued himself to Alison and she is treating him like a little prince. 
Kaeli and Alli Rehomed in Seattle!
Debbie from Pet Rehoming Network helped us through a very trying period of our lives. Due to life circumstances, we had to rehome 2 of our family cats who are 14 years of age, after doing much research and calling local services, I was at wits end because it doesn't seem as though there's a way to rehome 2 older cats.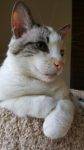 Our cats have never been separated so having to rehome 2 cats to the same home was our top priority but we know that's a tall order. After a couple months, we found the most perfect home within 20 miles from where we live and we couldn't have asked for a better situation.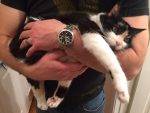 This service has alleviated so much pressure, stress, and guilt but in the end it worked out as planned, it just took a little patience. We are extremely grateful and at peace with this decision and can't wait to visit our girls in their new home.
Thanks again Debbie!!!
Pet Rehoming Network did a great job rehoming our cat, Panda.
My son developed severe allergies to cat dander and we found ourselves in the terrible situation of having to find her a new home.
We didn't want to risk something happening to Panda, so we were happy to find Debbie and her team.
They went to work right away and were very kind and sensitive to our situation. Debbie helped me a lot in finding the right person to adopt Panda.
She was thorough and did not consider Panda's adoption final until Panda was actually in her new home.
Debbie has already sent an update and some cute photos the new owner took of our sweet Panda.
I would definitely recommend that anyone faced with having to rehome your cat due to allergies go through this amazing rehoming service.
It would be so much harder to go through this process without their help.
You guys are great! Thank you for everything.
I never in a million years thought I would be in the position to have to make the very difficult decision to rehome my pets. 
My caring rehoming specialist (Debbie Moore) was kind, compassionate, supportive and completely non-judgmental of my situation or decision. She was diligent in asking necessary questions about my pets in order to find them the very best situation in their new forever homes. Milo transitioned into his new home last month and he and his new owner are very happy together.
Although there was significant interest in my dogs, Debbie assured me to take my time in order that I was 100% comfortable in my decision to select the right home and owners for my babies; when I disqualified a candidate, she never got frustrated with me and encouraged me to be picky; Rigby's new family is overcome with love and emotion, have kept me updated with his transition and I'm truly confident that Rigby was somehow meant to bring joy to both our families.
My heart is broken without my babies, but I know they are receiving the love, attention and affection they deserve. Thank you petrehoming and specifically, Debbie Moore. You made a heart-wrenching situation as smooth as possible.
Best,
Dina Rutstein
Executive HR & Business Consultant
845-803-1434 
Animal Shelters and Rescues in Calgary Alberta
Fur Ever Homes Rescue
Animal Shelters
+15016642943
Calgary, AB T3E 7R3, Canada
Pawsitive Match Rescue Foundation
Animal Shelters, Pet Adoption
+14034522485
Calgary, AB T3K 1R4, Canada
Animal Rescue Foundation
Animal Shelters, Community Service/Non-Profit
+14032431910
PO Box 34160, RPO Westbrook, Calgary, AB T3C 3W2, Canada
City Of Calgary Animal Services
Animal Shelters
+14032682489
2201 Portland Street SE, Calgary, AB T2G 4M7, Canada
Pound Rescue
Animal Shelters
+14039384890
Calgary, AB, Canada
Misty Creek Dog Rescue
Animal Shelters
300 8120 Beddington Blvd NW, Calgary, AB T3K 2A8, Canada
Meow Foundation
Community Service/Non-Profit, Pet Stores
+14032306033
Calgary, AB T2N 4T6, Canada
Calgary Humane Society
Animal Shelters, Pet Adoption, Pet Cremation Services
+14032054455
4455 110 Avenue SE, Calgary, AB T2C 2T7, Canada
PetSmart
Pet Stores, Pet Training, Pet Groomers
+14032120888
321 61 Ave Sw #7, Calgary, AB T2H 2W7, Canada
Pawsitively Pooched
Pet Groomers, Pet Sitting, Pet Training
+14032415030
728 Northmount Drive NW, Suite 16, Calgary, AB T2K 3K2, Canada
Calgary Alberta Pet Services
Veterinary Clinics in Calgary Alberta
Vets To Go
Veterinarians, Pet Services
+18889958387
Calgary, AB T2E, Canada
Fishcreek 24Hr Pet Hospital
Emergency Pet Hospital
+14038731700
15311 Bannister Road SE, Calgary, AB T2X 1Z3, Canada
Beddington Trail Animal Hospital
Veterinarians
+14032638101
5-176 Bedford Drive NE, Calgary, AB T3K 2M9, Canada
Glamorgan Animal Clinic
Veterinarians
+14032461774
8-3919 Richmond Road SW, Calgary, AB T3E 4P2, Canada
Cambrian Animal Hospital
Veterinarians
+14034573911
765 Northmount Drive NW, Calgary, AB T2L 0L6, Canada
Animal Clinic
Veterinarians
+14032623237
104-820 10 Street SW, Calgary, AB T2P 2X1, Canada
Crowfoot Veterinary Hospital
Veterinarians
+14032418944
150 Crowfoot Crescent NW, Unit 211, Calgary, AB T3G 3T2, Canada
Montgomery Village Vet Clinic & Dekens Housecall Services
Veterinarians, Pet Training, Holistic Animal Care
+14036158016
117, 4611 Bowness Road NW, Calgary, AB T3B 0B2, Canada
17th Avenue Animal Hospital
Veterinarians
+14032284165
233 17 Ave SW, Calgary, AB T2S 0A4, Canada
Forest Lawn Veterinary Hospital
Veterinarians
+14032720115
2002 36 Street SE, Calgary, AB T2B 0X8, Canada
---