Cavalier King Charles Spaniel Puppy For Adoption in Calgary AB – Meet 12 Week Old Rosie
Are you looking for a Cavalier King Charles Spaniel puppy for adoption in Calgary Alberta? Or maybe just the cutest little thing you have ever seen?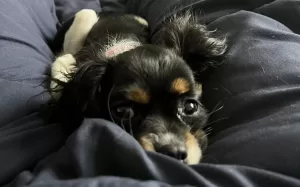 Get ready to fall head over heels for the most radiant Rosie, a ravishingly royal Cavalier King Charles Spaniel puppy, who's ready for a new reign in a loving home! Rosie is a delightful damsel hailing from the charming city of Calgary, Alberta. This petite princess is just 3 months old, weighing a feather-light 4 pounds, but don't be fooled by her size, her personality is as giant as her heart.
Rosie is not just a pretty face. She's got the brains to match her beauty. She's a quick learner, always eager to please and impress. More than that, she's the perfect balance of playful and peaceful. Rosie relishes in running around, chasing her tail and making friends with every creature she meets. But when playtime is over, she's all about the cuddles, always ready to curl up into a warm lap.
But life isn't all fetch and belly rubs for this wonderful pup. Sadly, due to circumstances beyond their control, Rosie's current caretakers have made the difficult decision to find her a new castle to call home. They are determined to find a kingdom where Rosie will be showered with the unconditional love she so deserves, a palace where she will be kept safe, happy, healthy, and well-cared-for.
Are you ready to make room in your kingdom for this royal beauty? To open your heart and hearth to Rosie? If so, then it's time to bestow upon Rosie the loving, forever home she's been waiting for. Our captivating Cavalier can't wait to show you what unconditional love truly means. In return, she pledges to be your loyal companion, your best friend, your confidante. She promises to fill your life with joy, laughter, and companionship.
Could Rosie be the regal addition your family has been yearning for? The time to act is now. Contact us today and offer Rosie the royal treatment she deserves. Read on to find out how you can add this precious pet to your family. Unveil the next chapter in Rosie's tale and add a touch of magic to your own.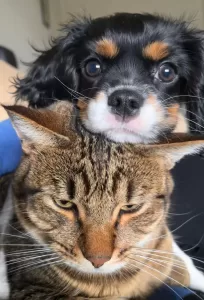 ---
Meet Rosie – Pre-Loved Cavalier King Charles Spaniel puppy For Adoption by Owner in Calgary Alberta
Rosie is a Female Cavalier King Charles Spaniel puppy for adoption to a very loving home in or near Calgary, Alberta. This very special puppy is 3 months old and weighs 4 pounds.
5 Amazing Things About Rosie:
She is beautiful, so lovely
She loves cuddling and running
She makes friends with ease
She learns fast
She is a strong healthy puppy who just wants attention and patience
Rosie's owners are very sad to have to rehome their cherished dog, puppy, but circumstances beyond their control have made rehoming a must-do.
They are hoping to find the right home where this deserving dog, puppy will be loved unconditionally and kept safe, happy, healthy and well-cared-for.
If you have room in your heart and home for Rosie, then please offer a loving, forever home today. Rosie can't wait to show you the true meaning of unconditional love.
She will be a very loyal companion and your very best friend. She promises to bring joy, laughter and companionship to your life. Could Rosie be the perfect dog, puppy for you and your family? Contact us today and give her the loving forever home she deserves!
---
How To Adopt Rosie
Please fill out our online meeting request form via the button below. Once your application is received and reviewed, our staff will ask the pets owner to reach out to you and arrange a meeting.
[vcex_button url="https://pet-net.net/adopt-a-pet/" rel="nofollow" layout="block" align="center" font_padding="top:15|bottom:15″ font_size="d:18px|tl:18px|tp:18px|pl:16px|pp:16px" font_weight="semibold"]Request to Adopt Rosie Here[/vcex_button]
There is a $300 adoption/rehoming fee. Supplies and veterinary records will be included.
Questions about Rosie?
COMPLETE OUR QUICK QUESTIONS FORM NOW
---
All About Rosie – Cavalier King Charles Spaniel puppy For Adoption in Calgary Alberta
Name of Pet: Rosie
Location: Calgary, Alberta, T3A0X9
Type of Pet: dog, puppy
Breed of Pet: Cavalier King Charles Spaniel
Sex of Pet: Female
Age of Pet: 3 months
Spayed/Neutered?: No
Health Problems: No
Behavior Issues: No She a little healthy puppy that needs training
Up To Date on Vaccinations: Yes
Gets along with cats: Yes
Gets along with dogs: No
Good with Children?: Yes
House Broken or Litter Trained?: No
Crate Trained?: No
Accessories Included: Two puppy food plates, slow eater, couple of tennis balls, a leash, and her necklace with her name.
Rosie's Personality
Happy, energetic, very smart, sweet, well behaved, dominant, playful, curious, shy with new people and dogs.
Rosie's Favorite Toys, Foods, Activities?
Tennis balls, specially if they bounce a lot
Stuff animals to chew
Anything strong enough to keep chewing
Bones
Cute Rosie Story:
She started mimicking my cats way of playing with her. She believes she is a cat!
The first time she saw me she was cautious. The second time she recognized me and run directly at me!
She had her first bath after she saw me getting into the bathroom
Why is Rosie Being Rehomed?
My home has a carpet and because she is so young she is learning how to go to the bathroom. So far she has improved so much, but in the process she has pee and pooped all over the carpet and my roommates are complaining.
Also I am lucky enough to take her to my work, and she is so patient there, but is an office with cold floors and she doesn't like it. She gets frustrated and bored after long 8 hour shifts.
I believe she deserves better. A home with a family that has the capacity to train her and be with her in open spaces where se can run constantly and have other dog friends, and people around her are patient and happy she is around even when she is learning. I don't like that my roommates now are angry around her and I can't control that. I want what is best for her, she is an angel❣️
Rosie's Perfect Adoptive Home Will Be:
Loving and supportive. A healthy space where she is cheered and being proper take care for. People who talk sweet to her and spend time with her playing and educating her so she is a well trained puppy who bring joy to her spaces. I want a family that loves her and treats her sweetly, and do what best for her. Ideally I want to being able to keep in communication so I can see this beautiful girl from time to time ❣️
She is the best puppy in the whole wide world. Please love her, she will love you entirely.
---
Rosie – Cavalier King Charles Spaniel puppy For Adoption in Calgary Alberta
Rosie is a Cavalier King Charles Spaniel puppy for adoption by owner in Calgary Alberta. Rosie is located close to the following towns and cities in Alberta, and can be adopted from anywhere within a reasonable distance.
Airdrie AB,
Cochrane AB,
Crossfield AB,
Okotoks AB,
Irricana AB,
Black Diamond AB,
Strathmore AB,
Carstairs AB,
High River AB,
Didsbury AB,
Olds AB,
Nanton AB,
Sundre AB,
Three Hills AB,
Vulcan AB,
Adopt this deserving Cavalier King Charles Spaniel puppy in Calgary Alberta today.
Thank you for your interest in this charming little Cavalier King Charles Spaniel puppy for adoption in Calgary. We look forward to hearing from you soon.