Adorable Pomeranian Dog For Adoption in Calgary – Meet Coco
Looking for a sweet little Pomeranian dog for adoption in Calgary, Alberta? Coco would love to be considered for the position of your cherished family companion. This gorgeous 8 pound bundle of love is 9 years young and absolutely loves her Momma.
Unfortunately, her owner has developed severe dog allergies, and has no option other than to find Coco a loving new home. Her ideal home will be with a single woman who is retired and has all the time in the world for this sweet little cutie-pie.
Want to offer Coco her forever home? Read on to learn how to apply to adopt her today.
---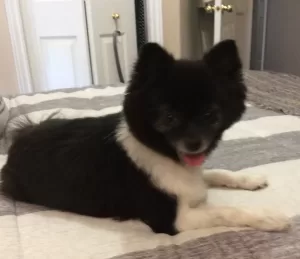 Meet Coco – Pre-Loved Pomeranian dog For Adoption by Owner in Calgary Alberta
Coco is a Female Pomeranian dog for adoption to a very loving home in or near Calgary, Alberta. This very special dog is 9 years old and weighs 8 lbs.
5 Amazing Things About Coco:
Very sweet disposition
Loving and affectionate
Gets along well with other people and dogs
Friendly little monkey
Shows you unconditional love
Coco's owners are very sad to have to rehome their cherished dog, but circumstances beyond their control have made rehoming a must-do.
They are hoping to find the right home where this deserving dog will be loved unconditionally and kept safe, happy, healthy and well-cared-for.
If you have room in your heart and home for Coco, then please offer a loving, forever home today. Coco can't wait to show you the true meaning of unconditional love.
---
All About Coco – Pomeranian dog For Adoption in Calgary Alberta
Name of Pet: Coco
Location: Calgary, Alberta, T3C 0H4
Type of Pet: dog
Breed of Pet: Pomeranian
Sex of Pet: Female
Age of Pet: 9 years
Spayed/Neutered?: Yes
Health Problems: Yes Teeth need cleaning.
Clean bill of health from Vet
Behavior Issues: Yes She is used to going outside and will have the occasional "accident".indoors. I have a dog pen with pee pads which she will use.
Up To Date on Vaccinations: Yes
Gets along with cats: Unknown
Gets along with dogs: Yes
Good with Children?: Good With Children aged 8 and up
House Broken or Litter Trained?: Yes
Crate Trained?: Yes
Accessories Included: Bed, food, harness and leash, soaker pad to go under pee pads, dog fence that can be used in house or outside, cosy winter coat.
Coco's Personality
Coco is as cute as a button! Very sweet disposition , cuddly and affectionate. Is very friendly with dogs and people but being small, young children would not be recommended in a future home
Will bark with a stranger at the door, but normally is quiet and laid back …not yappy although will give you a "good talking too" after being alone for several hours
Will bond with one person but accepting of others who take the time to cuddle and love her
Coco's Favorite Toys, Foods, Activities?
Previous owners left her alone too much and didn't pay much attention to her so not that familiar with toys. Has just started playing with a stuffed animal..so good to see …she's come along way in several weeks
Has dry food mixed wth small amount of canned food from Vet.
Loves her walks, being outside and rolling in the grass. Will sit quietly on the grass in backyard
Cute Coco Story:
I don't have any stories as have had Coco for only several weeks, but she has just started playing with a toy and that is very heartwarming to see
Why is Coco Being Rehomed?
I took this little sweetheart as acquaintances of mine had 3 dogs..were moving and Coco unfortunately was not a high priority to take with them and asked if I would take her knowing that my. little dog of13 years had recently passed away
Of course I jumped at the chance and unfortunately extremely allergic to animals with undercoats and dander. QIq also-have medical issues and on medication which prevents me from taking and antihistamines.
Coco's Perfect Adoptive Home Will Be:
Ideally I would think an older couple who can give her the cuddles and affection she deserves.
She likes to slee on the bed but will also go to her own bed at night.
She is so used to going outside that a small backyard would be ideal
i Would appreciate hearing from new owners from time to time as to how Coco is doing and certainly if they have any questions as to her care
---
Name of Pet:32} – Pomeranian dog For Rehoming in Calgary Alberta
Coco is a Pomeranian dog for adoption by owner in Calgary Alberta. Coco is located close to the following towns and cities in Alberta, and can be adopted from anywhere within a reasonable distance.
Calgary AB,
Airdrie AB,
Cochrane AB,
Crossfield AB,
Okotoks AB,
Irricana AB,
Black Diamond AB,
Strathmore AB,
Carstairs AB,
High River AB,
Didsbury AB,
Olds AB,
Nanton AB,
Sundre AB,
Three Hills AB,
Vulcan AB,
Adopt this deserving Pomeranian dog in Calgary Alberta today.