Huggable Orange Tabby Cat For Adoption in Calgary Alberta AB – Meet Sweet Simba
Looking for an Orange Tabby cat for adoption in Calgary, Alberta?  Allow us to introduce the superbly snuggly Simba, seeking a new sanctuary in Calgary, Alberta. This pre-loved, pristinely primed, purring powerhouse is poised and ready to pounce into your heart.
Simba, our eight-year-old, 6.2kg ball of love, is a male Orange Tabby cat, waiting to be adopted into a doting domicile situated in or near Calgary. Despite his grown-up age, this remarkable rascal maintains a playful demeanor, frequently dashing around in bouts of zooming zest.
Five fantastic facts about our furry friend, Simba include his insatiable appetite for affectionate cuddles. Lift him into your arms and watch as he wraps around your neck, nuzzling in with unrivaled tenderness. When he craves more of your loving touch, he will gently tap your hand or arm, pleading for more petting. His vocalizations are an adorable anomaly; rather than a classic purr, Simba sounds off with endearing meowing reminiscent of a kitten. Though he can be a bit skittish at times, Simba's endless well of love and affection more than makes up for his occasional shyness.
Regrettably, due to unforeseen circumstances, Simba's current caregivers are heartbroken to have to rehome their treasured tabby. Their deepest desire is to find Simba a secure, loving home where he will be cherished, nurtured, and kept in top-notch health.
If you have a vacancy in your heart and home for this affectionate feline, why not offer Simba a secure, loving forever home today? Simba promises to teach you the true meaning of unconditional love, one cuddle at a time.
Read on to dive deeper into Simba's story and discover how you could become the lucky family to welcome this captivating cat into your life. You won't regret adding this charming character to your clan!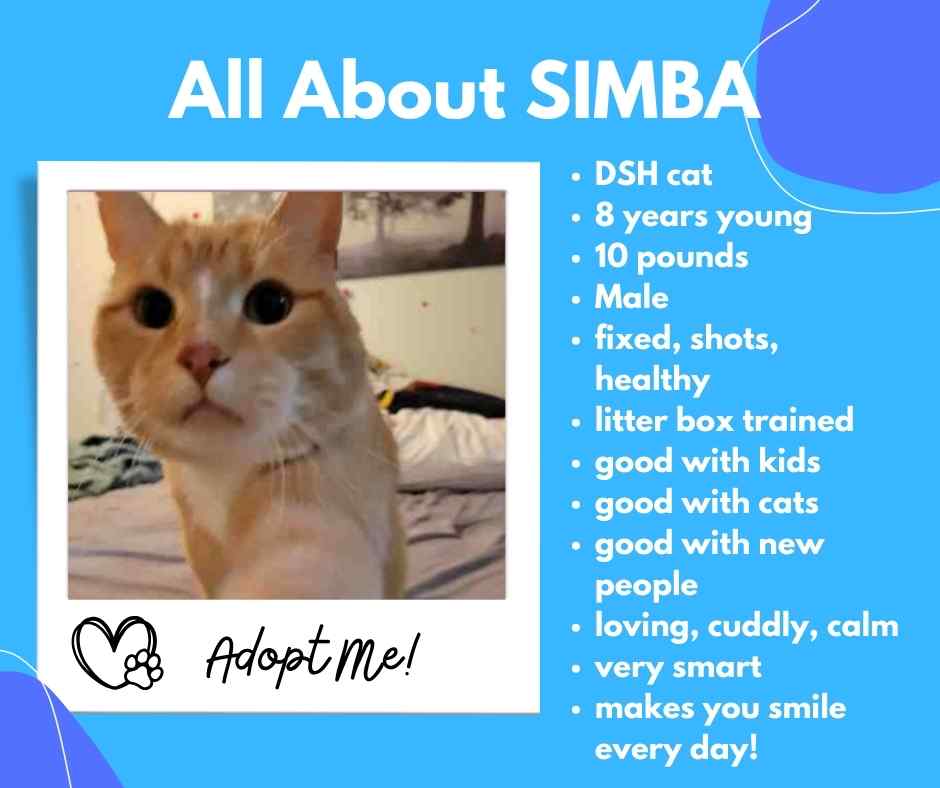 ---
Meet Simba – Pre-Loved Orange Tabby cat For Adoption by Owner in Calgary Alberta
Simba is a Male Orange Tabby cat for adoption to a very loving home in or near Calgary, Alberta. This very special cat is 8 years old and weighs 6.2.
5 Amazing Things About Simba:
He absolutely loves to cuddle in your neck. If you pick him up, he will hug you and bury his face into your neck. When he still wants more cuddles or your attention, he will tap your hand or arm to say don't stop touching me. He also makes the best meowing sounds, kinda like a kitten that never figured out how to purr, and it just doesn't match his size. He may be a beefcake and 8 years old but he still loves to play and gets the zooming every now and then. He is an endless bucket of love and affection, but he is a little skiddish too.
Simba's owners are very sad to have to rehome their cherished cat, but circumstances beyond their control have made rehoming a must-do.
They are hoping to find the right home where this deserving cat will be loved unconditionally and kept safe, happy, healthy and well-cared-for.
If you have room in your heart and home for Simba, then please offer a loving, forever home today. Simba can't wait to show you the true meaning of unconditional love.
---
How To Adopt Simba
Please fill out our online meeting request form via the button below. Once your application is received and reviewed, our staff will ask the pets owner to reach out to you and arrange a meeting.
[vcex_button url="https://pet-net.net/adopt-a-pet/" rel="nofollow" layout="block" align="center" font_padding="top:15|bottom:15″ font_size="d:18px|tl:18px|tp:18px|pl:16px|pp:16px" font_weight="semibold"]Request to Adopt Simba Here[/vcex_button]
There is a $40 adoption/rehoming fee. Supplies and veterinary records will be included.
Questions about Simba?
COMPLETE OUR QUICK QUESTIONS FORM NOW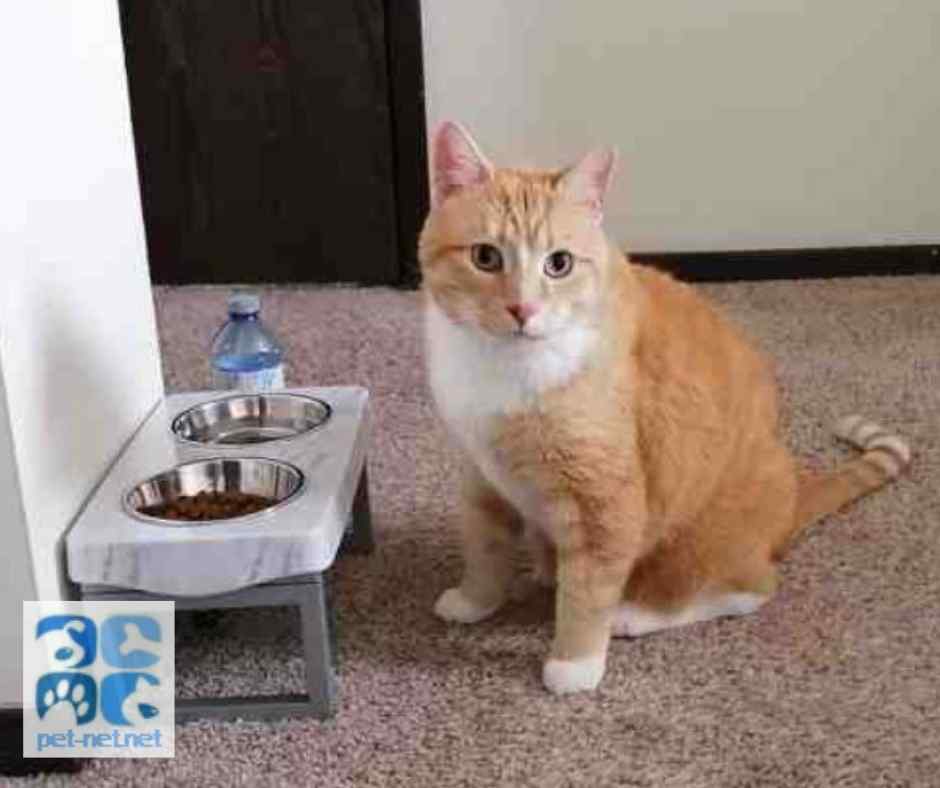 ---
All About Simba – Orange Tabby cat For Adoption in Calgary Alberta
Name of Pet: Simba
Location: Calgary, Alberta, T1Y4L4
Type of Pet: cat
Breed of Pet: Domestic Short-haired
Sex of Pet: Male
Age of Pet: 8 years
Spayed/Neutered?: Yes
Health Problems: No
Behavior Issues: No
Up To Date on Vaccinations: Yes
Gets along with cats: Yes
Gets along with dogs: No
Good with Children?: Yes
House Broken or Litter Trained?: Yes
Crate Trained?: Unknown
Accessories Included: He has raised feeding dishes, his water bowl, any current food (both dry and wet), his cat tree, his litter pan and scoop, and his assorted toys.

Simba's Personality
Simba's Favorite Toys, Foods, Activities?
He loves his cat tree and he is definitely a foodie. He will eat anything and if you let him he would eat all the time, but he is on a strict diet. He likes to chase the bird wand the most, and is super proud of himself when he catches it..
Cute Simba Story:
We noticed that he seems to have an avid interest in plastic bags for some reason. He will rub on them and claw them, we don't know why or what his attraction to it is, but we find him in the bathroom doing his weird thing.
Why is Simba Being Rehomed?
We adopted Simba from the city (which they named him Luther) who had no information and after a year, he still doesn't feel comfortable in our home with our big dog who is now almost 2 years old. We adopted Simba with the hopes of being friends with our other cat already in the home, and unfortunately he doesn't feel at home here.
Simba's Perfect Adoptive Home Will Be:
We feel that Simba is more suitable as a companion with a more dedicated relationship being one on one, but we also think that he would do well in a home that has one other cat. We would want him to be an indoor cat as he is now. He would even do well with children, the only thing he would not be okay with is medium to large dogs, preferably none.
To an extent; I am interested in knowing how he is doing as I would like to make sure he is placed in a home that is suitable, but I'm not sure that I wish to have direct contact.

Simba – Orange Tabby Cat For Adoption in Calgary Alberta
Simba is a Orange Tabby cat for adoption by owner in Calgary Alberta. Simba is located close to the following towns and cities in Alberta, and can be adopted from anywhere within a reasonable distance.
Airdrie AB,
Cochrane AB,
Okotoks AB,
Chestermere AB,
Strathmore AB,
Crossfield AB,
Carstairs AB,
High River AB,
Black Diamond AB,
Turner Valley AB,
Beiseker AB,
Irricana AB,
Didsbury AB,
Canmore AB,
Olds AB,
Nanton AB,
Sundre AB,
Three Hills AB,
Vulcan AB,
Banff AB,
Drumheller AB,
Carbon AB,
Claresholm AB,
Bassano AB,
Hanna AB.
Calgary AB,
Adopt this deserving Orange Tabby cat in Calgary Alberta today.