Adopt A Pet
Pets For Private Adoption By Owner
Thinking of adopting a pet? Private pet adoptions by owner are a great way to go.
And while there are many sources offering pets for adoption throughout the USA and Canada, one of the best ways to find the pet of your dreams is through our private pet rehoming service, where we showcase pets for adoption by owner.
Request to Meet a Pet
Get On Waiting List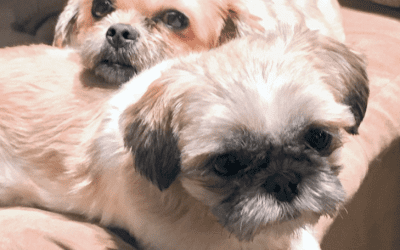 Introducing Barney and Bella, a pair of bonded small lap dogs for adoption in Concord NC, near Charlotte. Barney is a mix of Shih Tzu and Yorkshire Terrier (also known as a Shorkie). His best friend Bella is a purebred Shih Tzu. Together, they form the most adorable pair of lap dogs for adoption in the Charlotte area.
Aged 7 and 5, these doggie best friends are healthy, fixed, up to date on shots, house trained and well behaved. They are small sized; Barney weighs 11 pounds, while Bella is tiny at just 7 pounds.  Barney is more gregarious than Bella. She is a little shy and reserved until she gets to know you. Both dogs are wonderful companions. They love to cuddle, play with toys, cuddle some more, and get lots of tummy rubs.
Barney and Bellas owner is very sad to have to rehome them. It is a decision she has thought long and hard about, with her dogs' best interests at heart. She works very long hours, and the dogs are left alone at home far too much. She feels that they would be happier in a home where they have human companionship most of the time, and is looking for dog lovers who are seniors, retired or work from home. They are best suited to be the only pets in the home, and are not a good choice for children due to their tiny size (particularly Bella).
Barney and Bella must be rehomed together. They are closely bonded, and will not be separated. These sweet dogs will be rehomed with all supplies and vet records. Barney has allergies for which he takes a daily pill. Other than that, both dogs are very healthy and well-cared-for.
read more
PRIVATE PET ADOPTIONS
[subpages]