Handsome Border Collie For Adoption in San Diego CA – Supplies Included – Adopt Jax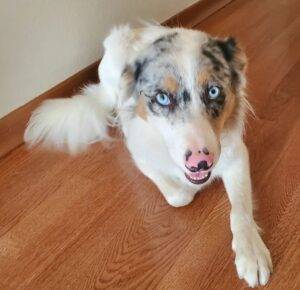 Border Collie Dog for Adoption in San Diego, CA
Looking for a Border Collie Dog to adopt in San Diego, CA? Just 2 years old and weighing 51 pounds, Jax has been fixed, fully vaccinated, housebroken, microchipped, obedience trained and crate trained, and is good with babies and small children, older children, new people, and dog-friendly dogs.
Meet Jax, a loving and affectionate Border Collie looking for his furever home. Jax gives meaning to the term "velcro dog" and loves being close to his humans. When he wants cuddles, Jax will lay across your lap for belly and ear scratches before nosing at your cheek for a kiss.
Not your typical collie, Jax is not overly active, though he does enjoy playing fetch and chasing the birds. He will make you laugh when he gets the zoomies! Jax is a smart boy and has learned several commands, including sit, down, inside, outside, lie down, wait, and come. An anxious traveller, Jax will want to be a homebody in his forever home. These handsome boy will steal your heart and promises to love you for years to come.
Jax's owners are very sad to have to rehome their cherished Dog. They are hoping to find a new home for Jax where this special Dog will be cherished and kept safe, happy, and healthy for life.
If you have room in your heart and home for Jax, please complete our online meeting request form. Once received, our San Diego Dog Rehoming team will make arrangements for you to meet Jax and his owners. Adopt Jax today!
There is a $150.00 adoption processing fee. Supplies, accessories, and veterinary records will be included.
How To Adopt Jax
If you are interested in adopting this special Border Collie in San Diego CA, please fill out our online meeting request below. Once received and reviewed, our staff will ask the pets owner to reach out to you and arrange a meeting.
Questions about adopting Jax?
Text JaxSanDiego to (888) 833-2128. We look forward to hearing from you!
---
All About Jax – Border Collie Dog For Adoption in San Diego CA
♥ Name of Pet: Jax
♥ Location: San Diego, CA, 92026
♥ Type of Pet: Dog
♥ Breed of Pet: Border Collie
♥ Color / Coat Type: White/Multi Color (Blue Merle)
♥ Age of Pet: 2
♥ Size of Pet: 51 pounds
♥ Health Problems: No
♥ Behavior Issues: Yes, Jax has anxiety while riding in a car and also lunges and barks when on a leash and sees other dogs. Off leash and with introductions, he is great with other dogs.
♥ Gets along with: Babies and Small Children, Older Children, New People, Dogs
♥ Pet is: Fixed, Fully Vaccinated, Housebroken, Microchipped, Obedience Trained, Crate-trained
♥ Food: Other – Amazon Wag brand food. He eats twice a day (6 am and 6 pm).

Jax – Border Collie Dog For Adoption in San Diego CA
---
Jax's Personality
Loving, sweet, and beautiful.
Why is Jax Being Rehomed?
Jax is the most loving, sweet dog, but I travel a ton and I have to medicate him in order to take him with me. He is not living his best life. He would be perfect with someone or a family that has a large yard and does not travel much. He is good with kids and other dogs. He is well trained in that he knows sit, stay, come, down, off and many others.
I live in both San Diego, CA and Salt Lake City, UT. I go back and forth monthly so I can take him to either of these locations easily.
Nearby Locations
Jax is located in San Diego, CA, close to the following towns and cities:
Coronado CA,
National City CA,
Chula Vista CA,
Lemon Grove CA,
Bonita CA,
La Mesa CA,
Imperial Beach CA,
La Presa CA,
Spring Valley CA,
El Cajon CA,
Rancho San Diego CA,
Santee CA,
Bostonia CA,
Lakeside CA.
He can also travel to Salt Lake City, UT, close to the following towns and cities:
South Salt Lake UT,
Millcreek UT,
Canyon Rim UT,
East Millcreek UT,
North Salt Lake UT,
Murray UT,
Taylorsville UT,
Holladay UT,
West Valley City UT,
Kearns UT,
Bountiful UT,
Midvale UT,
Cottonwood Heights UT,
West Jordan UT,
Centerville UT.
Thank you for your interest in this deserving Border Collie Dog for adoption in San Diego CA.