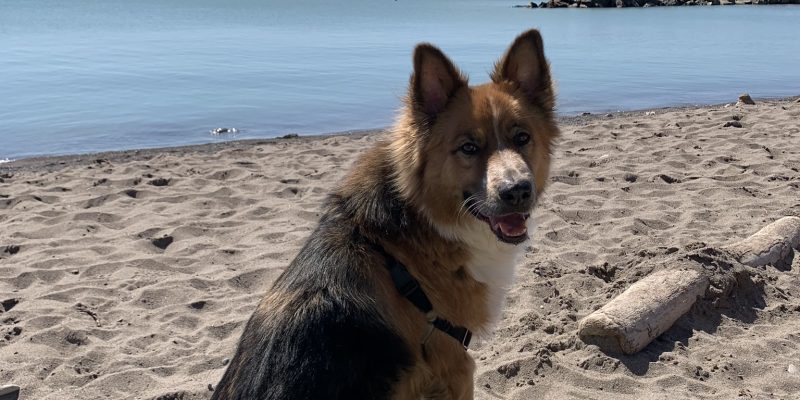 Handsome German Shepherd Border Collie Mix For Adoption in Newmarket Ontario – Supplies Included – Adopt Slater
German Shepherd Border Collie Mix Dog for Adoption in Newmarket, Ontario
Looking for a German Shepherd Border Collie Mix Dog to adopt in Newmarket, Ontario? Just 8 years old and weighing 65 pounds, Slater has been fixed, fully vaccinated, housebroken, microchipped, leash trained, and obedience trained, and is good with babies and small children, older children, new people, dog-friendly dogs, and dog-friendly cats.
Meet Slater, a handsome German Shepherd Border Collie mix looking for his forever home. Slater is a wonderful family pet and loves being around his humans. He is a gentle giant who is incredibly social – he gets along amazingly well with children of all ages and is always happy to meet new friends. He will be your best buddy ever if you play fetch with his favorite toy, a tennis ball, and take him for a swim! Slater will fit into any family with ease, and can't wait to play and snuggle with you. He promises to be mans best friend!
Slater's owners are very sad to have to rehome their cherished Dog. They are hoping to find a new home for Slater where this special Dog will be cherished and kept safe, happy, and healthy for life.
If you have room in your heart and home for Slater, please complete our online meeting request form. Once received, our Newmarket Dog Rehoming team will make arrangements for you to meet Slater and his/her owners. Adopt Slater today!
There is a $150.00 adoption processing fee. Supplies, accessories, and veterinary records will be included.
How To Adopt Slater
If you are interested in adopting this special German Shepherd Border Collie Mix in Newmarket Ontario, please fill out our online meeting request below. Once received and reviewed, our staff will ask the pets owner to reach out to you and arrange a meeting.
Questions about adopting Slater?
Text SlaterNewmarket to (888) 833-2128. We look forward to hearing from you!
---
All About Slater – German Shepherd Border Collie Mix Dog For Adoption in Newmarket Ontario
♥ Name of Pet: Slater
♥ Location: Newmarket, Ontario, L3y4v9
♥ Type of Pet: Dog
♥ Breed of Pet: German Shepherd Border Collie Mix
♥ Color / Coat Type: Black and Tan
♥ Age of Pet: 8
♥ Size of Pet: 65 pounds
♥ Health Problems: No
♥ Behavior Issues: No
♥ Gets along with: Babies and Small Children, Older Children, New People, Dogs, Cats
♥ Pet is: Fixed, Fully Vaccinated, Housebroken, Microchipped, Leash Trained, Obedience Trained
♥ Food: Other – raw diet, his food is prepped daily. He is fed once a day and does not beg for food while eating at the table.
Slater – German Shepherd Border Collie Mix Dog For Adoption in Newmarket Ontario
---
Slater's Personality
Great family dog, well behaved with all people and kids. Spends all day outdoors on a 200ft dog run and have a large yard to roam. Active, social, playful.
Why is Slater Being Rehomed?
Moving and unfortunately I can not take Slater with me.
Nearby Locations
Slater is located in Newmarket, Ontario, close to the following towns and cities:
Aurora ON,
Bradford ON,
Richmond Hill ON,
Whitchurch-Stouffville ON,
Markham ON,
Vaughan ON,
Uxbridge ON,
Tottenham ON,
Sutton ON,
Bolton ON,
Alliston ON,
Scarborough ON,
Caledon East ON,
Pickering ON,
Barrie ON,
Toronto ON.
Thank you for your interest in this deserving German Shepherd Border Collie Mix Dog for adoption in Ontario.