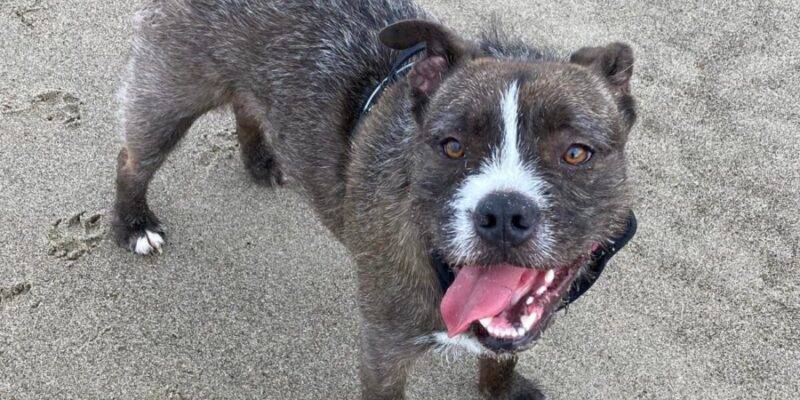 Sweet Obedience Trained Bulldog Terrier Mix For Adoption in Portland OR – Supplies Included – Adopt Maggie
Bulldog Terrier Mix for Adoption in Portland, OR
Looking for a Bulldog Terrier Mix to adopt in Portland, OR? Just 3-4 years old and weighing 40 lbs, Maggie has been fixed, fully vaccinated, housebroken, microchipped, leash trained, and obedience trained, and is good with babies and small children, older children, and new people.
Maggie is spunky and sassy, with an overbite that is a real sight to see. She's an astonishing mix of 13 breeds, and was rescued from Texas.  She's a lover and the perfect size for snuggles. Maggie needs a space where she can run and play fetch with the tennis ball or frisbee. Maggie cannot be around other animals due to her reactivity to dogs and several previous incidents/altercations with other dogs. However she is the perfect dog in every other way. She doesn't bark a lot, she is potty trained and follows commands, she is great on walks and she is pretty communicative with her little grunts when she is asking for attention. Maggie responds to treats, she will make you laugh with her silliness. She just needs time and attention and space to be the wonderful dog she is.
Maggie's owners are very sad to have to rehome their cherished Dog. They are hoping to find a new home for Maggie where this special Dog will be cherished and kept safe, happy, and healthy for life.
If you have room in your heart and home for Maggie, please complete our online meeting request form. Once received, our Portland Dog Rehoming team will make arrangements for you to meet Maggie and her owners. Adopt Maggie today!
There is a $150.00 adoption processing fee. Supplies, accessories, and veterinary records will be included.
How To Adopt Maggie
If you are interested in adopting this special Bulldog Terrier Mix in Portland OR, please fill out our online meeting request below. Once received and reviewed, our staff will ask the pets owner to reach out to you and arrange a meeting.
Questions about adopting Maggie?
Text MaggiePortland to (888) 833-2128. We look forward to hearing from you!
---
All About Maggie – Bulldog Terrier Mix For Adoption in Portland OR
♥ Name of Pet: Maggie
♥ Location: Portland, OR, 97266
♥ Type of Pet: Dog
♥ Breed of Pet: Bulldog Terrier Mix
♥ Color / Coat Type: Brown and white
♥ Age of Pet: 3-4
♥ Size of Pet: 40 lbs
♥ Health Problems: no
♥ Behavior Issues: Yes – she can be reactive to other animals, has been in a few altercations with other dogs.
♥ Gets along with: Babies and Small Children, Older Children, New People
♥ Pet is: Fixed, Fully Vaccinated, Housebroken, Microchipped, Leash Trained, Obedience Trained
♥ Food: Other – Natural Balance, 2 cups daily, fed twice per day.
Maggie – Bulldog Terrier Mix For Adoption in Portland OR
---
Maggie's Personality
She is literally one of the smartest dogs you'll ever meet; she learns commands super quickly and is very eager to please. She is cuddly and affectionate. Great with kids. Not destructive or needy, doesn't bark a lot, has no special diet needs or health issues. Big enough to be a great outdoor adventure buddy or effective guard dog, but small enough not to be a "big dog." She's got a silly, quirky playful personality and loves fetch.
Why is Maggie Being Rehomed?
We don't have the space for her in our apt and I have a new job so she is home alone a lot.
Nearby Locations
Maggie is located in Portland, OR, close to the following towns and cities:
Milwaukie OR,
Beaverton OR,
Oak Grove OR,
Cedar Hills OR,
Lake Oswego OR,
Cedar Mill OR,
Tigard OR,
Vancouver WA,
West Linn OR,
Aloha OR,
Gladstone OR,
Tualatin OR,
Minnehaha WA,
Gresham OR,
Fairview OR
Thank you for your interest in this deserving Bulldog Terrier Mix for Adoption in OR.