Sweet Domestic Short-Haired Cat For Adoption in Mount Juliet TN – Supplies Included – Adopt Violet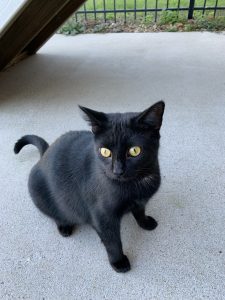 Domestic Short-Haired Cat for Adoption in Mount Juliet, TN
Looking for a Domestic Short-Haired Cat to adopt in Mount Juliet, TN? Violet would love to be considered for the position of cherished family pet.
Just 1 year old and weighing about 12 pounds, this deserving Cat is looking for a loving forever home anywhere within a reasonable distance of Mount Juliet, which is near Nashville.
Violet is what w call a " ready-to-love" Cat. This adorable adoptable Domestic Short-Haired Cat has been litter trained – all you need to add is lots of love, care, companionship, and some daily activity. Violet gets along well with children. What a great Cat!
Violet's owners are very sad to have to rehome their cherished Cat. They are hoping to find a new home for Violet where this special Cat will be cherished and kept safe, happy, and healthy for life.
If you have room in your heart and home for Violet, please offer Violet her forever home. Adopt Violet today!
There is a $35.00 adoption processing fee. Supplies, accessories, and veterinary records will be included.
How To Adopt Violet
Questions about adopting Violet?
Contact Gina
Call or Text "VioletTN" to (615) 587-4414 or email
---
All About Violet – Black Domestic Short-Haired Cat For Adoption in Mount Juliet TN
♥ Name of Pet: Violet
♥ Location: Mount Juliet, TN, 37122
♥ Type of Pet: Cat
♥ Breed of Pet: Domestic Short-Haired
♥ Color / Coat Type: Black
♥ Age of Pet: 1 year
♥ Size of Pet: About 12 pounds
♥ Health Problems: No
♥ Behavior Issues: No
♥ Gets along with: Children
♥ Pet is: Housebroken
♥ Food: Other
Friskies
Violet – Domestic Short-Haired Cat For Adoption in Mount Juliet TN
---
Violet's Personality
Violet is very friendly and sweet. She loves people.
Why is Violet Being Rehomed?
This cat wandered into yard and stayed. I am allergic so I can't bring her inside. I would like to adopt her out before it gets cold outside.
Nearby Locations
Violet is located in Mount Juliet, TN, close to the following towns and cities:
Hendersonville TN,
Lebanon TN,
La Vergne TN,
Gallatin TN,
Goodlettsville TN,
Nashville TN,
Smyrna TN,
Brentwood TN,
Murfreesboro TN,
Portland TN,
Franklin TN,
Springfield TN,
Spring Hill TN,
Dickson TN,
Shelbyville TN.
Thank you for your interest in this deserving Domestic Short-Haired Cat for adoption in Mount Juliet TN.